Is hop farming next on NH beer industry's agenda?
The time may finally be right for the state's growers to begin production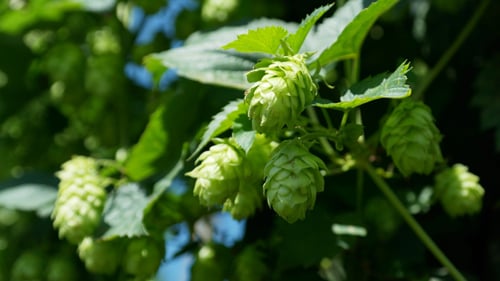 If the New Hampshire Brewery Map is any indication, the state's craft beer industry is booming. And it's not just because the map, published for the first time in 2014, features 24 breweries — it's because only two short years later, nearly 30 more need to be added. And with a combined value of $359 million, it's no small dog in terms of contribution to the state's economy—and there's still room to grow.
With new educational opportunities for brewers, including a new brewing minor at the University of New Hampshire and a certificate program on "The Business of Beer" through UNH Professional Development & Training, New Hampshire is poised to attract even more brewers to the state.
Throughout the 1800s, New Hampshire was one of the largest hop producers in the United States. By the end of Prohibition, however, much of the hop industry had moved to the Pacific Northwest, due to advances that made larger-scale farming possible and the decimation of the Eastern crops by a disease known as downy mildew.
However, with the significant growth of the craft beer industry within the Granite State over the last two years, combined with an increasing demand for beer made with locally-sourced ingredients, the time may finally be right for New Hampshire growers interested in hop farming.
"The growth trends we've seen in craft beer mirror larger consumer trends, which include a focus on locally made products," says Scott Schaier, executive director of the Beer Distributors of NH and vice president of Brew NH, which promotes the state's beer industry. "It's only logical for hops market to benefit. Including New Hampshire-produced hops adds value by activating that pride of origin within consumers — the same value proposition that might come with farm shares or [community supported agriculture]."
Basic elements
A 2010 study by the University of Vermont Extension on the commercial feasibility of local hops reported that 94 percent of brewers surveyed were interested in purchasing New England hops. The study also concluded that all the basic elements — demand, price elasticity, information, technology — exist to support small-scale commercial hop production and that New England's climate and growing conditions were well-suited to the task.
As a result, their UVM Extension Northwest Crops and Soils Team is developing an outreach and applied research program for hops to support New England's growing craft beer industry and the demand for locally sourced ingredients.
"The neat thing I've seen over the last five to 10 years are all these nano breweries selling in much smaller quantities, and there is a lot of support for that type of scale," says Carl Majewski, agriculture field specialist at UNH Cooperative Extension. He notes thatthese very small breweries, which produce a highvalue product that can be sold at a premium price, are the perfect consumer for locally grown hops.
Throwback Brewery in Hampton has been sourcing its hops locally whenever possible and recently began growing their own on a small hopyard at their Hobbs Farm brewery. According to the brewery's website, they are driven by the belief that people "want to know where their beer comes from."
To satisfy that desire, their aim is to "create beer that is sourced 100 percent from local ingredients" and embodies characteristics and flavors that make them uniquely New Hampshire.
According to Majewski, the brewery "really pushed to include locally produced ingredients in their offerings, sometimes in some pretty creative ways and potentially could be giving back to the exploding beer industry."
He added that, if local brewers want to continue to expand their beers to include more locally sourced ingredients, the next step is consistency and quality.
"While there are no agricultural limitations, there are challenges for hop growers here in New Hampshire," says Majewski. "One thing is our humid climate. With the humidity, you get more pest pressures. Hops can also be susceptible to certain fungal diseases. Both of these things increase production cost."
Availability a factor
According to Majewski, high startup costs, due in part to the fact that hop vines require tall trellises, can also be prohibitive, especially when there isn't an established market. While he sees interest in hop growing in the region, he points out that "the nature of the crop means it's something you can't get into casually."
Then there's the question about growers' ability to consistently yield a high-quality crop. In order for brewers to use more local hops and other ingredients, growers need to meet industry standards — something many hop growers in New England haven't yet done.
The result is that, at least for now, the majority of the beers coming out of the region will continue to source their ingredients from outside. That's not to say the desire to source locally isn't there.
"We would love to use local raw materials in our brewery, but yes, availability is the number one factor that precludes us from doing so," says John Lenzini, head brewmaster and president of Schilling Beer Company in Littleton. "Like with anything, quality is everything. So while local gets you in, quality will keep you."
Despite a market for local hops that has yet to take off, by any other measure the beer industry in New Hampshire is flourishing. Schaier sees the New Hampshire beer market continuing to grow and offer more higher-value, premium beers. And that may mean that a vibrant New Hampshire hop industry isn't far behind.
Geoffrey Sewake is community and economic development field specialist for UNH Cooperative Extension in Grafton County. This article is part of a collaboration between UNH Cooperative Extension and NH Business Review.