Internships: not just for college students anymore
New Manchester program features college-level classes, real-world experience for high schoolers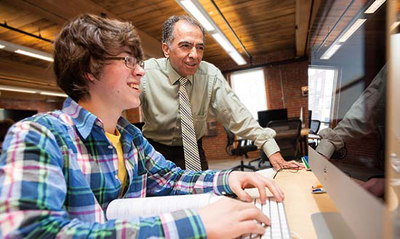 Any company that offers internships for course credit has experienced the wide range of interns who come through the door.
On one end of the spectrum is the student who is prepared: he or she researched the company, is familiar with the culture and has the skills necessary to succeed in the internship. These are the interns who are typically offered full-time positions with the company by graduation.
Then there are the interns who require a lot of training, need to be walked through each task and by the time they're ready to be productive, the internship is over. Wouldn't it be great if all student interns came to our companies prepared?
In collaboration with Manchester Community College, Dyn has developed a program that provides high school students with an opportunity to gain knowledge and skills to help them not only explore careers in the computer science field, but also be ready to successfully start an internship in high school.
This new Computer Science Career Exploration program (CSCE) will use the community colleges' "Running Start" program to offer courses that enable qualified high school students to earn college credit. But CSCE differs from Running Start because CSCE instructors are business leaders rather than high school teachers.
Work-ready
The new program enables high school students to earn up to 12 college credits during their junior and senior years in high school. Ten high school juniors from Manchester area high schools are participating in the pilot program this fall. Over the next two years, these students will take four college courses offered through Manchester Community College.
The students will take C++ programming and Java programming during their junior year, and during their senior year will take an entrepreneurship course, which will teach them the business principles of founding a startup.
In the spring semester of their senior year, students will take an "internship" course. In their internship course, students will have a chance to use the knowledge that they have gained through CSCE to work on real-world projects for some of the tech companies involved in the program and will build on the project ideas that they worked on or developed in their entrepreneurship course.
Upon completion of the program, these students will not only have completed almost one semester of undergraduate-level work, they will also be ready to start working part-time in the tech industry while attending college.
For this pilot program, the courses will be free of charge for the students. The required funding for this program will be raised from the business partners, as well as individuals.
In today's competitive work environment, successful companies must seek new ways to attract and hire great talent for their open positions. What better way to ensure future workforce talent than through education-industry collaboration?
Ali Rafieymehr, director of workforce development and STEM (science, technology, engineering and mathematics) at Manchester-based Dyn, is the former dean of the University of New Hampshire-Manchester.