Innovation Commercialization Center 'pivots' to grow N.H.'s entrepreneurial ecosystem
Since its founding in 2010, the program has aimed to accelerate job growth and the development of early-stage tech companies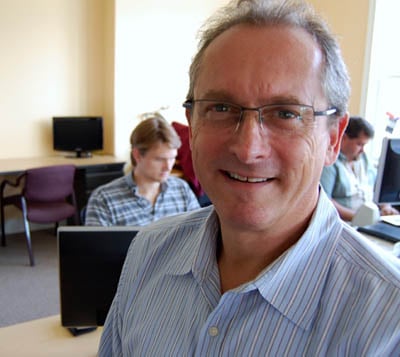 Call it a reset, pivot or serious makeover, but whatever it's called, Mark Kaplan, the chief executive officer of the New Hampshire Innovation Commercialization Center, is determined to take the young organization to the next stage as fast as possible.
Founded in 2010, the NH-ICC was created to accelerate job growth and the development of early-stage high-tech companies. It was also designed to further enhance the commercialization capabilities of entrepreneurial ventures fostered through the University of New Hampshire's Office for Research Partnerships & Commercialization
Kaplan came on board in March, and since then the organization moved its Portsmouth location in April from Pease International Tradeport to a 3,000-square-foot downtown venue. It opened a new Durham location in June to better solidify its UNH connection. The NH-ICC is working collaboratively with the abi Innovation Hub in Manchester and other organizations to build a stronger entrepreneurial ecosystem in the region and state. It also secured a vital funding partnership with Manchester-based Dyn Inc.
"Our new locations will better allow us to serve the region's entrepreneurs," Kaplan said. "Our longstanding partnership with UNH is aimed at supporting student entrepreneurs and the commercialization of the university's intellectual property, so opening a Durham location puts us right in the thick of things."
The NH-ICC offers entrepreneurs support and expertise, and its new accelerator program brings together startups, with mentors drawn from a network of highly experienced entrepreneurs the NH-ICC is building.
"My role is to make change to make change and put the organization on a different track," Kaplan said. "In today's lean startup approach to entrepreneurship, companies often make major changes in their business to meet customer needs. The NH-ICC is still in the early stages of making a classic entrepreneurial 'pivot' in response to the needs of our marketplace. Our customer is the entrepreneur who needs resources to help scale his or her company. The NH-ICC is all about providing those resources."
'Psychic income'
Kaplan came to the NH-ICC from Maine and, according to his biography, has three decades of executive, financial, venture capital and investment industry experience.
During the past 15 years, he has worked in a wide range of entrepreneurial endeavors, including as a venture capitalist with Maine-based CEI Ventures. He also was actively engaged in building Maine's entrepreneurial ecosystem as a board member of the Maine Center for Entrepreneurial Development and the Small Enterprise Growth Fund, which is the state of Maine's venture fund.
Kaplan said the organization will run lean (Kaplan is the only staff member) and will be focused on "community engagement" to leverage its advantages of entrepreneurial know how and flexibility to create more opportunities for its accelerator program in particular and all high-tech entrepreneurs in general.
Two companies are currently flourishing in the accelerator program – the social media messaging platform company PoKos and VoIP firm Unified Office. Kaplan believes once the NH-ICC's pivot takes place, accelerator program prospects will grow.
The new business model that he said will evolve in the next few years includes educational workshops for entrepreneurs, taking a small equity stake in accelerator companies and connecting more early-stage companies with venture capitalists.
"I think successful entrepreneurs want to give back to get that psychic income and create economic vibrancy in the region and the state," Kaplan said.
"If it makes New Hampshire stronger, it will make our company stronger," said Chynoweth.
For Dyn, its six-figure support to supplement UNH financial and logistical support for the NH-ICC is a case of enlightened self-interest.
"Dyn is passionate about the innovation ecosystem in New Hampshire," said Gray Chynoweth, chief operating officer of the Manchester tech firm, a leader in the growing Internet infrastructure as a service sector. "That's why we are serious about the time, talent and treasure we invest into organizations like the abi Innovation Hub and the NH-ICC."
Chynoweth said he believes one of the most underrated steps a company can take is to foster and encourage wide-scale innovation because it has an impact on the overall economic environment. "Sometimes we collide and collaborate with other companies. But we think if it makes New Hampshire stronger, it will make our company stronger," he said.
The Durham location merged with the former Idea Greenhouse and is filling up space with entrepreneurial members who have a range of membership options and involvement.
Tom Elliott, founder of the Idea Greenhouse incubator, is now an NH-ICC member, and it's the current home of his co-founded company ElliottRand Marketing & Communications. Elliott believes the change will prove beneficial.
"The Idea Greenhouse existed for just over three years. Despite the end of the brand, the spirit, energy and mission of the Idea Greenhouse are now thriving in a better space, run by a strong nonprofit organization and professional incubator/accelerator management," he said.