Inevitable or unworkable?
Nursing homes, mental health centers voice worries over Medicaid managed care transition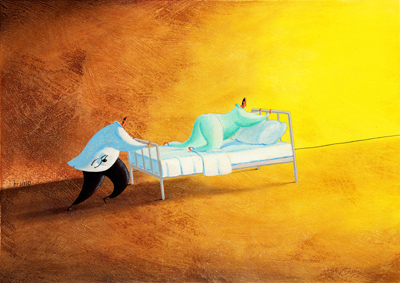 New Hampshire's Medicaid program is about a third of the way toward completion of a shift from providing traditional fee-for-service health services to a managed care model – with the goal cost-containment through better care.
The change in the way acute care is offered largely pleases hospitals, but full implementation of the program has raised concerns among community mental health centers and the nursing home industry, and it has triggered a class action lawsuit by the agencies serving the developmentally disabled.
After hearing the criticism from different quarters, state health officials paused the process in July to hold four months of listening forums to gather input about the acute care phase, which was launched in January.
A lot is at stake, but experts widely agree aging baby boomers will stress programs like Medicaid to the breaking point in a few years.
That's why, said Ned Helms, a former state health commissioner who now heads the Institute for Health Policy at the University of New Hampshire, the state and the country as a whole are inevitably moving toward managed care.
"A well-coordinated, patient-centered system with a medical home for each person has real advantages over a fee-for-service environment," Helms said. "But I know that's hard to do in a political system with budget constraints."
Last winter, three Medicaid managed care organizations began paying New Hampshire hospitals, doctors, clinics and other providers that treat people for acute or temporary illnesses. Most subscribers in a focus group this spring conducted by Horn Research said people had picked their care manager in ignorance of its drug formulary, its prior authorization criteria and its track record. Half the participants were unhappy with their choices, according to the research.
The state has begun collecting rigorous quality data, and it shows a possible pattern of payment delays and rejections for physical, speech and occupational therapy, prescribed medications and medical transportation services.
'Incredible drain'
Nursing homes and assisted-living programs will come fully under managed care in the spring. Area agencies will be included after that, if at all. Community mental centers came aboard in January, but the managed care organizations agreed to pay them the old way for their long-term services, at least for now.
Roland Lamy heads the New Hampshire Behavioral Health Association, which represents the nonprofit community mental health centers. After years of financial losses due primarily to low Medicaid rates, the industry gained a modest funding hike in the current state budget, mostly to cover crisis services. It also won a settlement earlier this year in the Amanda D. class action suit over the decline of services for the mentally ill.
He said any payment glitches could drive some centers out of business.
"The biggest issue for us with managed care has been the incredible drain on physicians' time justifying prescriptions for meds people have been getting for 10 and 15 years," Lamy said. "It can take 45 minutes on the phone with a pharmacist. That's time they're not seeing patients."
Jay Couture heads the Seacoast Mental Health Center, which gets most of its revenue from Medicaid.
"This change went live with no pilot program," she said. "Just 'bam.' If you add a middle man and keep the same pot of money, you have to diminish care."
Steve Ahnen, president of the New Hampshire Hospital Association, said hospitals are familiar with managed care from working with HMOs and Medicare. That's why the sector has made a pretty smooth transition to the new Medicaid program, he said. They've also had a seat at the table solving implementation glitches.
Henry Lipman, senior vice president at LRGHealthcare, the umbrella organization for Lakes Region General and Franklin hospitals, said the goal is to get more from the health care dollar by serving patients with the right care in the right place at the right time. Good preventive care can keep people out of hospitals, he explained.
"Our population benefits from better coordinated care," Lipman said.
The nursing homes, however, see things differently.
Kathryn Kindopp, who administers the Maplewood Nursing Home in Westmoreland for Cheshire County, points to payment snafus for pharmacies, ambulances and eye doctors. "All of us are getting squeezed now," she said. "We're seeing prescription denials for patients who have been on the same meds for years."
But Ted Purdy, administrator at Sullivan County Health Care, has an open mind about managed care, at least in the long run.
Today the counties lose a lot of money on Medicaid, he explained. He hoped the new policy might build a range of suitable, cheaper community programs for the elderly.
"But how will our new rates be calculated?" he asked. "How will the system work?"
John Poirier, president of the New Hampshire Health Care Association, which represents assisted-living centers and private nursing homes, said the state and the feds closely monitor their industry.
"What are the managed care organizations going to manage that isn't already well managed?" Poirier asked. "And what will we pay them for that? Where will that money come from? We get 70 cents on the dollar from Medicaid now. We're forced to cost-shift onto our private patients who planned ahead and saved their money."
Nationally, he added, "the profit margin for private nursing homes is 2 percent."
'Potential for change'
Meanwhile, nine of the 10 area agencies, which offer services for people with developmentally disabilities and similar conditions joined 25 of their clients in the Wallace v. New Hampshire suit filed in 2013. The suit seeks to block managed care for the agencies' community homes and day habilitation programs serving this population.
Attorney Tom Quarles, co-counsel for the plaintiffs, said they maintain the Legislature never meant to include federally waivered services like area agencies under managed care and that it clashes fundamentally with the law mandating area agencies, which provide the services through contracts with the state.
"If I didn't think our prospects were pretty good, I never would have taken the case," said Quarles, who added he expects a Superior Court decision soon.
Richard Cohen heads the Disabilities Rights Center and was involved as an attorney for New Hampshire Legal Assistance in the 1980s lawsuit over the former Laconia State School. He has watched court-ordered services for people who would have lived at Laconia erode from decades of level funding.
"Under managed care, things will only go from bad to worse," Cohen warned. "If managed care companies are going to save money, where will it come from? The system is already so lean. It can only come from services."
Freda Smith agrees. She helped plaintiffs win the Laconia suit, which succeeded in closing the institution in 1991. "You can't take this system away from the area agencies and give it to companies that don't know our children and are in it for the money," she said.
Last winter, folks like Smith packed a Managed Care Commission meeting last winter. Gov. Maggie Hassan told them, as the mother of a son with cerebral palsy, she empathized with them.
"This change makes me anxious too," Hassan said. "It will require the full input of everyone here today. I know how challenging some of the lives in this room are. But we can't sacrifice the potential of change because we are afraid."