Incubator rebrands itself to attract new talent
Formerly the Amoskeag Business Incubator, the abi Innovation Hub aims to be the "home for all things startup and innovation" in the state.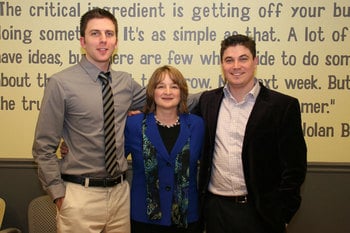 When the Amoskeag Business Incubator in Manchester was about to undergo renovations, stripping the carpet to reveal the former mill building's original hardwood flooring was a top priority.
But the newly varnished floors aren't the only thing that have been infused with new life at the incubator, which had its official relaunch on March 31 and is now known as the abi Innovation Hub. Now gracing the walls are inspirational quotations, which, considering they were applied by hand, are displayed impressively straight.
"The critical ingredient is getting off your butt and doing something. It's as simple as that. A lot of people have ideas, but there are few who decide to do something about them now. Not tomorrow. Not next week. But today. The true entrepreneur is a doer, not a dreamer," reads the Nolan Bushnell quotation in the hub's largest conference room.
The quotations — along with blown-up photographs of famous New Hampshire doers like Dean Kamen, Gary Hirshberg and Ralph Baer — were the brainchild of Jamie Coughlin, a Bedford native and resident who was hired in October 2010 as the hub's entrepreneur-in-residence and vice president of strategic initiatives.
His motto? "Innovation comes from seeing the world as opportunity." A serial entrepreneur himself, Coughlin has big plans for the 14-year-old nonprofit incubator, which he hopes will become the "home for all things startup and innovation" in the state.
"Entrepreneurship has gotten to a stage where you don't have to necessarily be in Silicon Valley, you don't have to be in New York, you don't even have to be in Boston," he said.
Coughlin himself was first bitten by the entrepreneurial bug when he was an undergraduate at Princeton University. Inspired by the audience-response technology used on the then-popular game show "Who Wants to be a Millionaire?" he and his roommate developed educational software that allowed students and professors to interact with each other in real time through their computers. The software won him a Princeton business plan contest, a trip to Singapore for an international business contest and several grants.
"It was just a wonderful experience – finding investors, partners, actually getting another company to assume you," said the 30-year-old, who for the past six years has also run a private security business. "That kind of tweaked me and changed how I viewed the world."
'Innovative' focus
The goal of the incubator is the same today as it was when it was founded in 1997 as a joint venture of the city of Manchester and Southern New Hampshire University: to stimulate the economy and create jobs by providing a supportive home base to get young companies off the ground.
"In the early stages of a company, you have to be around like-minded people, in an environment that's kind of creative, that speaks to what you're doing," said Coughlin. "The life of a startup is up and down, up and down, so having the support of other people around you — that's extremely valuable."
What's changed about the mission, which is hinted at in the name change, is a tighter focus on startups that are "innovative" — not necessarily only high-tech (though that doesn't hurt), but those that somehow embrace technology, said Coughlin.
"In the last six months, it's gotten a lot more focused on being an innovation hub. Previously, it had been a bit more open platform," said James Logan, a resident at the incubator for five years.
While at the incubator, Logan developed a product called Bringrr, which plugs into a vehicle's cigarette lighter and alerts the driver if she has forgotten her cellphone when starting the car. He is currently working with retailers and through other channels to bring the product to market.
"I think going forward it will be more useful to our operation because we'll be able to pick the brains of other tenants and ask them questions, like how is Facebook advertising working for you, what channels of distribution are you going through, and things like that, as opposed to talking to other businesses with whom you don't have as much in common."
Coughlin estimates about 100 companies have passed through the doors of the abi since its inception. Two of its biggest success stories are still growing in their own offices right here in the Granite State.
One such company is Cellular Specialties, which was one of the incubator's first tenants in 1997. The company, which provides indoor wireless connectivity products and solutions, moved out of the incubator in 2001 and is now headquartered at 670 N. Commercial St. in Manchester, where it employs 170 people.
"It was a very productive place for us to begin the business," said R. Bruce Wilson, CEO of Cellular Specialties. "We appreciated being surrounded by people in similar circumstances, and it worked very well as a foundation for us in our growth."
Another big success story of the incubator is that of www.woodpellets.com, which was founded at the incubator in 2006. The company — which moved to its Goffstown location in 2007 — now employs 30 and is the nation's leading distributor of wood pellets to customers throughout the country.
Jon Strimling, president of www.woodpellets.com, said he would recommend the incubator to other young companies trying to get their footing.
"I think it's very helpful to get into an environment with other people who are fighting similar struggles," said Strimling.
'Greener pastures'
Of course, not all companies that put down roots at the 15,000-square-foot incubator strike it big, but the success rate is pretty good. Coughlin estimates that about 85 percent of companies departing the incubator are still in business when they leave.
Nearly all of the revenues generated by the hub come through rent. Currently at abi, there are 22 full-time residents renting private offices and 18 co-working residents.
The co-working option — which starts at $100 a month and includes access to common spaces, wireless Internet, and some use of private offices and meeting rooms — appeals to the mobile entrepreneur who needs little more than access to a chair and an electrical outlet and might otherwise work on a laptop at Panera.
To become a resident at the hub, startups just need to apply. In selecting applicants, Coughlin looks for startups that are not only innovative, but have the potential to grow beyond the hub.
"They can't just stay forever because that's not the purpose of an incubator," he said. "The purpose of an incubator is to accelerate your growth so you can get out and move up."
For young businesses, access to capital is always the biggest hurdle — though Coughlin sees that landscape changing, with websites like alibaba.com that connect startups to low-cost manufacturers all around the world. "The capital intensity to actually start a company has dramatically decreased the past five years," he said. "That's what's so empowering about this process. We can be in Manchester, New Hampshire, and access the world."
The challenge, then, is getting people outside of the state to recognize that.
"We're not Cambridge," said Coughlin. "And so while I think people in New Hampshire see and get excited about what we're doing, it's how we're viewed outside of New Hampshire."
Working alongside Michele Petersen, the hub's vice president of operations, Coughlin hopes to change that. Moving forward — in addition to courting more residents — he hopes to land corporate sponsorships, launch a speaker series and work with organizations like SCORE, Stay Work Play and the young professionals groups in the state to further the hub's mission.
"There are growing areas around the country and the world that can be a home for this," said Coughlin. "At the end of the day, some people don't like city life. They want to live in greener pastures, and New Hampshire has that. Manchester has that."
Kathleen Callahan can be reached at kcallahan@nhbr.com.