Inbound marketing, NH style
Firms discuss the emerging online strategy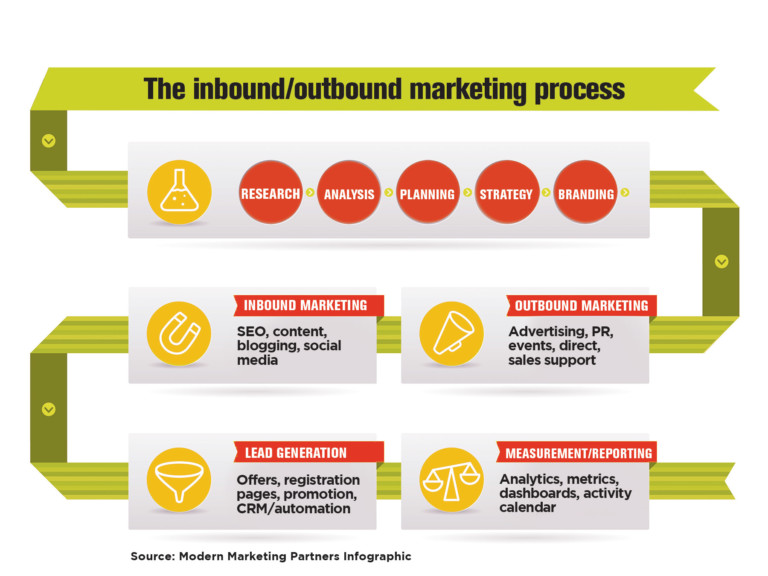 Less than 10 years ago, Michael Conway was building websites at a top New Hampshire Web development firm. The big clients that would come through the door paid top dollar for their beautiful, well-designed sites, but Conway wondered if there was more that these sites could do for the customer.
"At the time, I used to ask this question frequently, 'What's next? We have this really great website but how are we going to market it?'" said Conway. He started researching concepts like search engine optimization (SEO) and discovered the software company Hubspot, a leader in inbound marketing strategy and analytics.
Eventually, Conway left his large firm to start the boutique marketing company Means-of-Production in Webster and made inbound marketing a major focus for his clients, which are largely in the construction, architecture and interior design industries.
Traditionally these companies relied on print media to spread the word about their services, but Conway helped his clients gain traction by posting answers to common questions potential customers have about building a new home, designing a kitchen space or investing in a new heating system.
For instance, a blog about wells and water might not sound like compelling reading, unless you're trying to figure out why brown gunk is coming from your faucet. Conway said one of his clients, a New Hampshire-based well drilling company, increased its website visitors from 120 per month to 22,000 per month over a three-year period, mostly by posting informative articles twice a week that answered questions about common New Hampshire well water problems.
"All the statistics I've ever read show blogging and email marketing have a greater return on investment than anything else," said Conway. "Advertising is great for big brands and small items where top-of-mind advertising gets people to buy things. Inbound works well for things where people need to think about it, like a big purchase."
Developing trust
Inbound marketing, also referred to as content marketing, has transformed in a few short years from a buzzword to the gold standard of online marketing. The strategy utilizes a vast range of Web tools, from websites to social media to email, as a way to provide useful information about a company that will eventually draw customers to their site, generate leads, and convert them into sales.
Think about the last time you made a big purchase, like a stove. Likely the first place you went was the Internet. You browsed the big box store sites, looked at a few local retailers to compare prices, and scoured online reviews to see what make and model was right for you. Before you even headed into a store, you had narrowed your search to two or three stoves.
Inbound marketing is a way for companies to grab the attention of customers during this online search process in a way that media advertising cannot do. Providing useful content on the company's blog – such as "The five best gas stoves in 2015" – is providing a service to the customer, while also building trust in the company and increasing the chances of that customer walking through the doors when it comes time to make a purchase.
"I think it started with Siri," said Conway, referring to the iPhone voice-command program. "People no longer put in search terms specific to what they want. They started to ask search engines questions. Inbound marketing people realized, if you answered the question you will get traction."
Sarah Flaherty, director of content marketing at Calypso Communications in Portsmouth, sees inbound marketing as less about making a sales pitch to customers and more about providing information and developing trust.
She pointed to one recent client, a private school that was looking to increase enrollment. Calypso asked the clients about common questions they hear from parents. They then created a series of blog posts that answered those questions and talked about education philosophies and child development.
"They were positioning themselves as experts in education, as opposed to just saying, 'Come to our school because it's so great,'" said Flaherty.
Looking for a new way
Stephanie McLaughlin of Savoir Faire marketing in Manchester knows there are plenty of local companies that are looking to get more out of their marketing dollars. Her company's website gets right to this point, telling potential customers, "You had a handle on it at one point. You knew what worked. You ran ads in the industry journal or attended trade shows that produced leads. These tried and (no longer) true methods just don't produce the results they once did."
"A lot of the things people know and understand about marketing, those things are no longer working," said McLaughlin. "You can no longer call people and expect they will answer their phone and no longer send an email and expect it will get through."
"Now your website can literally be your best salesperson 24/7/365," said McLaughlin. "It can develop leads and nurture them through purchase process. You can no longer demand somebody physically come to you and ask those questions and get that information. If they can't find it from you online, they're going to get it from someone else."
If done well, the results of inbound marketing can be compelling. McLaughlin said she increased one client's business by $5 million, doubled the number of fans for another client's social media page, and increased a client's click-through rate on an email newsletter from 0.5 percent to 5 percent.
These concrete numbers come from analytical software and are what many say are inbound marketing's greatest asset. Hubspot has become a particularly popular choice. This rapidly growing Boston-based company opened a Portsmouth office in 2015 and raised $125 million in fresh capital at its 2014 initial public offering. Analytical tools are integrated into a company's website and can show how many people are looking at your blog, social media pages, and, most importantly, who is signing up for newsletters or to get more information.
"That's where it gets exciting," said Flaherty. "When I put out this e-book and five people downloaded it, it may not seem like a big number, but if you have 20 people visit the site, that's a 20 percent conversion rate."
Once those clicks are made, analytical software can show clients what landing pages and blogs are drawing more attention, what kind of tweets and Facebook posts are driving clicks and whether that product video you posted caught the attention of customers. This process can be followed through from identifying leads all the way to sales, showing the client what topics and messages bring in customers and sell products best.
The virtue of patience
While most companies today accept that a Web presence is important, not all companies are sold on the wonders of inbound marketing.
"Generally, I get one of two reactions," said Conway. The almost knee-jerk reaction is, 'Oh, I don't want to spam people,' or the light bulb goes off and they understand the importance of sharing quality information about their services to people."
Because inbound marketing is such a switch from traditional advertising, Flaherty said presenting the strategy should focus on outlining business goals and finding ways to achieve them using all the tools inbound marketing offers.
"People want to know, 'Why should we have a blog?' They think 'it's nice to have but how does it affect my bottom line?'" said Flaherty.
Another big hurtle for companies is producing the large amount of content needed to run a successful inbound marketing campaign. Conway said it takes about a year to see results, which can seem terribly long to some clients.
"The Achilles heel to this kind of marketing is the quantity of this kind of content that needs to be written," he said. "If you're not committed to writing a blog a week, or hiring someone to write a blog once a week, and handling the emails that go out and come in each week, then you're going to fail."
"When it comes to producing the content, we will ask if they have the resources in-house, but many clients find it is really time-consuming to produce posts," said Flaherty. "It can be a good choice to work with an outside resource to produce that content. You need momentum over time to make it work and see results."
Producing quality content also requires that all employees, from the company president to the college intern, be willing to participate, said McLauglin.
"This must be a cultural thing. Everyone has to be onboard with doing it in some way," said McLaughlin. "A lot of expertise and what sets you apart from competitors is locked up in your people."
Having those in-house experts sit down with a writer for 45 minutes once every few months will eventually result in blog posts that show off the company's expertise. You need that time spent to make sure the quality is there, she said.
Another asset of inbound marketing is the lasting power of the Internet. We all know that whatever goes online stays there forever. Same goes for all those blog posts popping up in Google searches, even years later.
"When you put information online, it's always there and always generating leads for you," said Conway.