In new affidavit, GTAT says it was tempted by a bad Apple deal
COO sheds more light on reasons for bankruptcy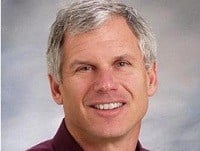 GT Advanced Technologies couldn't resist the opportunity it was offered by tech giant Apple, but it led the Merrimack company into a bad deal that led to huge delays, cost overruns and eventually bankruptcy. And all of it was "largely due to actions not within its control," according to Dan Squiller, GTAT's chief operating officer, in a long-awaited revised affidavit filed Tuesday.
"Apple's size and prominence make it the ultimate technology client to land," writes Squiller. "The deal with Apple was viewed as a potential game-changer for GTAT."
But in the end, Apple's size made it tough to do business with, and even harder to battle, GTAT says in another filing on Tuesday.
So the best thing was to file for Chapter 11 and get out of the deal – a move that cost 890 jobs and delisting GTAT's stock from the Nasdaq. The company said it took the action to hold on to its pre-Apple business for the sake of its remaining employees, particularly those in the Granite State.
GTAT says it spent $900 million to ramp up its sapphire production plant in Arizona which would have supplied Apple with the material to be used in its mobile devices' touchscreens. That's far more than the $578 million Apple promised to lend GTAT, and more than double the $439 million the New Hampshire firm owes the company.
Furthermore, GTAT says, the effort to serve Apple cost it much of its other income, thanks to an exclusivity clause and the shifting of resources from New Hampshire and Salem, Mass.
COO Squiller wrote an earlier affidavit explaining the reason behind the Oct. 6 Chapter 11 filing, but GTAT, concerned over a confidentially agreement that could cost it $50 million per occurrence, filed that affidavit under seal, a move challenged by many stakeholders.
Underestimated the task
A key part of the latest GTAT-Apple agreement reached last week was the suppression of that original document, in favor of this rewritten version. But that new affidavit doesn't exactly spare Apple from criticism.
In the new affidavit, Squiller admits that GTAT underestimated the task at hand: GTAT would for the first time double the size of each sapphire boule produced, theoretically cutting the cost of the production. But the cost to do this was much more than anticipated.
Squiller blames most of this on Apple's stringent requirements and its intense involvement in the plant.
At the start of negotiations, Apple said it would simply buy GTAT's equipment, but the tech giant changed the structure of the deal so it would instead lend GTAT the money, at no interest, to build the plant. And the plant would be used to produce sapphire exclusively for Apple, allowing GTAT to pay off the loan. But Apple would be under no obligation to purchase the product.
According to the affidavit, Apple had stiff penalties if goals were not met. A late delivery would cost $320,000 for a boule that cost $20,000. GTAT would have to pay $640,000 if it sold the boule to a competitor, or $650,000 per month for any furnace that was sold to a competitor – more than three times the cost of the furnace.
Another Apple stipulation, the affidavit said: If GTAT sold its assets to a third party, it would cost the company $1 billion.
GTAT ended up borrowing $214 million in bonds and raising $71 million in a stock sale to finance the deal.
"When GTAT's management expressed concerns to Apple regarding the deal terms during the contract negotiations, Apple responded, in substance, that similar terms are required for other Apple suppliers and thus would be required for GTAT as well," Squiller writes. Despite the doubts, "Apple offered significant opportunities for it, and GTAT elected to proceed."
In charge
The affidavit also claims that things went wrong from the very beginning.
Apple negotiated all power and construction contracts for the Mesa, Ariz., facility. It was not operating until December 2013, only six months before it was expected to be operating at full capacity.
Apple also determined that backup power for the furnaces was "non-essential," but on three occasions there were power interruptions, causing "significant delays and losses of whole productions runs" – resulting in $10 million in losses.
Apple selected the tools to use to polish and cut the boules, forcing GTAT to replace them, buy a significant amount of extra diamond wire and hire another 350 employees, resulting in a 30 percent jump in fabrication costs that GTAT, by contract, was forced to absorb.
And there was the sheer time involved, the affidavit says. GTAT engineers spent almost third of their time dealing with Apple engineers.
Because of these factors, GTAT could not meet its production targets, so Apple withheld its final prepayment of $139 million.
In September, GTAT made a "detailed presentation" to Apple, saying that unless the deal was revised, it would run out of cash in a few weeks. Apple responded with various proposals, but "after intense negotiations" none solved the economic issues, Squiller writes.
Apple will vigorously dispute this version of events, Squiller says, arguing that the failure was GTAT's fault, and GTAT knowingly entered into the deal in the first place.
But arguing with a $100 billion giant isn't really a viable alternative, GTAT says in another filing.
GTAT thinks it could prevail in a legal fight, but the cost would top $5.8 million a month, not including the expenses that bankruptcy professionals would incur.
Furthermore, a war with Apple would prevent GTAT from concentrating on its old and future business: selling equipment without restrictions, even to Apple's competitors.
The new deal would throw out the old deal (except for a confidentiality agreement) and drop all penalties. It would allow GTAT to sell the furnaces and give Apple an undisclosed percentage of each sale to be used to pay off the $439 million secured debt over four years.
In addition, GTAT would be able to remain at the Arizona plant rent-free for at least a year, and Apple would allow GTAT to borrow $150 million, without claiming first dibs on that money as a secured creditor.
The agreement also says GTAT would be able to concentrate on its old business of selling furnaces, even to Apple's competitors and avoid an "enormous distraction" battling "one of the largest corporations in the world."
Finally, Apple agreed to vote for Chapter 11 plan, so that GTAT can emerge sooner from bankruptcy.