In a bad economy, bank robberies increase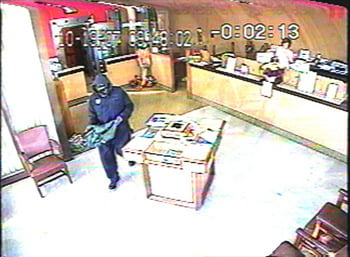 A noticeable increase in bank robberies in New Hampshire makes perfect sense to Russell Conte, a major in the New Hampshire State Police who for years chased bank robbers as the head of the state's Major Crime Unit."When business is slow," he said, "law enforcement is busy." Last year, the FBI reported 11 bank robberies in New Hampshire. So far this year, the unofficial count far surpasses that. According to media accounts, there were over a dozen bank heists since February alone, and the winter holiday season usually proves to be a busy one.The vast majority of the robberies were acts of desperation made by people driven mad by addictions – usually drugs or gambling, said Conway Police Lt. Chris Perley."The economy affects the drug trade," said Perley, who is in the midst of investigating the mid-July heist at a Northway Bank in North Conway. "People don't stop using them (drugs) when they can't afford them." To pay for their habit, some hastily look to banks as a quick and easy way to get a buck, he said.Most bank robberies follow a remarkably similar pattern.
The robber walks in to a smaller branch operation without disguise or much of a plan, passes a note or makes a verbal demand for money accompanied by a threat of violence to a teller, who is trained to be compliant.Within a few minutes, the bank robber, who usually isn't armed, (armed robbery carries a much stiffer sentence) walks out with about $2,500, and only then is it when most witnesses realize it occurred at all.From this point, law enforcement begins its investigation and pursuit, which ultimately leads to a conviction in 60 to 70 percent of bank robberies, according to officials.Federal offense, local priorityAlthough bank robbery is a federal offense, it's not a high priority of the FBI, who since the 9/11 attacks have become increasingly focused on counterintelligence. The exception, said Special Agent Gail Marcinkiewicz, media coordinator at the FBI's Boston field office, is when "there is a serial bank robber with guns."This arrangement often leaves state and local law enforcement carrying much of the burden. In some cases, the FBI is not even notified and is not included in national statistics. Local law enforcement usually trigger the bureau's involvement, and then it's primarily to assist state or federal prosecutors.In the North Conway robbery, for instance, Chief Edward Wagner sought the FBI's help, but it was his 25-person department that handled the crime scene and investigation that led to an arrest."It's huge," said Wagner of the time commitment, "Not just in man-hours, it's almost like it takes something out of you. (We probably) have 100 man-hours into it."And this has occurred at a time when his department has seen "a spike in all crimes."Wagner had to rely on a broad net of other law enforcement officials to track down and apprehend his Nashua-based suspect. But he was lucky – his suspect was quickly identified and caught within a few weeks during a routine disturbance call in Manchester.It's not always so easy. "Just because they're desperate," Major Conte said, "doesn't mean they're less hard to find."Branding bank robbersBank robberies, like murders, garner lots of media attention, and law enforcement agencies use it to draw attention to the robbery, with the hope of obtaining eyewitness information.This also may explain why robberies occur in streaks. Most of the state's bank robberies this year have occurred in April and June. The media coverage of a bank heist may encourage other would-be bank robbers to follow suit – or possibly it's just the same robber continuing on a robbery spree.The FBI, Conte said, has long employed a strategy of giving "the robber a quirky nickname that clues people in" to a physical feature of the suspect. It's a "technique that works very well," he said. Officials hope the ploy "jogs someone's memory."Adding a moniker, which is regularly followed by the word "bandit," Marcinkiewicz said, is just a practical way to identify robbers within the agency, and since they don't usually have a name of a suspect they create one.She acknowledges that it does help because the news outlets pick up on it, and this often generates tips.
"The public," Marcinkiewicz said, "is very significant" in providing useful information, especially when a reward is offered."We do media campaigns," she said, to "shake the trees, that (leads to a) little thread" and "that's all we really need."Earlier this summer, an overweight bank robber allegedly robbed 10 banks throughout the region, including two in New Hampshire. He was dubbed the "Burly Bandit."Other nicknames include the "Beastie Boy Bandit" because he wore a disguise similar to the ones worn by members of the Beastie Boys and the "Geezer Bandit," for his advanced age.Some bank robbers don't warrant a name because their profiles are so statistically rare, Marcinkiewicz said, like a recent robbery committed by a female. Women account for less than 7 percent of all bank robberies.Reducing risksWhile law enforcement agencies use the media to pursue their suspects, banks remain notoriously tight-lipped after a robbery occurs.For example, several New Hampshire bankers declined to be interviewed for this story, most of them explaining that they have a policy of not sharing any information about bank heists.But by refusing to even indicate the sum of the loot, banks may be leaving some would-be robbers thinking the take from a publicized robbery was substantial, like in the movies or during the Great Depression, when there were regular heists of over $50,000.But defense attorneys say amateur bank robbers do not consider the risks or weigh the comparable rewards – they are acting on immediate monetary need.William Christie, an attorney with Shaheen and Gordon who has been involved in several bank robbery cases, said most robbers have "grandiose illusions of the size of the take," but still, from a bank robber's perspective, "materially there's probably not a difference between $900 and $5,000."The FBI, Marcinkiewicz said, doesn't want the amount of loot publicized and doubts that anything can be done to discourage bank robbers, except tracking them down and putting them in prison."We're dealing with addicts," she said. "Logic doesn't factor into it."Banks have reduced their risks by creating good systems that reduce the take by keeping tellers' tills low on cash, capturing evidence with video surveillance, requiring customers to remove hats and sunglasses and, in New Hampshire, supporting a privately funded Crime Stoppers Web site aimed at soliciting leads."Banks are set up not to have a lot of cash on hand," said Jerry Little, president of the New Hampshire Bankers Association. In addition, the ongoing trend toward cashless transactions means that "cash has been de-emphasized," he said.Nevertheless, when a bank is robbed, little of the loot is recovered.With all of the technological advances – including video surveillance, a wide, well-connected law enforcement network and even DNA testing – 30 to 40 percent of bank robberies remain unsolved.FBI's Marcinkiewicz said the statistic doesn't tell the whole story. The bank robber who is convicted of one robbery may be a suspect in many more bank robberies that are unsolved, she said.So, she said, since the goal is "to get him off the street," law enforcement officials praise the conviction rate, which is higher than for most crimes.