Illinois firm seeks to acquire FairPoint Communications for $1.5 billion
Deal would create nation's ninth-largest fiber provider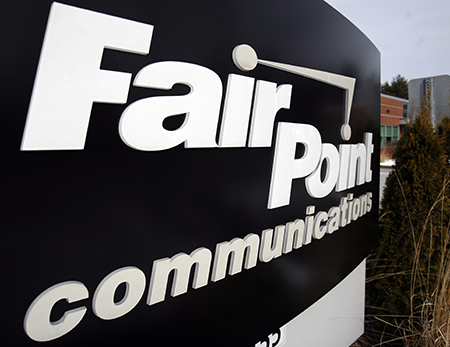 Mattoon, Ill.-based Communication Holdings Inc. has reached a deal to buy FairPoint Communications for $1.5 billion, doubling the size of the company, the companies announced Monday.
If approved by shareholders and regulators, the all-stock transaction is expected to close by next summer and would create the ninth-largest fiberoptic networks company in the United States, with 35,000 fiber route miles in 24 states.
Under the deal, Charlotte, N.C.-based FairPoint shareholders will receive 0.73 Consolidated shares for each FairPoint share they own. Consolidated shareholders would own about 70 percent of the new company and FairPoint shareholders will get the rest.
Both companies' stock is listed on the Nasdaq.
At stake is the future of New Hampshire's largest telephone company, which continues to transition itself into a high-tech provider of data in the Granite State, Maine, Vermont and elsewhere in its 17-state footprint. But Consolidated, which provides services in 11 states and has a smaller percentage of landlines and employees, said it has experience in such transitions, having acquired three companies previously without a hitch.
"We are well-positioned to ensure a smooth transition for customers and employees as we leverage a solid track record of successful integrations," said Bob Udell, Consolidated's CEO.
Stabilizing fiscal health
If so, it will be lot smoother than the last transaction FairPoint was involved in.
In 2007, FairPoint bought Verizon's Communications' telephone lines in the three northern New England states for $2.4 billion, expanding the small company's customer base fivefold. It filed for Chapter 11 bankruptcy reorganization two years later and emerged from bankruptcy in 2011, but lost $671 million over the next three years.
FairPoint has also been under fire from regulators in the three northern New England states over service difficulties, though it did – with the help of millions of dollars in federal funding – build out its broadband lines to cover 95 percent of the Granite State.
When it tried to stop financial hemorrhaging by cutting workers' benefits, unions launched a four-month strike I 2014-15, causing more landline customers to flee.
FairPoint's fiscal health has stabilized somewhat since. Last year, the company reported a $90 million profit. The income from broadband, as well as other high-tech services, is finally making up for what the company is losing on declining phone service.
'Annual synergy'
But the company still has $887 million in debt, and the workforce continues to shrink. Last month, the company announced that it would lay off 110 more employees in northern New England. Half of those layoffs will be in New Hampshire, where there are 880 employees, 20 percent less than three years ago. Unions, which were never happy with the sale, denounced the layoffs.
"It's clear that the ill-advised sale of Verizon to FairPoint in 2008 has had a profound negative impact on workers and consumers in northern New England," said Peter McLaughlin, business manager of International Brotherhood of Electrical Workers Local 2327.
But McLaughlin said he viewed the Consolidated deal with "cautious optimism."
Landlines constitute about a tenth of Consolidated's revenue, and they provide a third of FairPoint's revenue. Consolidated is also less labor-intensive, with 1,783 employees at the end of 2015, almost 1,000 less than FairPoint, despite having $776,000 less 2015 revenue than the North Carolina company and about 90 percent of FairPoint's sales.
Sixty percent of FairPoint's workers are unionized, as opposed to 27 percent of Consolidated's.
The companies said they identified $55 million in "annual synergy," to be achieved over two years, with about 35 million coming in the first year, but it's not clear how that will effect FairPoint's workforce. Eighty percent of that will be from primary operating costs, both at the corporate level as well as network and operational efficiencies and IT support, according to a company presentation. Some would involve "combining work groups" and the "elimination of duplicative functions and overhead" said Udell in a conference call.
When asked whether how the acquisition would affect the announced layoffs, FairPoint spokesperson Angelynne Beaudry said that the announced layoffs were unrelated to the deal.