HubSpot to anchor McIntyre office building in Portsmouth
Software maker expected to add employees with move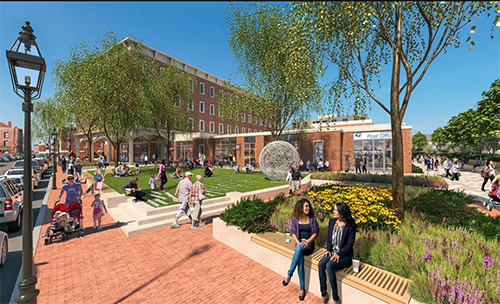 Cambridge, Mass.-based HubSpot will be the anchor tenant of the redeveloped Thomas J. McIntyre Federal Building in Portsmouth.
Redgate-Kane, which is redeveloping the 1960s era building, made the announcement Wednesday that the sales and marketing software developer would be moving its current Portsmouth office to the McIntyre building when the project is completed. The firm signed a long-term lease, according to a report in the Portsmouth Herald.
HubSpot opened an office in Portsmouth in 2015.
"HubSpot is a growing company that has shown a tremendous commitment to Portsmouth, and we're thrilled that the company will be the anchor tenant at the McIntyre if the project moves forward and secures the necessary approvals," said Michael Kane of The Kane Company. Kane said he expected that the company would be adding jobs with the move.
Kane added that his company has had "conversations with a variety of prospective tenants who are excited about the potential McIntyre transformation."
The city is negotiating with the General Services Administration to acquire the building through the Historic Monument Program. The redevelopment plan calls for converting the McIntyre building itself into office space and constructing two new mixed-use buildings with commercial and retail on the first floors and 77 apartments above.
Once completed, HubSpot will occupy the majority of the office space and become the anchor tenant at the McIntyre site, according to Redgate Kane.
"It's critical for the success of our offices to be involved in the local community and we're excited and energized to be a part of a proposed project that would attract new residents, employees and customers to downtown Portsmouth," said Ken Papa, senior director, global real estate and facilities at HubSpot. "The proposed McIntyre project would include a number of features, including open space, co-working spaces, markets and more that the Redgate-Kane development team has designed to transform an underutilized block while furthering downtown Portsmouth's commitment of community first."