How many are too many banks?
Growing number of out-of-state banks set up shop in NH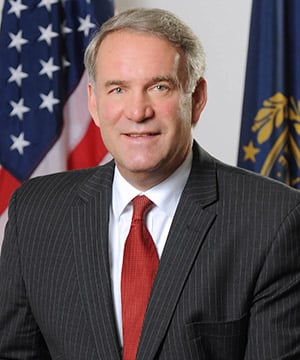 "There are banks from three states converging on New Hampshire," said Rick Wyman, president of Meredith Village Savings Bank, "and they're here to take things away."
Among the 43 banks operating in the state, 27 are headquartered in other states and foreign countries. These include six of the largest banks in the country — Bank of America, TD Bank, Citizens Bank, People's United Bank, First Republic Bank and Santander Bank — and two trust companies, Cambridge Trust Company and Fidelity Personal Trust Company. But the largest contingent consists of 19 community banks — 11 headquartered in Massachusetts, five in Maine, two in Vermont and one in New York — which trickled across the border before the recession, but have poured across with the recovering economy.
New Hampshire Bank Commissioner Jerry Little took the influx of what he called "foreign banks" as "a vote of confidence in the New Hampshire economy." He said that the state is currently growing at a faster pace than its neighbors in northern New England, but stressed that their investments in either acquiring franchises or opening branches here indicates that they believe that the New Hampshire economy offers immediate opportunities and will continue to prosper in the future.
Moreover, the commissioner said, "the competition provides consumers with plenty of choices."
Little added that while the number of community banks has been shrinking across the country and only a handful have been formed since the recession, the department has chartered two new banks since 2008 and a third is currently in formation.
Portsmouth-based Optima Bank opened in 2008 and has grown to more than $500 million in assets. Primary Bank of Bedford opened in 2015 and has grown to more than $160 million in assets.
In the meantime, a group of businessmen in Nashua, where none of the banks currently operating in the city are headquartered, are in the process of forming a community bank, the CBTBE Corporation.
The group is led by G. Frank Teas, once president and CEO of The Nashua Bank, which was acquired by Lake Sunapee Bank, which itself was later acquired by Bar Harbor Bank & Trust.
19 banks in Portsmouth
Oddly enough the incursion by out-of-state banks began with the rivalry between First & Ocean Bank of Newburyport, Mass., and The Provident Bank of Amesbury, Mass.
Rick
Wyman
, president of Meredith Village Savings Bank
First & Ocean had prepared a 10-year plan to branch along the New Hampshire Seacoast, but in 2004 sold to BankNorth. The Provident promptly hired officers and lenders from First & Ocean and pursued the plan by opening offices in Seabrook and Portsmouth in 2006, followed by branches in Hampton, Exeter and Bedford by 2011. Today, while still chartered in Massachusetts, The Provident has redeveloped a site in Portsmouth to house its executive officers and senior lenders.
Meanwhile, to the northwest, Passumpsic Bank of St. Johnsbury became the first in Vermont to establish a New Hampshire franchise by acquiring The Siwooganock Bank of Lancaster, along with its branches in Groveton, Littleton and Whitfield. About the same time, Union Bank of Morrisville, Vt., converted its loan production office in Littleton to a branch in 2006. In 2011 the bank purchased offices in Littleton, North Woodstock and Groveton from Northway Bank of Berlin and three years later opened a branch in Lincoln.
As the economy recovered, banks began spilling across the borders. Since 2011, fifteen community banks from Massachusetts, Maine and New York have entered the New Hampshire market. Like apartment dwellers on a hot August day, most have flocked to the Seacoast, the most heavily banked region of the state.
Nine of these banks have located in Portsmouth: Eastern Bank, Newburyport Five Cents Savings Bank, The Provident Bank and Cambridge Trust Co., all from Massachusetts; Bangor Savings Bank, Kennebunk Savings Bank, Camden National Bank and SIS Bank, all from Maine; and NBT Bank from New York.
Two of the 16 state-chartered community banks — Piscataqua Savings Bank, and Optima Bank & Trust Co. — are headquartered in Portsmouth, where Laconia-based Bank of New Hampshire, Northway Bank of Berlin, Federal Savings Bank of Dover and Meredith Village Savings Bank of Meredith have also opened offices in recent years.
"You can't ignore where the state has grown," MVSB's Wyman said. He explained that after encircling Lake Winnipesaukee, Meredith Village Savings Bank turned to the Seacoast, adding "and we're just one-and-done."
Moreover, four of the largest banks in the country — Bank of America, TD Bank, Citizens Bank and People's United Bank, which together operate nearly three-quarters of all branch offices and hold almost two-thirds of all bank deposits in New Hampshire – also operate in Portsmouth. And Service Credit Union, among the largest financial institutions in the state, with more than $3 billion in assets and 35 branches, is headquartered in the city.
Blaine
Boudreau
, president and CEO of SIS Bank
The result is that Portsmouth, a city with an estimated population of 21,485, is home to 19 banks, one for every 1,130 residents. These same banks operate more than two dozen offices in the neighboring towns of Hampton, North Hampton, Durham and Stratham as well as across the Piscataqua River in Kittery and York, Maine. By contrast, there are a dozen banks in Manchester, with a population of 110,506, and another four in neighboring Bedford, with a population of 22,418.
'The big growth engine'
"Every market is over-banked," remarked Blaine Boudreau, president and CEO of SIS Bank of Sanford, Maine, which opened its Portsmouth office in 2013. "We're all in the same business and looking for growth."
For banks in Maine, "there is almost nothing beyond Bangor but small communities in the middle of nowhere. They have to go south," he said, and "the demographics in New Hampshire are stronger than in Maine."
"The strongest banks in Maine are now doing business in New Hampshire," said Wyman, who has served as an executive and chief financial officer for several banks in Maine, noting that Camden National Bank, Bangor Savings Bank, Kennebunk Savings Bank and Bar Harbor Bank & Trust have staked out franchises in recent years.
With the acquisition of the Bank of Maine in 2015, Camden National Bank became the largest bank in Maine with more than $4 billion in assets. A year earlier, the bank opened a loan production office in Manchester, and this year opened one in Portsmouth. In May, President and CEO Greg Dufour, reporting on first quarter earnings, said that venturing "a little bit more aggressively into Portsmouth and Manchester" is the bank's "top strategic priority." He described the southern part of the franchise, including Cumberland and York counties in Maine, as "probably the big growth engine." The Portsmouth office, Dufour said, would include commercial and residential mortgage bankers as well as wealth management services.
Renee Smyth, chief marketing officer of the bank, said that the loan production offices represented a modest investment with marginal impacts on operating costs. She said that the bank was committed to growing "organically" on the strength of its earnings and expected to establish retail banking operations in New Hampshire.
'Flavor of the day'
Bangor Savings Bank, the second-largest bank in Maine, began offering lending and payroll services in Portsmouth in 2017, just before announcing it would acquire Granite Bank of Colebrook. Granite Bank, originally First Colebrook Bank, opened a commercial lending center in Portsmouth in 2007 and folded it into a branch office in 2009. Shortly before the merger closed in April, Bangor Savings announced it would open an office in downtown Portsmouth this summer.
One competitor described Kennebunk Savings Bank as "one of the real aggressive players." But Bradford Paige, president and CEO, said the move to New Hampshire "wasn't such a big leap for us."
Bradford Paige, president and CEO, Kennebunk Savings Bank
Paige explained that the bank opened a loan production office at Pease International Tradeport in 2005 and had operated across the Piscataqua River in York County for some time. "We had New Hampshire customers before we had New Hampshire branches," Paige said.
Paige described the Portsmouth office, which opened in 2011, as "not a big strategic decision, but a contiguous addition to our existing network."
The bank has since branched to Dover, Durham, Hampton, Newmarket and Stratham, and Paige said he expects to add a branch a year, following "a next-town-over approach. We're not going to jump over 10 towns to reach a market," he added.
"We're not afraid to be contrarian," said Curtis Simard, president and CEO of Bar Harbor Bank & Trust Co., "and we're happy to be where the other people don't want to be."
Last year, the bank acquired Lake Sunapee Bank Group in a $143 million transaction to form the only community bank with 50 branches in three northern New England states. With Lake Sunapee Bank Group, Bar Harbor Bank & Trust added 21 branches in New Hampshire, none closer to the Seacoast than Concord, and another 14 in Vermont. Simard said that as a bank in Downeast and Mid-Coast Maine, Bar Harbor Bank & Trust was tied to a tourist economy and hospitality lending with seasonal rhythms and was seeking a greater measure of economic and geographic diversity than further expansion in Maine could offer.
Simard, a career banker who has lived and worked in New Hampshire, described the franchise as beginning with offices in Nashua, Milford and Peterborough, running northward where branches are planned in Manchester and Bedford, through Concord, then turning northwest along Interstate 89 to the Upper Valley. He said Hanover and Lebanon were "great markets less well served than others in New Hampshire." The franchise, he said, "includes some less densely populated markets, but these are markets we understand and markets where branches matter. We wanted to merge with a bank with a community bank culture like ours."
Among the banks from Massachusetts apart from Provident, Eastern Bank of Boston, the oldest mutual savings bank in the country (it was founded in 1818) and the largest community bank in the commonwealth, and Enterprise Bank of Lowell, chartered in 1988, have the largest footprints in New Hampshire.
In 2014, Eastern acquired Centrix Bank & Trust Co. of Bedford and now has branches in Manchester, Bedford, Nashua and Concord in the Merrimack Valley and Dover and Portsmouth on the Seacoast. With the opening of an office in Nashua in 2013, Enterprise had five locations in New Hampshire and has since added branches in Derry and Windham.
"New Hampshire is the flavor of the day," Wyman remarked, "and we're thinking a lot about the additional competitive pressures on small community banks."