Home Depot volunteers assist Community Council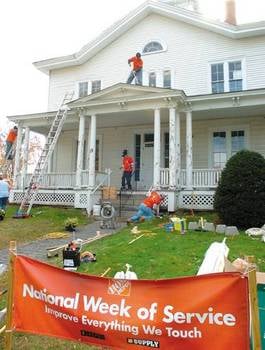 When Home Depot sales associate Janice Shaw heard her company was volunteering to give the Community Council of Nashua house at 15 Prospect St. a makeover, she signed up to help.
"A lot of kids wouldn't get the help they need if it wasn't available through Community Council," said Shaw, of Merrimack, who knows someone who has made "tremendous strides" attending the local mental health center.
Shaw was one of more than a dozen Home Depot employees from both Nashua stores and the Merrimack store who gave up their day off Thursday and joined forces to fix up the 1905 white house. The work was part of the company's annual "week of service."
Dressed in orange Home Depot T-shirts and jeans, the "Team Depot" volunteers arrived around 7:30 a.m. and started scraping paint, sanding, and sealing parts of the house. They worked on beams, the porch and even the leaky roof.
Volunteers pressure-washed the house two weeks ago, but had to wait until this week for better weather to finish the work.
"Nobody's required to do it, these people organized it themselves," said John Markgren, manager of the Home Depot at the Nashua Mall. "One of our core values is giving back to the community. This is one of the ways we chose to do it."
Home Depot's employee volunteer program, started in 1992, focuses on helping to build and rehabilitate affordable housing,dreams, protecting the environment, and responding to emergencies, according to the company's Web site.
"I want to set a great example for the people I work with and my children," said Sarah Langan, who took pictures, got coffee, and did some sanding.
"It's great to be able to come and help people out when they need it," she said. "My company supports that, and I'll go do it on my day off."
The company provided all of the paint and materials needed for the Community Council project, said Larry Arsenault, design consultant at the Home Depot at the Nashua Mall.
The project also served as a "family reunion" for Home Depot workers from all three area stores, who haven't seen each other in a while, Langan said. "It's just plain fun," she said.
Debra Sosin, director of child and adolescent services at Community Council, called the project one of the most generous things she's seen.
Home Depot found out about the needed repair work at the building through Linda Bonetti, a Community Council board member. Home Depot officials called Bonetti, the executive director of the Merrimack Chamber of Commerce, looking for a project in the area.
"It's old and it hadn't been painted in a number of years," Sosin said of the building, adding that the wood on the deck was rotting, the paint chipping and the roof leaking.
"For children, coming into a space that looks wonderful and bright helps their self-esteem," Sosin said.
Community Council provides both in-house and community counseling, and has an after-school program for emotionally disturbed children, according to Sosin.
Team Depot planned to finish all of the cosmetic work on the house Thursday.
"It's a challenging goal," Markgren said. "If we don't manage to pull it off, we'll be back."