Hollis ZBA debates longtime gravel operation's request for hours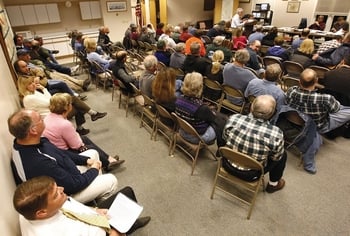 HOLLIS – The zoning board got an earful but made no decisions Thursday night on the fate of a decades-old town business.
Douglas Orde, owner of Hollis Construction, has operated a gravel pit at 244 Depot Road since he purchased the property in 1983. He's asking the Zoning Board of Adjustment to allow the importation, processing and sale of landscaping materials, which he has been doing without town approval for years.
Proponents and opponents of the site clashed Thursday and debated whether the variance should be granted.
Testimony on the case hit the four-hour mark around 11:30 p.m. and was still going at deadline.
Jed Callen, Orde's attorney, argued for the variance and said his application meets all the legal standards for a variance in that the business hasn't marred the character of the area and doesn't impact or threaten public health or safety.
I
n fact, he said the landscaping and composting operations is quieter and has less impact than a full-fledged gravel pit.
"To allow that does not alter the essential character of this locale," Callen said. "In fact, the character of this locale was a grandfathered gravel pit."
Four experts, including a real estate appraiser and a soil scientist, along with several residents testified on Orde's behalf and in support of the business.
"As a resident, I would hate to see it disappear," said Herman Stickney. "I think it's saving the town a lot of money."
Doug Adams said a composting facility the size of Orde's is particularly important as residents start to clean up deadfall and broken branches following December's ice storm.
"We can either put it through his recycling operation or we can try and bury it all at our own town-owned facility," Adams said. "I am in favor of Doug's pit staying where it is."
Tom Enright, another supporter, said it would be hypocritical to shut down Orde's business when the town's stump dump does virtually the same thing just down the road.
Several others spoke against the application, including Bob Cormier, who said the business has shifted from being a gravel pit to an industrial landscaping materials provider and has gotten busier since 2003, which is when neighbor complaints began.
"It's absolutely contrary to the zoning and will set a dangerous precedent for the town," Cormier said.
"We call it 'Doug's Dump,'" said Rideout Road resident Stephen Banks before the meeting. "There's construction debris, asphalt, noise at all hours."
In addition to noise, Banks said he and some of his neighbors have been concerned that the materials in the yard could pollute a nearby aquifer.
Orde's gravel pit is grandfathered from the town's extensive zoning ordinance, but the town building inspector, David Gagnon, determined in October that the expansion of the pit and other uses on the site violated zoning rules.
Mining and selling gravel is allowed at the site but is a small portion of the business done there, according to Gagnon. A larger portion involves trucking in materials, including concrete, loam, asphalt, saw dust, compost and stumps, processing them and re-selling them, Gagnon wrote.
Gagnon issued a cease-and-desist letter Oct. 22 and the zoning board denied Orde's appeal of that order in December.
Gagnon looked into Orde's Depot Road operation following what in the cease and desist letter he called "numerous complaints."