Hitting the cap
Industry, utilities, lawmakers debate changes to renewable energy net metering limits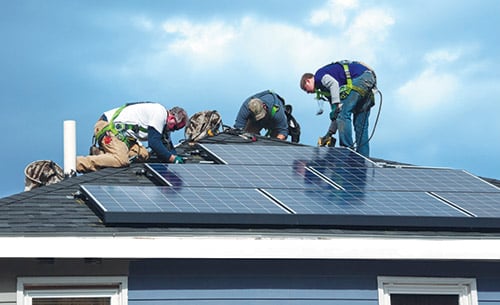 Andrew Kellar, president of Stratham-based NHSolarGarden, remembers vividly when the net metering cap was reached in Liberty Utilities' service areas.
It was last July 30, at a NH Public Utilities Commission prehearing, called to standardize requirements to get in the queue for solar energy projects eligible for the net metering program. In the case of Liberty, which had about a megawatt of capacity left, the payment of an interconnection impact fee would be sufficient.
NHSolarGarden had designed a 1.3-megawatt solar array for a Salem landfill owned by a private recycling company, so Kellar whipped out his checkbook and wrote a $13,000 check right on the spot, though construction of the project wouldn't start until the spring. But the cap was reached.
That agreement, however, put 17 of the 68 homeowners and businesses that the Enfield Energy Emporium had signed up for solar rooftops in the Upper Valley in the shadow of uncertainty.
"When Liberty hit their cap, which basically crashed the program, it left many installers and homeowners confused and disappointed," testified the Enfield Energy Emporium's Kim Quirk at an NH Senate hearing in January.
Quirk and Kellar both want to lift the current 50-megawatt cap that has put a lid on what had been explosive growth of the state's solar industry. Lawmakers appear to be ready to do that somewhat, but at deadline, the cap is still there and has been reached by every utility except for Until.
Lawmakers created that cap, which is apportioned among the state's four electric utilities, some 17 years ago – a time when a limit no one thought it would be reached. It took 13 years before the state produced its first five megawatts through solar energy, two years for the next five, one year for next, six months to add 10 more and by the by the end of 2015, 30 megawatts have already been put into service.
A confluence of factors has led to an astonishing acceleration in renewable energy, particularly solar:
• Cheaper and more efficient solar technology.
• The arrival of two national companies that allow homeowners to rent out their roof with no money down.
• A new law enabling group projects.
• A rush to get solar done because of the threatened end of a variety of incentives, including net metering.
The solar industry now employs more than 730 people in the state, according to a recent report by the Solar Foundation.
But as impressive as that growth is, New Hampshire lags behind other states, and part of the reason is the cap, which is at 1 percent of our generation capacity. Vermont is at 15 percent, Massachusetts at 9 percent and Maine has no cap at all.
Most now agree that New Hampshire's cap should be lifted, but how far, for how long, and for what type of user – residential homeowners, midsized businesses, municipalities?
Burgeoning business
Electrician Shawn Gagnon checks the power inverter.
Net metering allows consumers who produce their own energy to get credited when they produce more power than they use. Theoretically, the utility cuts them a check when they overproduce by a large margin for the entire year, but this rarely happens, especially at the residential level.
The original 50-megawatt cap didn't differentiate between larger and smaller systems. The two-tier rate system "was for early adopters" explained Clifton Below, at the aforementioned hearing.
Below co-authored the original 1998 law as a state senator with then-Rep. and now Senate Majority Leader Jeb Bradley. He later went on to serve as a PUC commissioner.
"It was a rough justice that we would need to revisit someday," he said.
That day seemed far off at the time. Despite incentives for residential solar systems – then nearly the only energy used for net metering – they remained uncompetitive. The upfront costs and the payback period were too daunting for all but wealthier homeowners.
Thus when Mark Brown, a spokesman for the New England Ratepayers Association testified at the January Senate hearing that net metering "represents a clear cost shift from middle income ratepayers for those high on the income ladder," it had a ring of truth to it.
But as the cost of solar dropped, large national companies entered the Granite State market with a new paradigm, investing the upfront costs, owning the array on the roof, and then either leasing it to homeowners or selling them discounted energy.
Other companies continue offering lower upfront costs with affordable financing. People started switching to solar, not primarily to save the environment, but to save money right away.
A few years ago, said Fuat Ari, president of Sun Dial Solar in Chichester, "We had to talk people into solar." It was lucky when the firm was installing systems in a dozen homes a year. Last year it installed 35.
"Now it's 'Are you interested or not?' We don't have time to babysit people."
Revision Energy, one the largest local solar energy firms, has installed solar for more than 600 homes since it opened its office five years ago in Exeter. More than half of them were installed last year.
Solar City, a publicly listed company with nearly $400 million in revenue, installed systems at some 800 New Hampshire homes in the last year, and Sunrun, a company that went public last year with about $100 million in revenue, estimated it has added about 500 since it came in June.
All say they have hundreds of homes lined up if the cap is lifted. Whether they will be able to continue at that rate is an open question. The publicly held companies' revenues keep growing, but so do their losses. Solar City's net loss was nearly $770 million last year and both Solar City's and Sunrun's current stock prices are about a third of what they were at their peak last year.
But in any case, there are other companies adopting their models who are waiting in the wings, ready to enter the market as soon as the cap is lifted. Take PosiGen, a Louisiana-based company that specializes in providing rooftop solar to lower-income homeowners.
"New Hampshire is high on our radar because the cost of power is so high, and people are having trouble paying their bills," said Karl Loeb, the company's director of policy.
Center of debate
As surprising as the growth of rooftop solar has been in New Hampshire, what is going on at a larger scale is even more astonishing, thanks to the group net metering law, which was enacted in 2013, with final rules adopted in January 2015.
The law allows meters to be pooled – within the same company, a medical or college campus or within a municipality – so that meters that get all the sun can transfer its credits to be applied to those in the shade. A municipality can stick a solar project on a landfill, and residents can get lower utility bills by simply signing up as a member.
Solar City's Sean O'Brien and Brandon Dion install solar panels n a house in Manchester, NH.
In one year alone, some 125 hosts have grabbed more than 11 megawatts of the net metering capacity, according to PUC figures. Most of that capacity (8.8 megawatts) was taken by 23 of those hosts. And while the residential cap has primarily involved solar, small hydroelectric power is responsible for nearly 6 megawatts the group net metering allotment.
Not all larger projects are group projects. Revision Energy, for instance, has set up 56 projects for businesses municipalities, schools and nonprofits over the past five years, constituting about 2 megawatts.
And many of these projects are below the 100kW, as well, often just under, since they are eligible for a much larger credit that way.
"We often aim for the sweet spot," said Jack Ruderman, Revision's director of Community Solar Initiatives.
But over or under 100kW, group or not, larger projects almost always take more time. "It's a slow process," said Ruderman.
Indeed, many of the projects that currently are taking room under the cap haven't been built yet. At Eversource, for instance, about a third of the projects are in the queue, including one 700,000-kW project that is preventing many smaller projects from getting in. This has led to the aforementioned PUC proceeding to determine what is required to get on the queue and stay on the queue. It also has led to a Senate proposal to prohibit any one company from taking more than a fifth of state's net metering capacity.
Right now, the aforementioned NHSolarGarden is at the center of the debate, since its has some 30 projects eligible for some 11 megawatts of Liberty Utilities' current net metering allotment, with 14 megawatts on the waiting list.
"We are all concerned about that," said Ruderman. "Everything is on hold, but nobody knows how many of these deals he could pull off."
"All of them," said Kellar.
Compromise efforts
This tension between smaller and larger projects is a byproduct of how things were set up, since both are thrown together under the original law. And they would have continued that way under the original version of Senate Bill 333, Sen. Jeb Bradley's measure that would lift the cap by 25 MW.
"The whole purpose seemed to help the commercial facilities, but nobody was looking out for the little guy who is trying to get some independence," said Bob Clegg, who represents Solar City and Sunrun.
The bill was later amended to reserve 60 percent of the additional capacity (or 15MW) for small systems. That still wasn't enough for residential installers who asked that there should be no cap until the PUC sets new rates.
Then another compromise was reached and amended to House Bill 1116, which would increase the cap by 50MW, with 40 reserved for smaller systems. Larger users would get the same 10 megawatts. After some griping by Republicans about subsidies and letting PUC decide legislative policy, the entire House Science Technology and Energy Committee voted for the bill.
While some look at reaching the cap as a catastrophe for the solar industry, Bradley tried to get both sides to see the bigger picture: net metering works and has had a history of success.
"The fact that we are approaching 50MW of installed capacity I think is a good thing, especially given in New Hampshire how hard it is to site major sources of generation, whether transmission facilities or generating facilities," he said.
---
What should be done about

the net metering cap?
Under the net metering program, credit is given for excess energy produced by renewable energy systems. So how much credit should the utility grant?
Currently, there are two rates. Smaller users who don't produce more than 100kW — anything smaller than a midsized grocery store — receive the full retail rate, and for now, they are responsible for most of the solar energy generated in New Hampshire.
In Eversource's area for instance, 25 of the 36.5 megawatts it is apportioned under the net metering cap is generated by small users.
Larger customers currently receive the default energy rate, and they have to reimburse the utility for any upgrades they have to make to the system to set up net metering.
Utilities have contended that these credits amount to a subsidy or cost-shifting from ratepayers who can't or don't want renewable energy to those that do.
This is particularly true of small users who don't pay for the infra-structure, either generation or distribution costs. It's also true of larger users, since energy that they buy on the spot market is usually cheaper.
In the case of Eversource, for instance, the retail rate is 16 cents per kilowatt-hour, the default energy rate is 10 cents per kWh, and energy on the spot market varies, but can be as low as 2 cents per kWh.
This, stress utilities, comes on top of other subsidies, such as a 35 percent federal tax credit and NH Renewable Energy Fund grants.
The total cost comes out to as much as $4 million, or about 2 percent of consumers' electric bill, argues Rick Labrecque, Eversource's manager of distributed generation. Doubling the cap without changing the rates utilities are required to pay would result in almost doubling the subsidy, adding another 1.5 percent increase.
An accounting mechanism?
Cap expansion advocates argue that net metering is just an accounting mechanism that needs fine-tuning and in some cases — particularly when it comes to large projects — generators actually subside utilities.
For one, solar systems produce energy on hot sunny days when there is strong demand for power. They require fewer transmission lines than a remote power generator and, since less energy is generated, the utility doesn't have to pay as much for capacity. In addition, it helps the utility meet renewable energy and air emissions reduction goals, which also save it money.
Furthermore, argues Kate Epsen, executive director of the NH Sustainable Energy Coalition, it's in the utilities' best interest to encourage net metering in the long run because battery technology will soon make it possible for producers to store excess power at home, rather than send it through the grid.
"If they can't interconnect with a viable net metering program, that will push people off the grid altogether," she said. The result, she added would be fewer people contributing to energy infrastructure, increasing the costs for those left behind.
Harold Turner, a Concord engineer, says the cap should at least be lifted immediately on large systems, since there is no evidence of a subsidy. But Eversource argues that about half of the subsidy is on the energy rate alone, and that's what large systems get.
Case study
Both sides have agreed to let the Public Utilities Commission decide the matter, each thinking that they will get a favorable ruling.
A NH Electric Cooperative examination offers results that shows they both might be right.
The co-op was the first to reach its cap, but because it is consumer-owned it could reset its own rate. Using data from its smart meters, it determined that utilities were subsidizing small users, so it decreased net metering credits by 25 percent to 9.7 cents kWh.
However, it found, larger users weren't getting paid enough, so it increased their rates 25 percent to 8.1 cents a kilowatt hour.
It won't have a cap going forward, and therefore will not be included in any extended cap.
However a PUC rate case is being adjudicated, and it could drag on for a year. In the meantime, what should be done about the cap? Parties have agreed to a compromise that would double the cap to 100 megawatts, reserving most of it for smaller systems.