Historic Lancaster building to be rehabbed
Commercial, residential space planned at downtown Parker J. Noyes building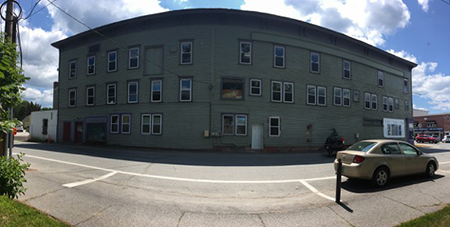 The historic Parker J. Noyes building will be the latest downtown Lancaster structure to be renovated through a partnership that includes a local businessman and the Northern Forest Center.
Under the deal, which was reached Monday, Greg Cloutier – who has been involved in other downtown Lancaster redevelopments – and the Concord-based economic and community development organization will renovate the 19thcentury building and create new commercial space and residential units on the upper floors.
The joint venture is called Parker J. Noyes Redevelopment.
The first floor of the building will become the new home of the Root Seller Marketplace, which is currently located at 77 Main St. in Lancaster. The store sells produce and products from local farmers and food producers as well as works by local crafters. It is run by a nonprofit, Taproot Farm & Environmental Education Center.
The remaining two floors will be turned into two-bedroom residential units for young professionals and families.
The Parker J. Noyes building is currently on the NH Preservation Alliance's "Seven to Save" list due to the building's historical significance.
Renovation is scheduled to begin later this fall. The developers said they plan to retain as much of the building's historic character as possible in the renovation.
Money for the project has been raised through private investments I the Northern Forest Center's Lancaster Main Street Fund, which was established in 2018.
"Our investors want their money to leverage new energy and vibrancy in Lancaster's downtown," said Rob Riley, president of the center. "We've seen how quality redevelopment of important buildings can help communities turn a corner and how one project quickly leads to other enhancements."
Riley said investors in the fund will be repaid over a five-to-seven-year period. He said the developers expect to sell the renovated building in about 10 years to generate funds to repay the initial investors.