Henry Lipman, LRGHealthcare
2012 Financial Executive of the Year winner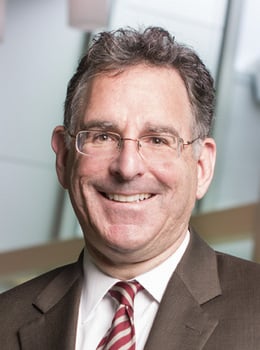 When Henry Lipman accepted a position as budget planning director at Lakes Region General Hospital in 1984, he planned on staying in the region for about five years.
But nearly 30 years and several promotions later, Lipman has stuck around and is now executive vice president and CFO of Laconia-based LRGHealthcare, parent company of Lakes Region General Hospital, Franklin Regional Hospital and several community-based health initiatives. The health system is the largest employer in Belknap County, with roughly 1,400 full-time equivalent jobs.
During his tenure at LRGHealthcare, Lipman has emerged as a strong advocate for hospitals and health care in the state. He was one of the architects in getting a preliminary injunction against the state when it cut Medicaid reimbursements to hospitals, and was among those leading the charge to stop the state from taking $110 million from the privately funded Joint Underwriters Association malpractice insurance program.
"He is creative and tenacious, not letting any opportunity pass by without attempting to achieve what is in the best interests of the patients and communities served by his hospital and others across New Hampshire," wrote Steve Ahnen, president of the New Hampshire Hospital Association.
Within his own organization, Lipman handled the regulatory framework to coordinate the merger between Franklin and Lakes Region hospitals, and was instrumental in winning approval for LRGHealthcare to participate in the U.S. Housing and Urban Development program for support of renovation and expansion projects.
And recently, he helped found the Granite Health Care Network, a five-hospital system aimed at leveraging the resources of each to bring down the cost of care and improve the quality of health care delivery.
Lipman is on his fourth term as Laconia City Councilor, teaches Sunday school and enjoys hiking, skiing and biking.
Q. How did you end up where you are today in your career?
A. I graduated from the University of New Hampshire out of the health management and policy program in 1981, and graduated from Boston University in 1985 with an MBA with a health care finance concentration.
When I went to grad school, the first person I met was my boss, (LRGHealthcare president) Tom Clairmont, and we went to school together for a few years, after which I ended up coming to the Lakes Region.
I've always had an interest in marrying helping people while also dealing with the administrative side of things, and I've learned as I've worked through the years the importance of public policy. My current role is a marriage of all three of those.
Q. What has been your proudest accomplishment during your tenure at LRGHealthcare?
A. The merger is one. Another one is obtaining the federal designations — for Franklin, Critical Access Hospital status, and LRGH, Community Hospital status.
Two more recent ones, out of the financial meltdown, we were able to navigate our way into a new capital structure that has allowed us to put ourselves in a position to undertake capital projects to meet community need and give us a steady stream of capital.
As for public policy ones, the ability to keep the state of New Hampshire from taking $110 million from the Joint Underwriters Association.
Q. What have been some of the biggest professional challenges you've faced in your career?
A. Both the state and federal government face a lot of financial challenges, and how those are laid into the health care system that face my career in the years ahead — because the cuts could be pretty enormous.
Q. What are your hobbies/personal interests?
A. I teach Sunday school — I enjoy it. My mom was a special needs teacher for 44 years, my father helped people too, so I always felt it important to contribute to the community and try to make it better for those who are my neighbors and friends.
I have two girls, aged 7 and 12 — I help coach some of their teams, t-ball and soccer. I like to ski, run, hike, bike — before I had children I was captain of my hospital ski team.
Q. Looking to the future, what are some of the challenges and opportunities that you see on the horizon for LRGHealthcare?
A. Crisis is opportunity. The opportunity is that the constraining of resources creates, if you will, the need to effect changes to innovate and be creative to overcome those things. As challenging as it is, the challenges create the opportunity for us to grow in creative ways to deliver health care.
As you evolve and adapt, the concern is that funding reductions will be so significant to health care that you won't be able to adapt in a way that protects patients.
It's got to be paced at a way that it can be adapted to, and that's kind of what I see my next stage of my career — helping to work on both the operational side of working with other hospitals, and the public policy side to balance out the adaptations and continuing to meet community need.