Hearing set on Laconia State School property plans
July 16 meeting to review redevelopment options for 200-acre site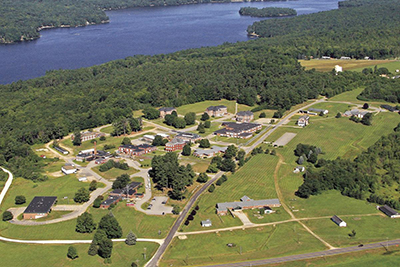 A public hearing is scheduled for July 16 to allow stakeholders and other community members to get a closer look at the final redevelopment options plan for the former Laconia State School property, a prime-200-acre site overlooking two lakes — Opechee to the east and Winnisquam to the west.
The options are included in what is essentially a master plan for the property, which has been eyed for redevelopment since the early 1990s, after the closing of the former school for developmentally disabled people.
Overseeing development of the plan is the Lakeshore Redevelopment Planning Commission, which was created by the New Hampshire Legislature in 2017 on the model of the Pease Development Commission for the purpose of finding uses for the property that would create jobs and generate tax revenues.
An initial study of the property, released last year, included building a large residential development at the site and creation of mixed-use projects, with some mix of retail, lodging, medical offices and other businesses.
The latest study, produced by Hunden Strategic Partners, a Chicago consulting firm, plays up a suggestion to build an indoor sports complex that would serve as some kind of economic engine in attracting more visitors to the area and increase hospitality-related spending.
The firm has recommended a 40,000-square-foot complex with four regulation basketball courts that can be converted into eight volleyball courts and at least 200 parking spaces on four acres.
The idea was met with some skepticism by commissioner members, who had questions about the size and depth of the market such a facility would cater to.
The public hearing on the proposal will begin at 7 p.m., Tuesday, July 16, at Laconia Middle School.