Health Innovator Award: Rivier College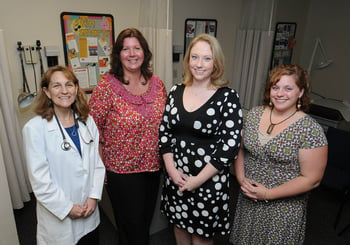 For showing a strong commitment to employee wellness through various employee-centered wellness opportunities, Rivier College has been recognized by Harvard Pilgrim Health Care of New England and NHBR as the latest recipient of the Health Innovator Award. Founded in 1933 by the Sisters of the Presentation of Mary, Rivier College is a Catholic, co-educational institution offering undergraduate, graduate, and postgraduate programs in the liberal arts and professional courses of study.
Q. In what ways does Rivier show its commitment to wellness?
We show our commitment to wellness by providing our campus community with opportunities to get well and be well at work through various programs and events on campus. We used the National Wellness Institute's 'Six Dimensions of Wellness' model© as a starting point, and have used it to design and deliver wellness programming. We determined that three of the six dimensions were already recognized in our work: occupational, spiritual, and intellectual.
We then invited the Rivier community to suggest ideas for programming that would fit into the emotional, social and physical dimensions. We have also offered a variety of programs in collaboration with our Employee Assistance Program.
Q. What are some specific examples of wellness initiatives Rivier has offered its employees?
We partnered with our food service provider, Sodexo, to put on a healthy cooking demonstration for employees. The head chef taught participants how to make a quick, easy, and very healthy dish that they could make at home, as well as new healthy cooking techniques and common substitutes for high-fat and high-calorie ingredients.
In addition, our human resources department has started a blog and a Twitter account to provide employees with a wide array of wellness resources for them and their families.
For the past two years, Rivier has participated in the Harvard Pilgrim Health Care Corporate 5K. Rivier pays the registration fee for college employees, and each year a team of more than 15 Rivier employees and their family and friends have participated.
We also offer a flu clinic, regular wellness workshops and an on-site fitness facility.
Q. Why is an emphasis on health and wellness so important to Rivier? How does it set you apart?
The core of Rivier's mission is transforming hearts and minds to serve the world. Promoting the health and wellness of our faculty, staff, and Sisters is one of the ways that the Office of Human Resources supports this mission. A healthy and more productive workforce can more effectively live out our mission and demonstrate healthy habits and behaviors for our students. We are not just focusing on an employee's performance at work; we are focusing on the whole person. In addition, the collaboration that takes place in coordinating these programs ultimately leads to a more cohesive community.
Q. In what ways has Rivier taken small steps toward promoting wellness that have made a significant difference in the lives of employees?
We have definitely learned the power of small steps. Our first small step was our partnership with the nursing division to provide biometrics screenings for employees. As employees begin to see the rewards of their healthy behaviors and efforts, the positive word quickly spreads around campus. We have many employees who have quit smoking or lost weight, and many others who now walk at lunch or go to their regular wellness visits with their PCP.
Q. What is your advice to other small organizations or colleges/universities looking for ways to promote health and wellness for their workforce?
First, define wellness and what it means to your organization. Once defined, take your first small step towards wellness. It doesn't have to be big, elaborate, costly, or sophisticated. Tap into the resources that are around you. Invite employees to share their ideas and suggestions for wellness. Collaboration is essential, so take advantage of the relationships you've formed both internally and externally to identify wellness opportunities.
A wellness program is not one size fits all. Build a sustainable and collaborative program that fits your organization.