Health Innovator Award: Northeast Delta Dental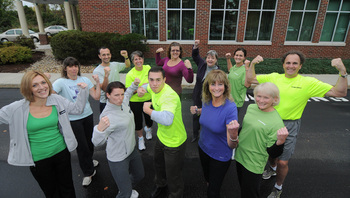 Because of its dedication to raising employees' awareness of the many positive aspects of wellness, Northeast Delta Dental has been recognized by Harvard Pilgrim Health Care of New England and NHBR as the latest recipient of the Health Innovator Award. Northeast Delta Dental is an organization whose primary objective is to expand the availability of oral health by educating purchasers and the public on the value of oral health and providing affordable dental plans to improve access to oral care. The company's interest in good health extends beyond oral health — especially as it relates to its employees.
Q: What makes Northeast Delta Dental a model organization when it comes to offering the best wellness-centered programs to its employees?
As an organization concerned with the health of individuals, we started our journey toward good health many years ago when we moved to our building on Delta Drive and decided our new campus would be smoke free. We're sensitive to the needs of our employees and understand that habits are difficult to break, so we offered our employees support through educational and smoking cessation programs to motivate them to break the habit. That was in 1997, and our interest in employee wellness has continued. A few years later when we expanded into a second building, we designated space for a fitness center and hired a fitness coach who, for the eighth year, is available to our employees for a limited number of hours during the week.
Our efforts over the years have pointed to raising our employees' awareness that they likely will live longer and feel better, have more energy, and be productive both at work and outside of work, if they exercise regularly, avoid smoking, eat healthy, and minimize stress by maintaining life balance.
At Northeast Delta Dental, we have an active Safety and Wellness Team made up of both managers and non-management employees whom we empower to generate ideas, suggest programs, and initiate events. Employees have the best ideas, and taking advantage of their creativity gives us an edge. The Safety and Wellness Team is the hub of our efforts to positively impact the health of our employees. Our approach to employee programs is to place employees at the center, encourage their creativity, and stimulate their energy.
Having said all of that, it boils down to good role modeling from the top, continuous employee involvement in program development, constant education about health-related issues to create awareness, and allocating resources focused on health and wellness — do all that, and you begin to create a culture of wellness.
Q: What are some of the wellness programs that you make available to your employees?
We offer a variety of wellness programs, including chair massages, personal training, the Employee Assistance Program, an on-site fitness center, health risk assessments, stress management programs, and an annual health fair. We have also partnered with our health plan provider, Harvard Pilgrim Health Care, to offer exciting programs like The Full Yield, a year-long healthy eating and nutrition program.
Above all, we aim to provide a positive and supportive work environment where we strive for clarity around goals and objectives and an atmosphere of trust.
Q: If you had to persuade another organization to develop a similar employee wellness program, only citing one benefit of doing so, what would it be?
That one's easy – healthier, happier employees deliver a "healthier, happier brand" of customer service.
Q: In what ways do you feel these wellness initiatives have positively impacted your workforce and overall work environment?
There are many ways that we have seen a positive impact. Employee absenteeism is low; an almost negligible number; and employee satisfaction is generally high. Many employees have lost a high percentage of body fat and look great – and say they feel great. Some employees have discontinued medications for diabetes and high blood pressure. Most important, employees have gained self-confidence and self-esteem. In a recent survey where more than half of our employees responded, 96 percent of survey participants indicated they feel better as a result of taking advantage of Northeast Delta Dental's focus on health/wellness and program offerings. Most employees responding indicate they feel more productive at work. Employee awareness about healthy lifestyle equates to increased awareness and hopefully healthier choices and lifestyle.