Health Innovator Award: Community Bridges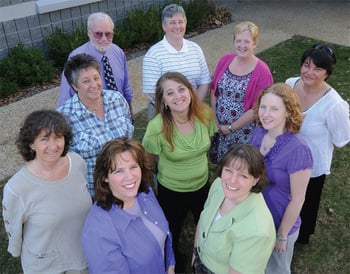 By setting a strong example for employees around the significance of health and wellness, Community Bridges has been recognized by Harvard Pilgrim Health Care of New England and NHBR as the latest recipient of the Health Innovator Award, and the first recipient of 2012. Community Bridges is a Concord-based nonprofit serving disabled individuals and their families in communities in central New Hampshire, helping them to lead active lives filled with meaning and opportunities for contribution.
Q. In what ways does Community Bridges exhibit its commitment to wellness, both in the workplace and for the families and communities it serves?
A. We demonstrate this every day in our actions and communication. We have monthly Wellness and Culture events to keep wellness alive and integrated into our culture. The communities we support benefit from healthy and vibrant workers. In supporting employees in their quest for optimal health, we provide a positive impact on the communities as a whole.
Q. What makes Community Bridges stand out from the pack when it comes to offering top-notch wellness-centered programs to employees?
A. We stand out for a few reasons. First, we have 14 dedicated committee members on our Wellness and Culture Committee who all contribute ideas and time. Having an event each month keeps wellness on employees' minds all year long. Second, we do not just center on wellness; our goal three years ago when we started the committee was to integrate the culture of the agency into our wellness initiatives. Part of our mission states that we will be a leader in the delivery of and advocacy for innovative support to the individuals and families we support. That is the committee's mission as well and it is embedded in our employee culture by the Wellness and Culture Committee. We use innovative approaches to wellness to support employees in their quest to live well. If the employees feel valued and supported, then they will demonstrate this to the individuals and families they support. Third, we ask, we listen, and we deliver. We conducted a survey in the second year to better understand what employees wanted for support and took those ideas and implemented them by offering sporting events and a benefit fair. Lastly, we have fun! Events are centered on fun activities with information and support from staff, outside vendors and others.
Q. When and why did Community Bridges begin integrating wellness programs, and how have they expanded?
A. There used to be a social committee in the past and a few years ago, employees were asking if this committee could be reestablished. Seeing an opportunity to blend health and wellness in a social way that could benefit many employees resulted in the formation of the Wellness and Culture Committee, which held its first meeting in April 2009. Our first event was a potluck luncheon, followed by Weight Watchers at work, yoga classes, and a yard sale to fund our events. From there, we started off 2010 with Walking for Wellness. We had over 65 employees who joined a team, came up with their own team name and logged five miles of walking each week for six weeks. In year two we had our first wellness fair, offering free flu shots, screenings, a nutritionist, and safety training. We had massage therapy, acupuncture, an herbalist, and many more vendors this past year, with over 103 employees attending the fair in October. The 2011 benefit fair expanded so much that we need additional space for the 2012 benefit fair.
Q. What value do you see in wellness programs? And, in what ways have they improved the overall culture and environment at Community Bridges?
A. Keeping benefits costs reasonable is a major reason to establish a great wellness program, but it should not be your first reason. A genuine wellness program's goal needs to be centered on supporting employees and including them in decisions about their health. A great secondary benefit is that when you have the first component in place, employees trust the information and communication they are receiving. This allows Human Resources to really communicate ways in which employees can assist in keeping health care costs down, thus not increasing their premiums. Looking at reports each year and seeing that pharmacy costs are high led us to decide on educating employees about prescription drug costs and how to decrease those costs. That year, our pharmacy costs went down $15,000. Employees used the education to choose lower cost options and used mail order for maintenance prescriptions. In the second year, emergency room costs were up so we educated employees on the cost of emergency room visits and provided access to all the area urgent care clinics. This brought emergency costs down. Using data you have on hand is the best guide to target future initiatives and programs.
In terms of improving our culture, we were already a kind and caring agency. When there are dedicated times for employees to socialize and learn about wellness in the workplace, people are more productive and work more collaboratively together.
NHBR's Health Innovator Awards Program, presented in partnership with Harvard Pilgrim.