Hassan seeks to boost career and technical ed centers
They're 'critical to New Hampshire's workforce and economy,' says senator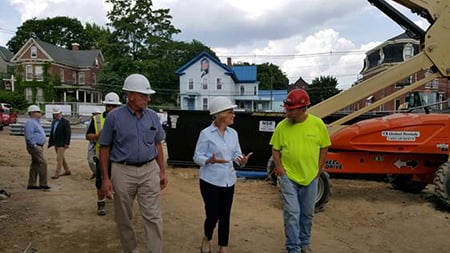 U.S. Sen. Maggie Hassan is stressing the need to expand career and technical education programs in New Hampshire, saying they're key in strengthening the state's workforce pipeline.
Hassan, who is helping to enact the Strengthening Career and Technical Education for the 21st Century Act, called career and technical education programs "critical to New Hampshire's workforce and economy."
To drive home the point, she made a July 3 visit to the construction site in downtown Concord where Mas-Con is building the new Merrimack County Court House.
Mas-Con is a Laconia-based commercial masonry and concrete foundations subcontractor.
At the site, she was joined by Lydia Bartlett, project manager and safety director for Mas-Con, and Steve Rothenberg, director of Concord Regional Technical Center and President of NH Career and Technical Administrators.
"As one of New Hampshire's largest commercial masonry and concrete foundations subcontractor, we rely on a skilled workforce to succeed," said Lydia Bartlett, project manager and safety director at Mas-Con. "Career and technical education programs are incredibly beneficial not only to us, but to the future of the entire construction industry."
Hassan said the bill will help strengthen the workforce pipeline and "better prepare New Hampshire's students for jobs in the 21st century innovation economy by requiring that CTE programs collaborate with local industry and workforce development organizations to better meet the needs of innovative businesses."
Mas-Con is working with the Concord Regional Technical Center to develop its future workforce. "The partnership between Mas-Con and the Concord Regional Technical Center demonstrates just how important career and technical education programs are to New Hampshire's businesses and people," said Rothenberg. "The Strengthening Career and Technical Education Act is a vital piece of legislation to support and expand successful partnerships like this."