Hassan-Portman cybersecurity legislation nears enactment
Measure included in federal government funding agreement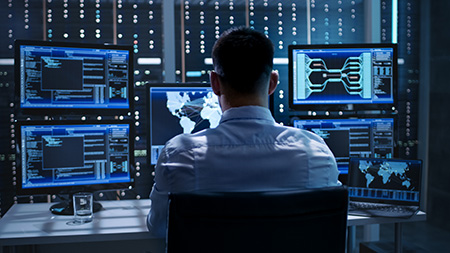 Legislation aimed at bolstering cybersecurity in the public and private sectors awaits President Trump's signature as part of the final bipartisan budget agreement to fund the government for the next fiscal year.
The Department of Homeland Security Cyber Hunt and Incident Response Teams Act – sponsored by U.S. Sen. Maggie Hassan, D-NH, and U.S. Sen. Rob Portman, R-Ohio – would require that DHS form permanent "cyber hunt" and "cyber incident response" teams to work to help prevent cyberattacks at all levels of government and the private sector, and help mitigate the impact of such attacks when they occur.
Local and state governments, businesses, hospitals and other organizations could request assistance from the teams in the event of an attack, the bill says. It also authorizes DHS to include private sector experts on the teams in order to bring to bear their non-governmental cyber expertise.
"From local officials working to protect New Hampshire communities to federal agencies tasked with shoring up cybersecurity, it's clear that there is more we need to do to strengthen cybersecurity at every level," Hassan said, adding that the "takes an important step forward in these efforts, equipping public and private sector entities with the expertise that they need to strengthen their cyber defenses and respond to threats."
Senator Hassan recently met with officials at Sunapee Middle/High School following a ransomware attack that hit the Sunapee School District earlier this year. The district was able to get the school back online and restore data without paying s ransom. In July, Strafford County government was hit by a cyberattack. Officials had had prepared for an attack ahead of time and was able to implement a continuity of operations plan – in this case by reverting to pen and paper – allowing the government to continue its essential functions.