Hassan nominates Republican senator to be next banking commissioner
Ex-bankers association president Jerry Little picked for post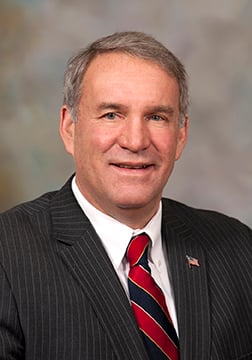 A Republican state senator who for more than two decades was an executive with the NH Bankers Association has been nominated by Gov. Maggie Hassan to be the state's new banking commissioner.
Hassan announced on Tuesday that she nominated Sen. Jerry Little, R-Weare, at the state's Executive Council meeting that morning. The council would have to approve the nomination for Little to get the job.
"I am deeply honored by this nomination," said Little. "Serving as New Hampshire Banking Commissioner will allow me to continue my longtime commitments to public service and economic development in a way that benefits every citizen, business and organization in the state, and allow me to continue the important work of ensuring strong protections for all New Hampshire consumers."
As a lobbyist for and then president of the NH Bankers Association, Little lobbied strongly for banking interests before retiring at the end of 2011. About two years later, he was elected to represent Senate District 8, which stretches from New London down to Antrim, a district that has voted for both parties in the past.
Generally seen as moderate business-friendly Republican, Little is currently vice chair of the Senate Finance Committee, vice chair of the Senate Committee on Energy and Natural Resources and member of the Joint Legislative Fiscal Committee.
Last year, he worked with Live Free and Start, a Hassan initiative that tries to clear hurdles for startups and growing businesses. He also championed legislation that modernized the state securities regulation.
Little wouldn't be the first former NH Bankers Association president to become banking commissioner. In 2011, Ron Wilbur – who was president of the association in the 1980s, before joining Merrimack County Savings Bank as a vice president and then president – began serving a two-year term as commissioner.