Hassan again joins effort to beef up digital service in rural areas
AIRWAVES Act aims to open up more spectrum to boost capacity, innovation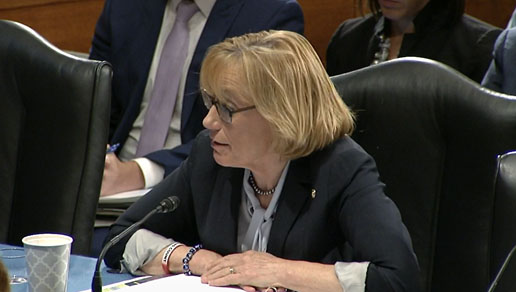 The AIRWAVES Act, a federal bill aimed at helping to close what its sponsors say is the urban-rural digital divide across the nation, has been reintroduced by U.S. Sen. Maggie Hassan, D-NH, and a bipartisan group of her colleagues.
The bill – sponsored by Hassan, along with Sens. Cory Gardner, R-Colo., Marco Rubio, R-Fla., Catherine Cortez Masto, D-Nev., Shelley Moore Capito, R-W.Va., and Tammy Baldwin, D-Wis. – aims to accomplish its goals by encouraging federal agencies to find ways to better utilize spectrum and avoid a spectrum crunch as well as lay the groundwork for 5G technologies. It encourages the government to free up spectrum for commercial licensed and unlicensed use.
The act – whose full name is the Advancing Innovation and Reinvigorating Widespread Access to Viable Electromagnetic Spectrum Act – would establish a "spectrum pipeline" that would provide more capacity for wireless providers to improve existing service and expand to new areas as well as provide greater access to spectrum for innovators to develop important next-generation technologies, the sponsors say.
The legislation also requires 10% of all of the proceeds from spectrum auctions in the bill to go directly to wireless broadband infrastructure buildout in un-served and under-served rural communities across the country.
Over the past several years, the sponsors noted, the federal government has auctioned off billions of dollars of spectrum that the wireless industry has used to free up more space on the airwaves for their customers' mobile phones, and unlicensed spectrum also contributes billions annually to the economy.
"Granite State businesses and families alike need fast and reliable internet access, but lack of spectrum capacity can stand in the way of getting us there," said Hassan. "The bipartisan AIRWAVES Act would free up badly-needed spectrum to help speed up the development of innovative 5G technologies and, crucially, it would also make meaningful investments in expanding rural broadband infrastructure in places like New Hampshire."