Gutierrez resigns as CEO of embattled GT Advanced Technologies
Solar division chief David Keck to succeed him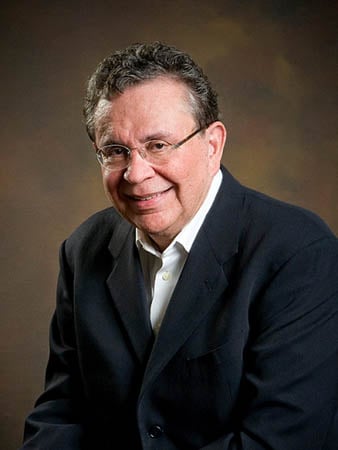 Tom Gutierrez resigned as CEO of GT Advanced Technologies on Monday and will be replaced at the bankrupt company by David Keck, who ran the company's solar divisions.
Keck will be joined by Hoil Kim, the company's general counsel, and Raja Bal, the chief financial officer, to form a newly established "Office of the Chairman" to oversee Chapter 11 matters.
The Merrimack, NH-based GTAT said in a press release issued Monday that Gutierrez, who is at least 66, was retiring, without any further explanation.
Gutierrez, who took over a thriving company in October 2009, when it was still GT Solar, was instrumental in diversifying the company's as it developed and manufacture d equipment to produce materials for other industries, including sapphire for the screens in mobile devices.
"If you serve only one single market, the market gets sick and you catch a cold," he told NHBR in June 2012 in describing why he was getting the company to diversify its product offerings. "The broader you are, the more stable your business is."
But in October 2013, Gutierrez agreed to a disastrous deal to set up a facility in Arizona to produce sapphire for Apple's mobile devices. GTAT could not make enough quality material to satisfy Apple, and the deal fell apart, with GTAT filing for bankruptcy the following October.
Gutierrez will retire shortly after securing a crucial $95 million loan from some of the company's bondholders, who already had fronted the company $414 million. The bankruptcy court approved that loan at the end of July, but PC Connection – another Merrimack-based company and a creditor – gave notice on Friday that it will be appealing that decision.
Gutierrez's resignation also came after the company disclosed last Thursday that it would be selling off its Hyperion business – a promising technology that the company had hoped would once help it emerge from Chapter 11. (That business is based in Danvers, Mass., and should not affect the company's Merrimack headquarters.)
The management change also came in the wake of the company's most recent monthly financial report, which disclosed that GTAT lost another $6.5 million in June, though $5.8 million of that was due to reorganization costs. (The court has approved some $11 million in payments to bankruptcy professionals since October, according to a July 24 filing.)
GTAT nearly broke even on operating costs in June, though it only had $3.5 million in revenue. The company is hoping to sell off more than 2,000 furnaces that it had installed at Apple's Arizona facility to pay off $439 million it owes the technological giant. But at the end of June, it had only paid Apple $338,000.
Negative shareholder equity
On paper, GTAT has lost $380 million since the bankruptcy filing, but the actual cash lost has not been nearly as much. The company is down to $48 million cash at the end of the June (before the $95 million loan) – a little more than half of what it had when it entered bankruptcy.
Stockholder equity was at negative $295 million at the end of June, and GTAT investors don't have much of a chance of getting any of their money back, according to GTAT's lawyers.
"It has become clearer that there is not a scintilla of hope that, based on GTAT's current financial condition, shareholders could realistically expect to receive any distribution," said a GTAT filing on yet another motion to form a committee to represent shareholders in the bankruptcy process. Three such motions have been denied in the past, though the bankruptcy judge did grant a hearing on the latest one.
Shares that reached a high of nearly $20 share before the Apple deal went sour were trading for under a dime on Monday.
Gutierrez had 828,000 of those shares as of April 2014. He will be stepping down from a position that was paying him about $47,000 a month. Keck, who was paid $29,000 a month, will see his base annual salary increase from $386,250 to $575,000.