GTAT-Apple agreement: Evolution of a fiasco
Was the tech giant to blame for GTAT's bankruptcy, or was it self-inflicted?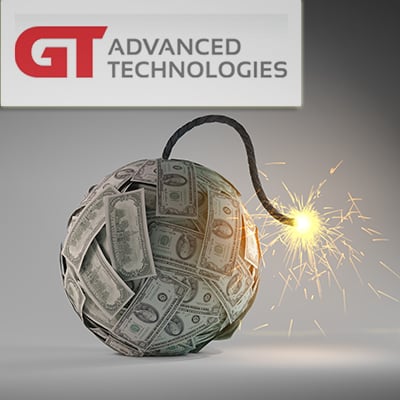 Was the contract signed by GT Advanced Technologies with technology giant Apple on Halloween Day 2013 a nasty trick — a "bait-and-switch," in GTAT's own words – or an enormous treat that the Merrimack-based materials company was simply not able to swallow?
In other words, was Apple to blame for the company's October 2014 Chapter 11 bankruptcy filing, its eventual Nasdaq delisting, and the layoff of some 1,300 workers? Or was the deal GTAT's "desperate Hail Mary" – in the words of the company's co-founder – an attempt to save a company that was about to go down? (See sidebar.)
The question is more than academic. And it is not just of interest to those involved in a dozen class action suits and couple of federal investigations, trying to find out who knew what when. It is also of interest to investors, creditors and bondholders because (at deadline) the court is considering what would essentially be a GTAT-Apple no-fault divorce that would allow GTAT to go back its original business.
But what if that original business was in trouble to begin with? And if Apple really was to blame, why shouldn't the corporate giant be held responsible for more of the billion-dollar debts GTAT has incurred, including at least $3.5 million owed to New Hampshire vendors?
'Onerous' deal
The Apple deal was a huge change in business direction for GTAT, which had always produced equipment to produce materials, not the materials themselves.
The company started out as GT Solar, making furnaces to produce polysilicon crystals that are used for solar cells, but that business dimmed a few years after GTAT went public in July 2008.
In the summer of 2010, GTAT acquired Salem, Mass.-based Crystal Systems, which produced sapphire for the LED market. GTAT at the time wanted only to sell equipment, not the sapphire, which it reasoned could be used in the production of screens for mobile devices. But by August 2012, it was already secretly talking to Apple, as indicated by a confidentiality agreement signed at that time.
At first, Apple said it wanted to buy 2,600 furnaces – a deal that would have been a "potential game-changer," according to GTAT's chief operating officer, Dan Squiller, who wrote a document that contained his version of events leading up to the bankruptcy.
But as GTAT tried to land the "ultimate technology client," the negotiations dragged on. Then, according to Squiller, in what he called "a classic bait-and-switch strategy," Apple gave GTAT "an onerous and massively one-sided deal."
Instead of buying the furnaces, Apple would advance GTAT some $578 million to build them and then produce sapphire for its mobile devices at a facility provided by Apple in Arizona.
In his document, Squiller goes to great lengths to explain how this "onerous" deal "shifted all the economic risk to GTAT."
Apple was under no obligation to buy sapphire from GTAT, yet GTAT could not sell it to Apple's competitors without stiff penalties. GTAT could not modify specifications, yet Apple could modify them at anytime. GTAT would have to pay $320,000 if it delivered a $20,000 sapphire boule late, but Apple could reschedule a delivery date.
Because of the "extensive and all-consuming" Apple negotiations, GTAT let its other business slide and had "no practical choice other than to concede to Apple's terms," Squiller wrote.
Apple, which allegedly does not negotiate with suppliers, "forced a set of agreements on GTAT" and "simply dictated the terms and conditions."
"Put on your big boy pants and accept the agreement," Apple officials allegedly told GTAT management, according to Squiller.
GTAT "reluctantly" did so, and their worst fears were realized, Squiller wrote. The plant wasn't ready until the end of December 2013, giving GTAT only six months to make it fully operational. Apple dismissed GTAT's request for backup power as too expensive, so when there eventually was a power failure, GTAT lost more than $10 million worth of sapphire.
Apple "embedded" itself at the Arizona plant (as well as in Salem, Mass.), Squiller wrote, and its "constant interference" was "disruptive." The result was to turn GTAT into a "captive" supplier. Apple insisted on using its contractor's equipment to slice the sapphire material, which drove up costs by 30 percent and required the hiring of 350 additional employees.
As a result, GTAT spent more than $900 million – more than double the prepayments Apple actually advanced, Squiller wrote. And those payments, because of what Apple deemed missed milestones, came late, according to bankruptcy and Securities and Exchange Commission filings.
The second installment of $111 million, due on Nov. 30, 2013, didn't arrive until Jan. 23. The third prepayment of $103 million, which was expected on Feb. 28, 2014, arrived on April 4, and the final installment of $139 million – due at the end of April – never came at all.
Apple's view
Apple had a different take: "We are here today because debtors did not and could not live up to their contractual obligation," the company said in an objection to a motion for GTAT to selectively void several of the contracts.
GTAT wasn't forced into a deal but negotiated an agreement over a period of months and was represented by sophisticated counsel, Apple repeatedly maintained.
"The debtors could have walked away from the deal and continued their pre-existing business. But the debtors were eager" to enter the deal.
And, Apple said, GTAT did not bear all the risk. In addition to the prepayments, Apple was leasing the 1.3 million-square-foot plant to GTAT for $100 a year and installing customized energy systems and other equipment for a total investment of more than $2 billion.
The technology giant "bent over backwards" making prepayments, "notwithstanding the company's failure to meet performance milestones," Apple insisted. It even agreed to accept smaller sapphire boules than the debtors agreed to supply.
"Far from being the villain … Apple is the largest victim of the debtors' failure to perform," it said.
In another motion to suppress the "scandalous and defamatory" statements contained in Schiller's version of events, it argued that GTAT "intended to vilify Apple" and portray it as a "coercive bully."
Apple also shared a letter to GTAT creditors with a sympathetic Wall Street Journal reporter that said the company only received 10 percent of the sapphire it ordered. The reporter goes on to quote unnamed sources who said some of the sapphire was unusable and was stored in an area named the "boule graveyard," and that many employees were hired before the equipment was ready and had nothing to do.
GTAT said such statements were "purposely misleading, out of context or inaccurate."
Investigations and lawsuits
Who is to be believed in such a spat? And does it really matter? Now that Apple and GTAT have reached a settlement, both argued in court it makes all this airing of dirty laundry unnecessary.
(Apple even made censoring Squiller's document as a condition of settlement, but waived that requirement after the bankruptcy judge ordered it be released to the public.)
It certainly matters to investors suing GTAT, particularly given the reassurances GTAT was offering to the public at the time and the fact that GTAT CEO Tom Gutierrez cashed in some of his stock options the day before Apple launched its iPhone 6 on Sept. 9 – without sapphire touchscreens. Instead it relegated the material to be used on its new but delayed Apple Watch, meaning much less material would be purchased. (Gutierrez and other executives regularly sell their options near the beginning of the month, and the September sale was smaller than most).
Before that, however, there was little hint that anything was amiss.
"Our arrangement to supply sapphire materials to Apple is progressing well," Gutierrez said in February. And even in August, two months before declaring bankruptcy, he said "the company had expected to have $400 million in the bank, so another missed deadline, it's not a world-ending event."
When GTAT filed for bankruptcy, it only had $85 million in cash.
Statements like these will be scrutinized by investigators from the Financial Industry Regulatory Authority, who began their probe two days after the bankruptcy filing, as well as by the SEC, which informed GTAT of its probe on Oct. 15.
GTAT also has hired Ropes & Gray – which is representing the firm in civil litigation – to conduct an internal investigation.
The GTAT-Apple dispute will be also be examined in about a dozen lawsuits, filed by shareholders who saw their holdings shrink more than tenfold the day after GTAT filed.
"A lot of things happen behind closed doors," said Leonard J. Kabala, an investor from Salem, N.H., who bought his shares of stock shortly after the Apple deal was announced, and sold it the day of the bankruptcy at a loss of $52,678.30. "I've never seen such a concerted effort to keep information away from the stockholders."
Kabala has since joined a class action representing small investors and filed by a California law firm.
Some of the investors, like Terren Faloh, an investor from Orlando, Fla., have weighed in on their own.
Faloh opposed the settlement that would give Apple $200,000 to $290,000 for each furnace it sells until GTAT pays off its debt.
In doing so, the deal would place Apple's claim above the other creditors, including shareholders. (Apple considers itself a secured creditor, since GTAT borrowed the prepayments, using the furnaces as collateral, but GTAT listed Apple as just another an unsecured creditor.)
"This isn't any kind of settlement, it's highway robbery of GT Advanced's entire Sapphire division," Faloh wrote, adding that shareholders were "being fleeced and robbed by GT Advanced management and Apple."
At deadline, bondholders – whose $434 million claim was almost the same size as Apple's – were holding off endorsing the settlement, launching a discovery request in light of GTAT's "extraordinary" charges against Apple, delaying a hearing on the settlement from Nov. 25 to Dec. 10.
The Official Committee of Unsecured Creditors is also doing its due diligence on the settlement.
Creditors with claims of $129 million have been listed so far, including 90 creditors from New Hampshire with $3.5 million in claims. But more may trickle in by the Jan. 26, 2015, the claims deadline.
GTAT originally estimated it had $145 million in vendor debt.
New Hampshire creditors thus far range from Will-Mor Manufacturing, a machining company in Seabrook, for $876,000 to TD Bank in Merrimack, for $50. United Automation in Portsmouth put in a claim for more than $95,000, according to the latest filing.
"GT has been a good client of ours that got themselves in trouble with Apple," said United's President, Duane Hoeman. "I think the time frame that they were forced to work in was just too aggressive, but I don't blame anybody. That's just the way the ball bounces."