Growing World Academy imparts its vision to decades of students
Essential to the school's mission is to develop the "whole child," which means addressing all aspects of his or her being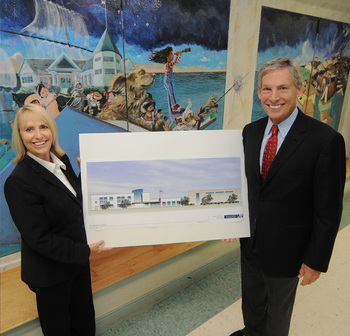 It's time for student council elections at World Academy in Nashua, and a poster in the hallway declares one candidate's campaign promise: If she wins, she'll bring her puppy into school for a visit.
And when it's time to cast votes, the ballots have pictures of the candidates along with their names, so even the kindergartners at the school can cast votes for their middle schooler of choice.
Educating students from infancy all the way through 8th grade, World Academy is one of the only schools in New Hampshire that caters to such a broad age range of students.
From its vantage point overlooking Roby Park — where students skate and sled in the winter — World Academy has, in its three-decade lifespan, grown steadily from a small childcare program to a high-quality accredited school and summer camp that is well into teaching its second generation of students.
And it's on the verge of its biggest expansion yet. Students and parents will soon begin using the back entrance as ground is broken on a new middle school and gymnasium, which will more than double the school's current size to over 50,000 square feet.
"One of the advantages to growth — and the school has grown substantially — is it brings new people, new opportunities, and new ideas, so there's a constant new blend added to the traditional," said Gary Nelson, who co-founded the school in 1980 with Kathy Nelson, the head of the school who has been guiding its growth and direction for over 30 years.
That amalgamation of tradition and progressivism is a theme evident throughout the school, which enrolls about 350 students and is accredited through the New England Association of Schools and Colleges and The National Association for the Education of Young Children.
Essential to the school's mission is to develop the "whole child," which means addressing all aspects of his or her being — cognitive/intellectual, socio-emotional, creative, and physical. But to do so, it's essential to deliver a core curriculum that emphasizes the basics: reading, writing and communicating, said Kathy Nelson.
"No matter what you do, if you're a scientist or doctor or mathematician, you still need to write and communicate well," she said. "We will never deviate from that foundation."
On top of those building blocks, students at the school learn sign language and music as infants, start French in kindergarten, learn to swim in the school's two in-ground pools, and take electives like debate, engineering, technology, public speaking and cooking.
Focusing on skills such as critical thinking, collaboration, communication and creativity, the new middle school is incorporating 21st century learning, which is a blending of content, skills, expertise and literacies with innovative support systems "to help students master the multidimensional abilities required of them in the future," she said.
Close relationships
The new building will also feature rooms dedicated to teaching STEM subjects — science, technology, engineering and math — to prepare students with "all the skills they may need for their future jobs that haven't even been invented yet."
To that end, Nelson said she is interested in forming partnerships with area businesses and individuals who may be able to offer things like live presentations or job shadowing.
"We're pretty progressive in terms of trying to offer what we feel is the next thing that may be happening without deviating from our base," said Nelson.
To deliver individualized learning, classrooms are capped at 18 students per teacher, and in many cases, it's much smaller. And the school's name is no misnomer – nearly 40 percent of World Academy's student body encompasses diverse ethnicities.
But what most sets the school apart is the close relationships that develop among the parents, students and teachers over the years, she said.
"As part of our mission, we realize we can only address the needs of the child within the context of the family," she said."We have the ability to respond to family's needs and child's needs immediately. We aren't encumbered by a lot of red tape, and if a parent needs something, a child needs something, we assess the situation, our administrative team meets, and we fix it or change it. There is a wonderful climate and culture at the school that comes from the energy, synergy and dynamism of those who are a part of it."
It's this flexibility and openness to new pedagogies that keeps highly degreed teachers at the school — some of them have been there longer than 20 years, and a few have attended the school, themselves, as students. Many apply to teach at World Academy because they want their own children to attend, which Nelson calls "a really good quality control measure."
"Kathy has a vision of what a school should look, feel and act like, and she's tireless in her efforts to bring that vision into a reality," said Tim Whitaker, Citizens Bank relationship manager for World Academy. "With Gary and Kathy, we have a high degree of comfort because we've seen them grow this from nothing to where we are today. They've got the vision."