Growing demand, interest in technical skill programs offered at GBCC Rochester
Success of last event prompts college to add open house on January 13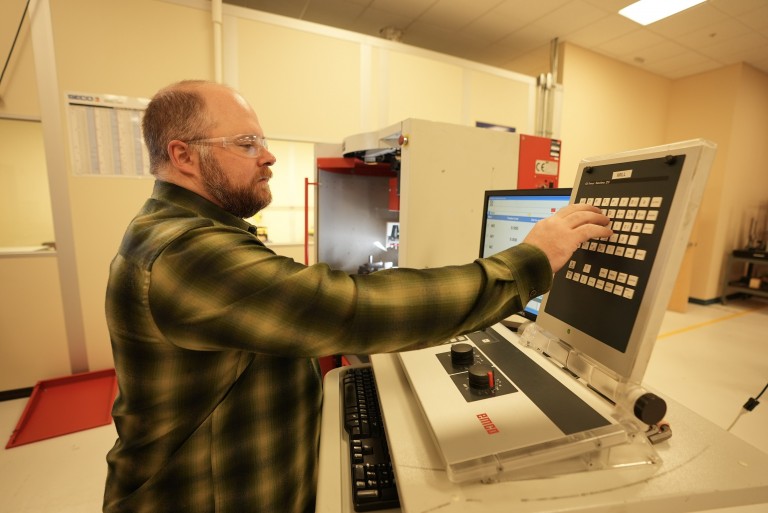 Time and again, Kurt Douglas, program coordinator for the high-tech trades at Great Bay Community College's Rochester campus, receives calls and messages from Seacoast manufacturers searching for qualified, skilled people to join their workforce – and they need them as soon as possible.
"They are looking for ways to get employees very quickly to the shop floor, and that is the gist of what we're trying to do," Douglas said.
Great Bay trains students in the high-tech fields of computer numeric control, commonly known as CNC, and non-destructive testing, or NDT. It offers short-term certificates in both fields, giving students a fast track to great careers, and has just launched a four-week foundational manufacturing skills course for people new to the trades.
"These are high-demand jobs, and these are good jobs," Douglas said. "Once you get to a certain level, you are looking at $60,000 to $70,000 a year. If you keep going, it's six-figure money. So, high demand and good pay – that's a nice combination."
But Douglas, who spent 35 years in the nuclear energy industry before coming to Great Bay to share his skills and experience, is eager to train more. The demand is there – now more than ever, he said, and it continues to grow.
If the recent open house held at the Rochester campus, was any indication, interest is growing.  The College has now scheduled another open house for January 13 at the Rochester Campus from 4-6 p.m. The event will again showcase the hands-on manufacturing and technical programs including, CNC, Nondestructive Testing, Welding Technologies, Automotive Technologies and Motorcycle and Repair Technologies programs. Participants can tour the state-of-the-art labs outfitted with technology and equipment used in the industry. Open to anyone interested in manufacturing and technical skills pathways, the event, if as well received as last time, could draw over 65 people.
Generally, the CNC classes are full or close to full, with a dozen students in each cohort, but Douglas can accommodate more students in NDT. Douglas encourages anyone with an inkling of curiosity to reach out to GBCC Admissions to learn more. There has rarely been a better time to start a new career, he said.
"In both CNC and NDT right now, demand is high — and that demand is very consistently high. New Hampshire and Maine are experiencing low unemployment rates, and manufacturers are looking for both skilled employees and even less-skilled but trainable employees," he said.
That's where Great Bay comes into play. In addition to offering a number of high-demand programs, leading to career and transfer pathways to four-year degrees, the College specializes in quickly preparing people for careers in today's high-tech fields. And that's what the new non-credit, four-week foundational skills class, Manufacturing and Technical Skills Training, is all about.
"We are teaching shop math — the mathematical functions a CNC operator needs to be successful on the job — we are teaching blueprint reading, manufacturing skills and knowledge, and we'll also teach them about the hand tools and shop tools they'll need to know how to use."
CNC refers to a computer-controlled cutting machine that is widely used across global industrial and manufacturing sectors, and across the region at Seacoast manufacturers. The machines precisely mill parts used in the manufacturing process.
Great Bay prepares students to become CNC set-up operators, which means they are trained to take a raw material, position it in the machine, load a program that tells the machine how to mill the material into a part, and then oversee that operation. At some companies, operators will oversee two machines at once.
Nondestructive testing involves the examination, or testing, of parts without destroying or altering those parts. It is a critical step in the manufacturing process because it evaluates the integrity of a part and tests it under different conditions, Douglas said.
Students from Great Bay who graduate with NDT certificates often land jobs at Portsmouth Naval Shipyard, he added. "They are always asking for our NDT students, and we have many other companies who contact us to ask, 'Do you have any NDT students looking for work?' I can't emphasize enough — demand is great."
And so is the pay.
For more information on the technical skill programs offered in Rochester, visit greatbay.edu/in-demand-skills-training or contact GBCC Admissions at gbadmissions@ccsnh.edu, 603-427-7632.  To attend the Open House on January 13 from 4-6 p.m., visit https://ccsnh.secure.force.com/events#/esr?eid=a126R000008SUEkQAO