Group plans statue for writer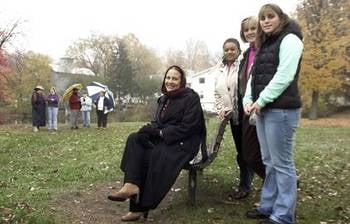 MILFORD – The Harriet Wilson Project has selected well-known sculptor Fern Cunningham to create a memorial statue of Harriet Wilson, the pre-Civil War author of "Our Nig," the first novel to be published by an African-American woman.
The statue will be placed in Memorial Park near the Oval.
On Saturday, Cunningham, along with landscape designer Claudia Everest of Northland Design and her assistant Erika Reed, a Milford High School volunteer, were in Milford in inspect the site chosen for the statue.
Cunningham, who lives and teaches in Massachusetts, holds a bachelor of fine arts from Boston University. She is best known for her sculpture "Step On Board," a depiction of a determined and visionary Harriet Tubman that's in Boston's South End, and "The Sentinel," a sculpture of a young black woman in Johnston, R.I.
She notes she is interested in portraying young people.
The Harriet Wilson Project, spearheaded locally by JerriAnne Boggis of Milford, has as one of its goals making New Hampshire – and especially Milford – aware of Wilson's literary work. The work, while not forgotten and is used in local schools, is not well known.
"Our Nig; or Sketches from the Life of a Free Black" describes in fictional form of Wilson's young life in Milford as a servant for a prominent Milford family after being abandoned by her mother at age 6. She used the third person in telling the stories and changed all the names.
Boggis, an African-American writer who has directed the film portion of the Wilton Arts and Film Festival for two years, became interested in Wilson through a newspaper article and began collecting information.
The statue of Wilson is one step in their project.