Grocery sales differ from town to town in Greater Nashua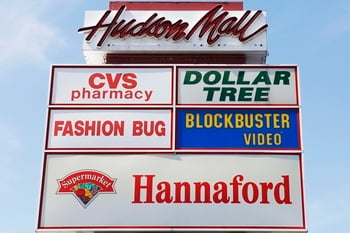 Let's say this is the grocery list you put together for a quick trip to Hannaford today: One pound of broccoli, a loaf of bread, ketchup, two boxes of macaroni and cheese, 1 pound of deli ham, a carton of orange juice, four containers of yogurt and 1 pound of salmon.
If you shop at Hannaford in Nashua, the total would be $20.49. If you shop at one of the Hannaford stores in Bedford, the tab for the same seven items would come to $23.42 – a difference of $2.93 for eight items.
It's no secret that some grocery store chains are more expensive than others. But what some consumers don't know is that prices also vary within a grocery store chain, from one town to the next.
"Zone pricing is the term for it," consumer expert Edgar Dworsky said. "It's been going on forever; it's nothing new."
Several local grocery store chains distribute different weekly sale fliers to different "zones." They look identical at first glance because they feature the same items, but not all of the prices match up.
Shaw's, for instance, is charging $2.69 in Nashua this week for a 3-pound pack of bone-in pork chops. In Milford and Merrimack, that same pack of pork shops sells for $1.99.
A three-week comparison by The Telegraph of local grocery store fliers showed that meat and cheeses are the items most likely to vary in price from one town to the next. The difference can be as much as $2 per pound, or as little as 10 cents.
No one type of item appears to be exempt: Zone pricing affects store brands, dry goods, vegetables, paper products, deli items and beer.
Grocery store chains are hesitant to discuss the practice, saying they don't talk about pricing strategies for competitive reasons. In fact, they don't even claim the term "zone pricing" as belonging to the industry.
Yet, it does exist: Companies that make software for grocery store computer systems use the term to market products to grocers.
According to Dworsky, founder of consumerworld.org and a former Massachusetts assistant attorney general in consumer protection, zone pricing is mostly just a competitive strategy.
"They tend to be more aggressive in neighborhoods where there is a lot of competition," he said.
However, that theory doesn't entirely hold up in Greater Nashua. Shaw's prices are nearly identical in Merrimack and Milford, even though Shaw's is the only game in town in Merrimack but there are several rivals in Milford. Nashua prices are higher than both, despite even more competition.
Dworsky also said a store's operating costs factor into zone pricing. If it costs a grocery store more to operate in a certain area due to factors like building costs, some of the cost has to be passed on to the consumer, he said.
John Dumais, president and CEO of the New Hampshire Grocers Association, an industry trade group, said that while competition is a factor in pricing strategy, differences from town to town have more to do with transportation costs.
"Let's assume that the chicken is coming from Boston. To get to Milford, it needs to go further than Nashua. Transportation costs are going to be somewhat affected by that," he said.
That explanation also has some holes, though. In the comparison, Hannaford prices tended to be higher in the Manchester-Bedford region than in Nashua and Hudson, even though Manchester and Bedford are closer to the company's nearest regional distribution center in South Portland, Maine.
Bob Gorman, a Nashua resident who has done some grocery store price comparisons of his own, was skeptical of that theory.
"What difference does it make if you're going to Nashua or Hudson?" Gorman said. "That excuse sounds to me like a cover excuse, something they tell people because they don't let them know what they really do."
Theories have long been espoused that grocery stores charge more for items in ritzier neighborhoods – because they can. Or, that they charge more in poor neighborhoods, also because they can (the logic being residents don't have transportation to get to another store).
But there was no evidence in The Telegraph's price comparison that pointed clearly to one or the other being true. Even if there had been, a three-week study is hardly scientific enough to make sweeping claims.
What the comparison did show is that three local grocery stores – Hannaford, Shaw's and Stop & Shop – deliver different fliers to different towns.
Only Market Basket distributes a single flier with all the same prices, but Dworsky says the company also participates in zone pricing. It's not advertised, but prices in the stores do vary from region to region, he said.
Wal-Mart Supercenter, which has a full grocery store, was not considered in the comparison because there's only one in Greater Nashua.
Of all the stores, Hannaford had the greatest number of advertised price differences from one town to the next. This week, more than 40 of the approximately 200 items in the Manchester-Bedford flier are priced differently than Nashua-Hudson. The figures were similar the two weeks prior.
It should be noted, however, that it's impossible to tell from a weekly circular whether one store relies more heavily on zone pricing than others. Regular, unadvertised prices were not factored into the comparison.
Totaled, the cost for all 42 items at Hannaford in Nashua this week is $109.07. In Manchester, it's $131.02.
Hannaford spokesman Michael Norton said the differences look more dramatic when only those items are considered. Factored in with all the products in the store that are priced the same, the percentage difference would look much smaller, he said.
"I don't think it's a great reflection of reality," he said of the comparison. "At the item level, you can make the difference look greater.
"Generally, most weeks there's more sameness than difference."
Shaw's had fewer price differences each week, ranging from five to 12 among hundreds of items. But, oddly, the flier distributed in Nashua is also good for cities and towns sprinkled across the state, like Gilford, Seabrook and Stratham. The company prints an entirely different flier with different prices for nearby towns Merrimack and Milford.
At Stop & Shop, the differences were even fewer: Only about five items per week. Locally, the company has stores in Hudson and Milford.
Stop & Shop Director of Public Affairs Faith Weiner acknowledged that some items may be priced a little differently from town to town, but pointed out that operating costs also vary from one place to another.
Although there are a variety of explanations for zone pricing, Dumais, the grocers association CEO, said paying close attention to pricing is a necessity in the industry due to low profit margins.
"Our industry lives on a 1 percent net profit," he said. "For every dollar sold, we make a penny."