Greater cyber protections for healthcare providers urged
At hearing, Hassan calls on Homeland Security to beef up protections during coronavirus emergency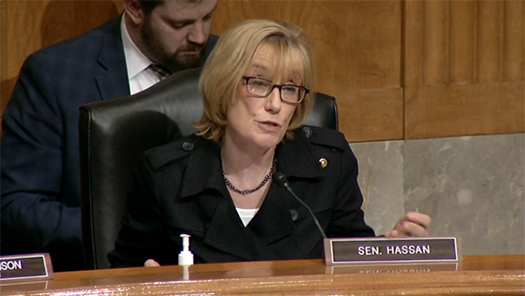 U.S. Sen. Maggie Hassan is calling on the Department of Homeland Security to bolster its efforts to protect healthcare providers against ransomware attacks amid the coronavirus emergency.
At a hearing Wednesday, Hassan – a member of the Senate Committee on Homeland Security and Government Affairs – urged Acting DHS Secretary Chad Wolf to take steps to focus on healthcare providers as the coronavirus emergency spreads.
Hassan told Wolf that a cybersecurity firm recently "warned that public and private entities may be at an increased risk of ransomware attacks due to the spread of the coronavirus, as criminal hackers exploit staffing interruptions and decreased operational capacity."
She told him that, while she was "pleased to see that the president's budget request continues to increase investments in cybersecurity," she stressed that "we must do more to protect our state and local partners — and specifically healthcare facilities — against ransomware."
Wolf agreed that DHS will continue its outreach to state and local officials to help guard these entities against ransomware attacks.
"People are going to take advantage of any type of crisis – incident – that is going on out there, so CISA [the Cybersecurity and Infrastructure Security Agency] is again pushing information out there that folks need to be aware of – a number of scams, incidents that are going on that are focused around corona or asking for money."