Governor unveils $3.7 billion 10-year transportation plan
I-93 completion, accelerated projects included in proposal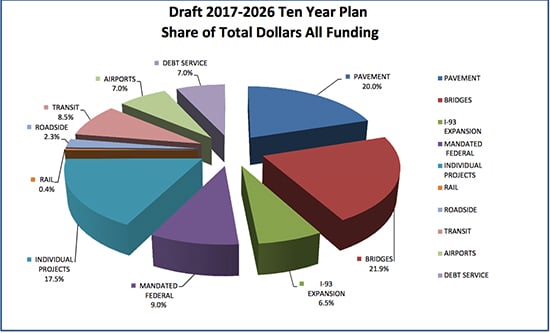 Gov. Maggie Hassan has submitted to the Legislature a $3.7 billion 10-year transportation plan that she said "advances critical transportation goals while maintaining fiscal responsibility living within our projected revenues."
The plan, which covers the years 2017-2026, includes funding to complete the widening of Interstate 93 and adds funding to repave an extra 200 miles of roads annually.
The plan also calls for beginning the first phase of widening Route 106 near the NH Motor Speedway in Loudon in 2018 and accelerating construction of Exit 4A on I-93 in Londonderry and Derry to 2019.
The governor said a recently approved $2.56 billion in federal funding also allowed her to accelerate and add projects to the list.
The plan expedites by two years the East Hollis Street improvements in Nashua and recommends a full replacement of the Hampton River Bridge in Hampton Beach, as opposed to a rehabilitation project. Also proposed is a $5 million-per-year increase in funding for the state's bridge preservation program in 2019 and 2020 and an additional $5 million per year in 2022-24 to the red list bridge program.
Also included in the plan is $4 million in Federal Transit Authority Funds for environmental and engineering assessment work for the Capitol Corridor Rail project, which was recommended by the Capitol Corridor Rail Study as the next step required to move the project forward.
"Commuter rail will improve access to the entire region and provide new transportation and housing opportunities that 21st century workers and families are looking for, spurring economic development and creating jobs," Hassan said. "The business community continues to call on us to take action on this vital project, and this plan will help us move forward."
To view the complete 2017-2026 10-Year Transportation Improvement Plan, click here.