Governor to lead N.H. trade mission to Turkey
June visit to explore 'increasing opportunities' in region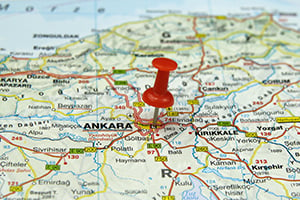 Gov. Maggie Hassan will lead a delegation of New Hampshire businesses on a trade mission to Turkey in June to explore what she described as the increasing potential for Granite State businesses in a growing international market.
"To keep New Hampshire's economy growing and creating jobs, we are focused on helping our businesses enter new markets and making the Granite State a leader in selling our goods and services around the world," Hassan said. "This trade mission will build on the progress that helped make New Hampshire the fastest-growing state for exports in 2013 by helping our businesses find new opportunities in Turkey's growing market."
In 2013, Granite State companies and manufacturers exported more than $79 million in goods and services to Turkey, according to the governor. She said the country – at the crossroads of Europe, Asia, Africa and the Middle East – is a regional commercial hub.
Jeffrey Rose, commissioner of the state Department of Resources and Economic Development – who on Wednesday was reconfirmed for his post for a full term – said his agency selected it as the trade mission destination after consultation with New Hampshire businesses.
"Turkey is New Hampshire's 12th largest trading partner and there are increasing opportunities for our businesses, especially in areas such as aerospace and defense, health and medical technologies, education and construction machinery," said Rose.
He said Rochester-based Rokon International Inc., a manufacturer of all-wheel drive motorcycles, has signed up for the trade mission.
Organized in partnership with the Confederation of Businessmen and Industrialists of Turkey (TUSKON) and the Turkish Cultural Center in Manchester, the trade mission will take place June 20-27.
TUSKON will connect the trade mission's participants with decision makers in business, government and higher education.
Companies interested in joining the trade mission are invited to attend an informational meeting at the Turkish Cultural Center, 540 Chestnut St., Manchester. The meeting will be held at 8:30 a.m. Wednesday, April 2, and will feature Dr. Hakan Tasci of US-TUSKON and economist Mehmet Ozbes as speakers.
Deadline for applications is April 25 and space is limited.
For more information, visit exportnh.org or call Tina Kasim, program manager for the New Hampshire International Trade Resource Center, at 603-271-8444.