GOP sponsor takes a stand for Medicaid expansion
Rep. Joseph Lachance: 'it makes sense to give people a fighting chance'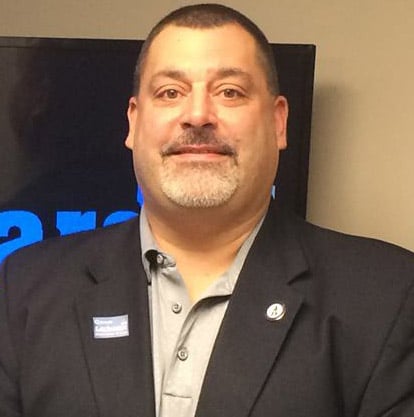 What makes a professed conservative and libertarian leaning Republican think continued expansion of New Hampshire's Medicaid program is not only a good idea, but that it's such a good idea it should be reauthorized? A combination of strong hard data, exposure to many slices of life, and personal experience, says Rep. Joseph Lachance of Manchester.
Lachance is prime sponsor of House Bill 1696, which would reauthorize the NH Health Protection Program, otherwise known as Medicaid expansion.
A former U.S. Army infantryman, Joe Lachance has seen it all after seeing duty during the first Gulf War era. He returned to the states to continue working for the federal government until his retirement a few years ago. Today, he puts his time into his consulting business and into the very real, and almost full-time job of being a legislator. Top that off with his work on two Manchester area boards –Elliott Health System of Manchester and Southern NH Services – and his active work in his church, the Brookside Congregational Church in Manchester, and it equals one very well-rounded "compassionate conservative," he says.
"The libertarian in me truly believes that every person is accountable of their own actions, and in charge of their own choices and their place in life," says Lachance. "People should become contributing members of society. They should make conscience choices and find their way to take care of their own. However, I also believe that there are certain supports in place that it makes sense to give people a fighting chance. I see Medicaid expansion as one of those."
Through his board work, Rep. Lachance says, he came to the conclusion that Medicaid expansion – officially known as the NH Health Protection Program – makes sense from a humanitarian level as well as a business level.
Through Southern NH Services, Rep. Lachance sees very real poverty in Manchester and surrounding areas, but believes that many of those individuals are in a transitional stage working hard to get themselves out of the cycle of poverty.
He sees Medicaid expansion as a vehicle through which they can learn how to better control their own health and health outcomes, as the program is a private insurance option that moves people out of emergency room care into primary care.
Likewise, his exposure to the business of health care through his seat on the Elliot board has brought him to the conclusion that it makes sense from a numbers perspective too.
"Why would we continue to support people using the emergency room for their primary care, and having those uncompensated care costs being born by the taxpayers and small business owners, versus supporting a system instead that gets people into the private insurance marketplace?"
Pointing to the vast difference in costs for an individual using an emergency room as opposed to primary care, Lachance says that it just makes sense that people having access to primary care reduces health care costs.
Lachance says he is aware that the move he made to be the prime sponsor of HB 1696 was at his own political peril, given the initial mix of support and vehement objections coming from different sectors of the Republican Party.
"I believe in doing what's right," he says. "It's just my moral compass."
As he studied the bill that had already been filed to reauthorize the program for 47,000 current enrollees, he felt there wasn't enough in it to satisfy the fiscal conservative and personal accountability side, so he filed a bill of his own.
He says HB 1696 includes "things that allow me to stand behind it – a guarantee that the federal government will live up to its promise, a vehicle for the stakeholders in this state to pay for it, not business owners or taxpayers, and a high level of personal accountability."
As for the questions some conservatives may ask as to why accept any tax dollars, even if it federal, Lachance says, "I absolutely think accepting the federal money is the right thing to do. The program is the law. There is money that exists to pay for it. We in New Hampshire get back about 83 cents of every dollar we send to D.C. If we don't take it, it's simple – other states will. Alaska, for instance, gets about $4 back for every $1 they send. Why would we not use those funds that are ours to help our own citizens and bolster a way to change health care delivery for the good?"
He adds: "As a former Bedford police officer who has served, and now as a legislator, I get to see a lot of different people, slices of life, and not everyone has been given a big slice of life. I believe in my drive to help people, it's worth taking a stand."
Michelline Dufort of Cookson Strategies, Manchester, is a lobbyist for the ExpandNH initiative, which is seeking reauthorization of Medicaid expansion in the state.