GOP presidential hopeful Asa Hutchinson
Trumping Trump, uniting the country – and eating chicken tenders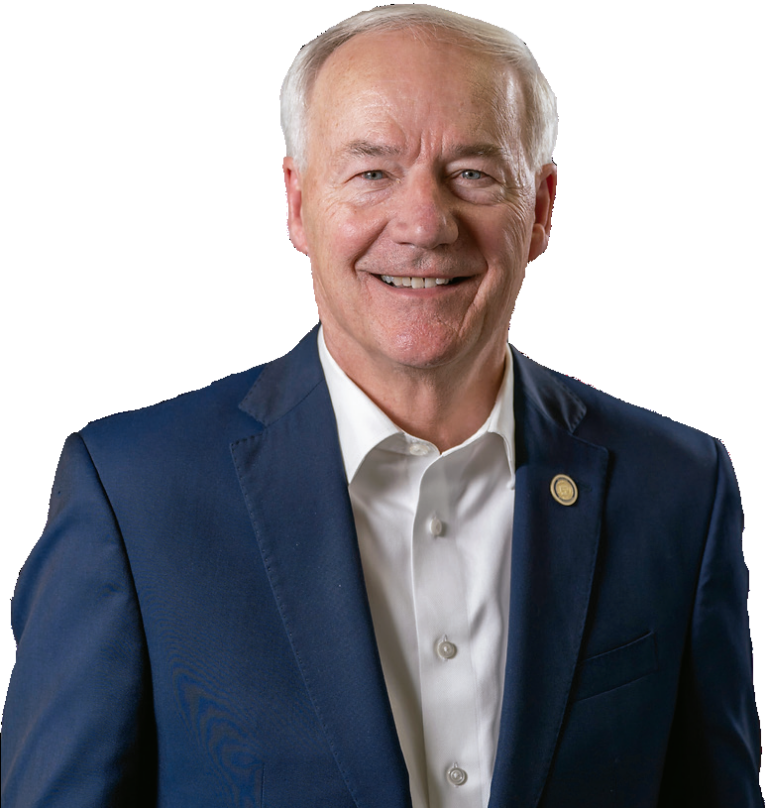 You can tell former Arkansas Gov. Asa Hutchinson is serious about his longshot bid to win the GOP presidential primary: On a recent campaign stop in Manchester, he visited both the Red Arrow Diner and the Puritan Backroom.
Hutchinson had already dined on a plate of the Backroom's famous chicken tenders by the time we spotted him greeting patrons in the restaurant's lobby that Aug. 7 night. During a brief exchange about mudslides, he introduced himself, so it seemed like an open door for an impromptu interview.
Hutchinson's poll numbers have suffered from his decision to steer clear of the Trump train, having the audacity to suggest the former president's star will be fading soon in the wake of criminal indictments.
Here's our talk, edited for length and clarity.
Q. You've been critical of former President Trump. That's an uphill climb, but you think Trump's grip is going to loosen.
Hutchinson: While Trump's high in the polls, it's a little bit artificial, and I think it's a very frail lead that he has in the polls. And as more information comes out in the cases, but also the realization that the Republican side is going to lose Congress, we're going to lose races across the country if Trump's the head of the ticket.
He's a divisive figure. He creates chaos. And the problems that we see today are issues that he's brought upon himself.
I'm a former federal prosecutor. I've been head of the DEA. I believe in the justice system. I believe in our rule of law … Donald Trump is a big part of the undermining of our justice system.
Q. Tell me about your problem-solving expertise and what you would do in Washington.
Hutchinson: That's what's unique about governors. They are accountable. They are expected to produce results. If they're not, they're out of office. Governors are a good standard for what has to happen in Washington — where you got to get things done.
And my priorities would be a pro-growth energy policy, where we're not all green but we produce energy that keeps our businesses going and our economy moving. And sure, we need to move it in an environmentally sensitive way, but let's produce energy in this country.
Secondly, we need to move toward a balanced budget. As governor, I had to balance the budget. I did it for eight years in a row. You balance it here in New Hampshire. And our federal government has to move in that direction.
Q. One of our biggest problems in this economy, and this is true nationwide, is our workforce. What would you do to improve our workforce?
Hutchinson: First of all, you want to build your workforce, and you want to make sure you have the right kind of training. You want to also be able to have the right kind of immigration policies that brings the right kind of talent into our country. I'm looking at a state-based visa program, where you actually give the states authority to manage visas that they want to have to manage their workforce needs, with some security commitments that they would make.
Then secondly, you look at citizens that are age 62 — really in the prime of their work life — but right now if they take Social Security, they are penalized from working. I want to take that penalty off, so they can go ahead and collect Social Security at 62 but continue to be productive. That would add millions into our workforce — obviously not required, but they would have that option.
Q: What do you do to bring the center back to this country? We're a very divisive nation — probably the most divisive in our lifetimes.
Hutchinson: I've lived a while, and I remember times of divisiveness in our country before. You've had the Vietnam War. You've had the civil rights struggle. Times of division, and we've been divided before. But in all of those instances, we've had leaders that have tried to bridge the divide, saying, "What can we do to bring our country together?" Regretfully today, we have leaders that are capitalizing on the divide, that are making money off the divide and furthering the divide. It's all a matter of leadership, both at the presidential level but also at Congress, at every level of government. We need leaders who will bring out the best of America and not appeal to our worst instincts.
Q. And finally, did you have the chicken tenders?
Hutchinson: I had the chicken tenders. Of course, I come from a poultry-producing state. I cherish my chicken tenders. They were fantastic. And I've got to come back for the mudslide, I must confess.
Mike Cote can be reached at mikecote@yankeepub.com.