Getting a handle on energy costs
Yankee Thermal Imaging helps homeowners and commercial landlords become energy efficient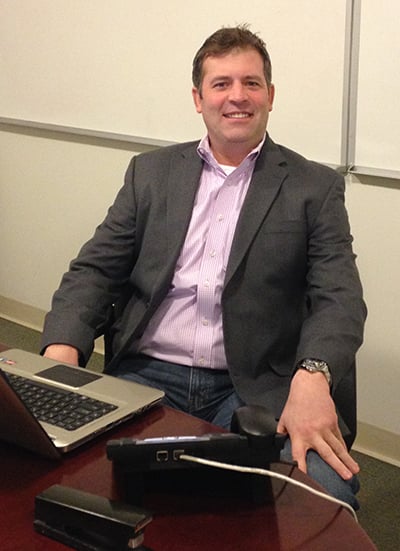 Chris Meyer, founder and owner of Rochester-based Yankee Thermal Imaging, started his company with a simple idea born of necessity. Meyer, a Portsmouth native and University of New Hampshire graduate, owned and managed residential and commercial properties in the Seacoast region for some time when he began to take a serious look at controlling energy costs.
In particular, he noticed there was a major deficiency in determining energy-efficiency cost impacts – no small matter in a region with high energy and heating costs.
"It made very little sense to me that you could go into a 30,000-square-foot building and somebody would look at the roof or the age of the structure, but it seemed that nobody was assessing energy efficiency," Meyer said. "There are substantial costs, but it really wasn't being checked or calculated. There was nothing that a guy like me could use to determine the real operating costs of the buildings."
After a lot of brainstorming and self-education about energy-efficiency applications, Meyer founded Yankee Thermal Imaging in 2008. He has worked to help residential and commercial customers reap maximum benefits from energy efficiency initiatives. With 21 employees, including certified energy auditors, the company offers a wide range of programs and technological support to serve a growing customer base in the residential, commercial and municipal sectors.
"We can't control energy prices or what happens in the Middle East. But we can control how energy-efficient we want to be."
"We've excelled in our field and our reputation has grown because we've filled an important niche," Meyer said. Yankee Thermal uses high-tech methods including state-of-the-art thermal imaging cameras, smoke pens and the blower door test to help calculate the rate of heat or air loss in a given space.
"We can conduct a one-stop energy audit and perform the back-end work. We've bridged the gap with a convenient level of high service," he said. "Our customers learn how much the energy efficiency measures will save them and what their return on investment will be."
Meyer practices what he preaches. He weatherized his own 200-year-old farmhouse home in 2011 and cut heating oil consumption from 1,300 gallons a year to 500 gallons. "I had a return on my investment in about four years," he said.
Meyer did the same for three residential properties he owns over the past two years and discovered that lower utility rates for tenants lead to less tenant turnover.
Meyer said the best part of his job is to educate homeowners and commercial landlords on the long-term financial and environmental benefits of energy efficiency.
"We can't control energy prices or what happens in the Middle East. But we can control how energy-efficient we want to be," he said.
NHBR's Sustainable Entrepreneur series is run in partnership with the Green Alliance. To learn more about the alliance, visit greenalliance.biz.