Gender wage gap shrinks in NH, but it's still big
Granite State women earn 83 cents per dollar earned by a man, report finds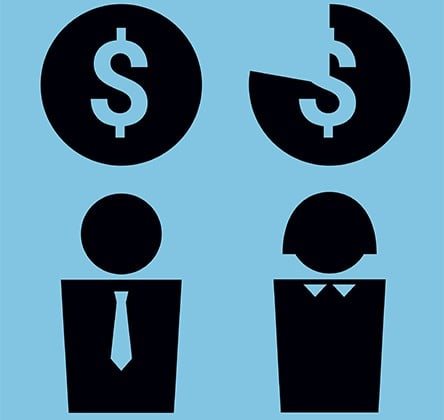 The gender wage gap has in New Hampshire has shrunk substantially over the last year, even though it remained steady in the rest of the United States, according to a report released Monday by the National Partnership for Women & Families
Despite the closer gap, New Hampshire women still earned 83 cents on the dollar compared to men in 2016, according to a 2017 census survey. But that's better than the 80 cents earned nationally, and much better than the 76 cents on the dollar Granite State women earned in 2015, when they lagged behind the national average, which was also 80 cents of a male-earned dollar.
New Hampshire's gap was a penny lower than Massachusetts', but a penny more than Maine, and 3 cents more than Vermont.
The pennies add up over the course of the year, amounting to over $9,000 per worker in the Granite State. In Massachusetts, it translates into more than a $11,000 annual gap.
In the Granite State, that money would pay for nearly 11 months of child care, or nearly nine months of rent or a semester at a public university, according to the report.
Still, New Hampshire's 17-cent gap was the 11th smallest in the nation. New York had the best, at 11 cents. Louisiana had the worst, 30 cents.
The National Partnership released the report the day before Equal Pay Day on April 10, the day that symbolizes how far longer into a year women must work in order to earn what a men earned in the previous year. Nationally, women averaged $41,554, $10,086 less than men.
Women earned less than men in nearly every congressional district and occupation category, but the gap can differ substantially.
In New Hampshire's 2nd Congressional District, women make 84 percent of a man's salary, while in the 1st Congressional District, they made 82 cents, according to the report.
Nationally, women in academics earned 88 cents of a male dollar, though those with master's degrees earned only 73 cents. Women in retail earned 79 cents on the dollar, and those in management and manufacturing earned 79 cents, but the amount was only 63 cents in sales.
While some of this gap can be explained by occupational and industry differences, a good chunk of it – 38 percent – is unaccounted for. The report suggest s it's mainly due to discrimination and unconscious bias.
The report recommends stronger equal pay enforcement and legislation, a higher minimum wage, the elimination of a tipped wage and family-friendly workplace standards, including advanced notice of scheduling, pregnancy discrimination protection and paid family and medical leave.
Recent bills promoting nearly all of the above have languished in the NH Legislature with the exception of paid family leave, which has passed the House and is now before the Senate.