Gardner on Tyco money: I contacted other colleges
But at least two inquiries were over five years ago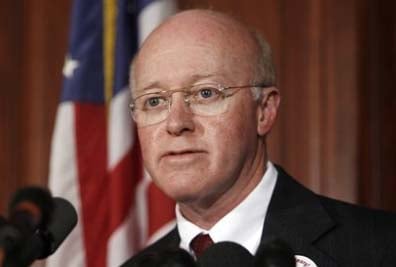 Secretary of State William Gardner said that he did vet other New Hampshire colleges before turning over $7 million in money received in a settlement with Tyco International to the University of New Hampshire and Saint Anselm College in June.
Gardner made his case in a three-page letter, with 50 pages of attachments, sent last week to radio talk show host Arnie Arnesen in response to questions stemming from an NHBR article how the funds resulting from Tyco's 2002 settlement with the New Hampshire Bureau of Securities Regulation — to be spent on investor education and corporate governance-related issues – were eventually awarded ("Questions raised about $7m Tyco settlement spending," July 26-Aug. 8 NHBR). But some of that vetting occurred more than five years ago.
Gardner was away and could not be reached for comment on the original article. But he did respond to Arnesen shortly after the radio host inquired with the Legislative Ethics Committee about whether it was appropriate to file an ethics complaint against the secretary of state, who is appointed by the Legislature.
In an email to NHBR, he said his response to Arnesen "reflected some of my own personal involvement in vetting the programs, though there were other board members involved in that process as well. Those members brought their individual observations and perspectives to the discussion. As a result, over a period of time, and after healthy debate, we arrived at a collective decision to fund" the UNH and Saint Anselm programs.
Source of the money
The action of the Securities Bureau – which is overseen by the secretary of state's office – was aimed at the board of Tyco, which at the time was based in Exeter, for letting then-CEO L. Dennis Kozlowski and then-chief financial officer Mark Swartz loot millions of dollars from the company for personal purposes. They were convicted in 2005.
The $5 million settlement was earmarked to set up a program of promoting "statewide investor education" and "corporate governance," to be determined by the secretary of state's office, though a board was set up that included Gardner, then-Gov. John Lynch, then-University System of New Hampshire Chancellor Ed MacKay, and then-Securities Bureau Director Mark Connolly.
In the first few years, some money was spent on a series of high-profile events at a variety of campuses, organized by then former CNN financial editor Myron Kandel. The focus was business ethics.
In his letter to Arnesen, Gardner says that the work done by Kandel helped in the later decision about the rest of the money would ultimately be spent.
"Based on personal observation or feedback from attendees, it was clear that some of these events and programs had better content and were more effective than others," he writes. "This process assisted the Board in deciding how the final distributions of the funds would be made and where the funds would be best suited and most effective."
After Kandel's departure in 2008, the money lay dormant. During that time, interest earned on the funds increased its value by about $2 million – but that came during a time, as Kandel pointed out to NHBR, when the nation went through its worst financial crisis since the Depression.
As for the process of choosing the eventual institutions to receive the money, Gardner writes in his letter that he contacted several campuses.
"During the process of vetting out where the final distributing would be made, I personally met with the Dean of Tuck School at Dartmouth College and received a written proposal. I was concerned after being told that eighty percent of the funds would be directed towards faculty salaries and the remainder to be held by Dartmouth College to cover administrative fees," he writes.
But Tuck School Dean Paul Danos said that the proposal – which was submitted by Tuck's Lindenauer Center for Corporate Governance – was made shortly after the settlement, about a decade ago. B. Espen Eckbo, the professor who heads that program, told NHBR the same thing in July. Neither said they had been approached since.
"That has nothing to do with the present," Danos told NHBR. "That was in the distant past."
The decision
As for Southern New Hampshire University – whose president, Paul LeBlanc, had been critical of the process for not being invited to submit a proposal – Gardner writes, "I spoke with the faculty member who held the ethics chair, other facility members and had lengthy discussions with the individual who funded the endowed chair."
That individual – Christos Papoutsy, who founded the Papoutsy Distinguished Chair in Ethics at SNHU – was in Greece, but returned NHBR's message. He said he did talk to Gardner about the Tyco funds during some of the events held on campus during Kandel's tenure, but that was between five and seven years ago. He did write a letter at about that time, arguing that the money be given for the SNHU chair – "since we already were dealing with business ethics," he told NHBR – but he said Gardner "never asked us how he should spend the money" and was not contacted more recently.
Gardner writes to Arnesen that he also spoke with the president and faculty of Franklin Pierce College, which could not be reached by NHBR deadline, but Gardner did not say when.
By April 2012, the board narrowed in on how the funds would be spent, over the objections of Connolly, who stopped participating as a board member because he said he wanted a more transparent process. The rest of the board signed on to a final decision in June 2013.
Under that decision, the endowment rests with the University of New Hampshire Foundation. Some $5 million will be endowed for an interdisciplinary program on philosophy, ethics and sustainability run out of the classics and humanities departments at UNH and $2 million will be set aside for another program based on ethics and government, at the privately run Saint Anselm College.
"The two programs will receive distributions of quarterly interest only on their respective endowment amounts," writes Gardner. "In addition, each program will have a limitation on expenses, an advisory board and an annual reporting requirement."
He adds: "I trust that this letter and the attached documents will answer your inquiry."
Arnesen, however, said she was not satisfied.
"It raised more questions than it answered," she said. "I'm concerned about the timeline. Giving $2 million of state money to a private institution – that's a significant amount of cash, and it shouldn't be a private stash. Everything is not clear and transparent."