Frustration mounts as latest GTAT bankruptcy hearing begins
Layoff notices sent to workers, vendors say they've been left in the dark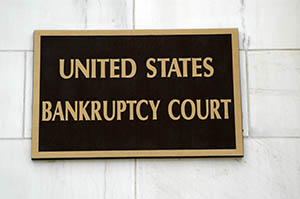 Worker morale is deteriorating, vendors are getting impatient, shareholder lawsuits are piling up, legal costs are accruing and frustration over secrecy is building as GT Advanced Technologies headed into a crucial bankruptcy hearing Tuesday.
At stake is whether the court will allow the Merrimack firm to throw out its $578 million year-old deal to supply Apple with sapphire, wind down its plant in Arizona, lay off 890 employees – including an undisclosed number in New Hampshire – and end the veil of unprecedented secrecy that Apple has insisted cover normally public proceedings ever since GTAT filed Oct. 6 for Chapter 11 reorganization.
Apple was supposed to identify to a skeptical bankruptcy judge by noon Monday specific areas where it needed the agreement with GTAT to remain confidential to protect its competitive position, but it got that deadline extended until 5 p.m., and then asked for another delay until 9 a.m. Tuesday morning, an hour before the hearing was scheduled to start in Springfield, Mass.
GTAT sent 60-day layoff notices to employees – required by federal law on Oct. 16 – and that "has had a demoralizing impact," said the company's lawyers. GTAT said it was worried that crucial workers might quit, causing the company to lose valuable sapphire material equipment while it attempts to wind down its operation. So GTAT wants to offer about 70 workers some $181,000 in extra bonus pay so they will stay on for the next four to 14 weeks.
GTAT had not warned the state of New Hampshire of any impending layoffs as of Monday. The company employed 259 workers in the Granite State as of June, according to state officials.
GTAT said it had $84 million in cash as of Sept. 29, but vendors have more than $140 million in claims, and they might not get paid until after Apple, which advanced GTAT $440 million to equip and complete the Arizona plant.
GTAT wants to set aside about $29 million for critical vendors, without identifying them. But it's a pool of money that the bankruptcy trustee called a "slush fund" in open court.
The bankruptcy judge has cut that amount in half for the interim.
"By keeping the 'list' of intended critical vendors secret, the debtors attempt to create leverage over a broad range of creditors, using the prospect of payment as a carrot and the lack of public information regarding proposed payment amounts as a stick to negotiate more favorable terms," wrote the trustee's attorney, calling it an "attempt to mislead their creditors" and "an affront to the inherent fairness of the bankruptcy process"
This state of "limbo" has hit particular small companies particularly hard. Among them is Turner Tooling, a Bedford firm with about $4 million in sales, which is owed nearly $691,000 for supplying grinding wheels to the Arizona project, according to that company's attorneys.
GTAT refused to tell Turner whether it was a critical vendor, it said.
It wasn't clear whether the bankruptcy court would make the Bedford firm stick to its contract, but if it did, it would have to provide GTAT with another "$3.2 million in goods, which would force it to close its business or seek protection under the bankruptcy code" itself.
The newly formed Official Creditors Committee was more upbeat, however, saying that it was making progress with GTAT on transparency issues. But several vendors were worried that the bankruptcy process itself is a further drain on GTAT cash.
Meanwhile, on Monday the eighth shareholder lawsuit against GTAT was filed in New Hampshire – Deerhaven Capital LLC v. Gutierrez et al. Like the others, it was filed against company officials, since the company itself is shielded from suits by its bankruptcy. And, like the others, the suit quotes heavily from the executives' reassurances to investors, ending with an earnings call in August, a little more than a month before filing for bankruptcy.
"The build-out of our Arizona facility, which has involved taking a 1.4 million square foot facility from a shell to a functional structure as well as the installation of sapphire growth and fabrication equipment, is nearly complete and we are commencing the transition to volume production," said GTAT CEO Thomas Gutierrez at the time. "We remain confident about the long-term potential of the sapphire materials business for GT."
GTAT, whose stock price peaked at over $20 a share when speculation was high that it would supply sapphire for the new Apple iPhone, was delisted last week from the Nasdaq exchange. Shares are now traded on the Pink Sheets, and they closed at 36 cents on Monday, down 3 cents.