Franklin restaurant owner sues city over handling of white nationalist threats
Suit calls for first-amendment protections and right to petition state government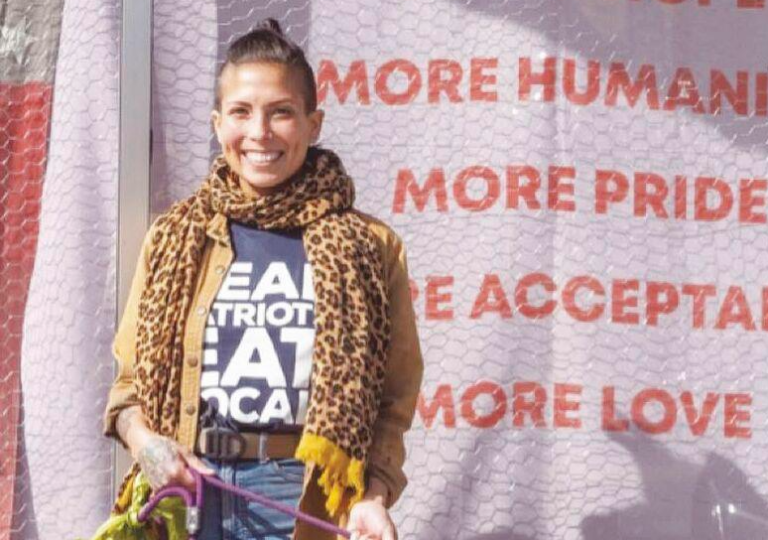 Miriam Kovacs, a restaurant owner who has publicly criticized city officials and police for how they handled white nationalist threats against her and vandalism of her business, has sued the city and its top officials.
The suit largely leverages protections for freedom of speech and the right to petition one's own government in both the New Hampshire and United States Constitutions. The City of Franklin, as well as Mayor Jo Brown, City Manager Judie Milner, Police Chief David Goldstein, Police Sgt. Daniel Bell, current City Councilors Jay Chandler, Valerie Blake and Vincent Ribas, and former Councilor April Bunker are named as defendants.
Kovacs, who is of Jewish and South Asian heritage, claims the city and its officials did not seriously investigate white nationalist threats against her and her restaurant, the Broken Spoon. She alleges they then retaliated and discriminated against her for exercising her free-speech right to criticize that response. The suit also claims disparaging comments about Kovacs made by the mayor and city manager in public meetings and that insufficient records request fulfillment violated the state's Right to Know law.
Stating the behaviors listed in the suit made her fear for her safety, cost her business and harmed her reputation, Kovacs is seeking a jury trial as well as unspecified monetary damages, attorneys fees and injunctive relief against the defendants.
"My client decided to bring her business and her flavor to Franklin. She is now terrified," said Michael Lewis, an attorney for Rath, Young and Pignatelli, the firm representing Kovacs. "She is doing what she can to protect herself." Kovacs was unavailable for comment.
Rath, Young and Pignatelli represents clients throughout the state in matters of public records and open government, including The Laconia Daily Sun.
"This community, under the leadership of Mayor Brown, rallied around Ms. Kovacs directly after the incident as well as the few incidents since," stated Milner in a written statement. She also pointed to a special meeting called by the city after Kovacs first voiced concerns, a resolution against hate adopted by the city and its formation of a citizens committee "which is still very much active today."
In response to a request for comment, Brown wrote in an email, "The City has taken action to address [Kovacs'] concerns." She also emphasized the city's special meeting, its committee to combat prejudice "of which [Kovacs] was a member," and its anti-hate resolution.
"We are currently working with the Department of Justice City Spirit program to consider bringing it to our Franklin citizens. It will be part of the City Council agenda next week," Brown wrote, referring further questions to the city's attorney Paul Fitzgerald, a partner at Wescott Law, who did not immediately respond to an email Wednesday.
The suit recounts criticism Kovacs made publicly over the winter: that Franklin city officials and police responded to her request for protection against white nationalists with a superficial response, and that, after threats escalated to vandalism at the Broken Spoon, her further criticism provoked the police chief and city leaders to reprimand her partner, a police officer, and to disparage her, further exposing her to vitriol from hate groups.
Police seek to identify vandals 
According to the filing, in the spring and summer months of this year, there was "a coordinated effort among and between Franklin officials" to neglect her requests for assistance, to surveil her speech online and to degrade her character.
Notably, the suit also references an email supposedly sent by Goldstein to himself in early March. The alleged email has an attachment titled with the last names of Kovacs and her partner. Its text, according to the suit, included a note reading, "I could import a few dozen 'brown shirts' to walk the streets of Franklin and engage in a 21st-century version of Krystallnacht."
Goldstein did not immediately respond to requests for comment Wednesday.
Kovacs also accused the city of withholding documents in fulfillment of a Right to Know request. While she did receive responsive records, the suit alleges, key files that Kovacs knew should have been included were absent.
As a result of these developments, the suit states, "Miriam remains deeply concerned for her life and safety, as well as for her ability to do business and reside in Franklin."
White nationalism is on the rise in New Hampshire, as visible in recent incidents in Laconia, Portsmouth and Concord as well as Franklin.
This article is being shared by partners in The Granite State News Collaborative. For more information visit collaborativenh.org.