Four top Oracle execs' total compensation tops $400 million
46% of shareholders express disapproval in say-on-pay vote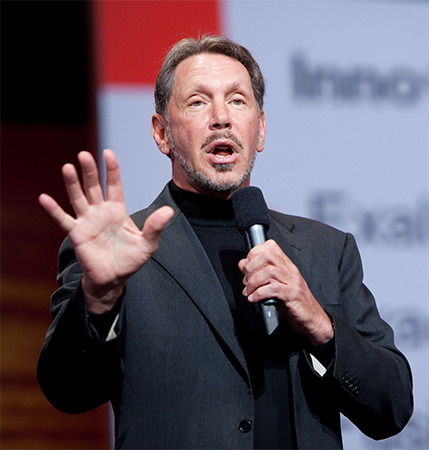 A large portion of Oracle Corp.'s shareholders were not too happy about the tech company's decision to more than double its top four executives' pay to a total of over $400 million last fiscal year.
Stockholders voted 1.6 billion shares in favor, but nearly 1.4 billion voted against the pay package, a 54 percent to 46 percent ballot, according to a Nov. 14 filing with the U.S. Securities and Exchange Commission. Usually, votes in opposition to such packages garner only single-digit percentages packages.
In fact, in 2018, 2.7 percent of the nearly 2,000 large companies that filed as of October voted them down, though that is more than twice the amount of the previous year, according to Semler Brossy, an executive compensation firm.
Oracle employs 137,000 people, with 650 of them working in two facilities in the Granite State, including at Oracle Dyn in Manchester.
Nationwide, its median employee compensation was nearly $90,000, but its top three executives' compensation exceeded $108 million each, some 1,205 times more than its median worker, according to a proxy filed at the end of September for fiscal year 2018, which ended May 31.
The average CEO-to-employee pay ratio is 72 to 1, according to Semler Brossy.
Salary only accounts for a small part of most executive's pay package. For instance, Oracle's chair and chief technology officer, Larry Ellison, is paid a dollar a year in wages, with almost all of Ellison's $108.9 million compensation package in stock options, though it does include $3.6 million in cash incentives.
Co-CEOs Safra Catz and Mark Hurd's salaries were just under $1 million apiece but their compensation packages totaled $108.3 million each. All three made about $41 million each in fiscal 2017. Thomas Kurian, president of product development, received $73.8 million in compensation, compared to $36.8 million the previous year.
That all adds up to more than $400 million in 2018 compared to just under $160 million in 2017, about a 150 percent increase.
The company's revenues in fiscal 2018 increased by 6 percent, to $39.8 billion, but net income was down from $9.3 billion in fiscal 2017 to $3.8 billion, or 90 cents a diluted share.