Forward progress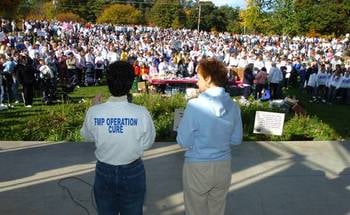 NASHUA – When Lynn Laughton started walking to raise awareness for the fight against breast cancer five years ago, she had no idea she would some day be walking as a breast cancer survivor herself.
"(The walk) took on a different meaning this year," Laughton said.
There is no history of breast cancer in Laughton's family, and she began walking in the American Cancer Society's Making Strides Against Breast Cancer Walk just because she thought it was an important cause.
Laughton and about 1,500 others participated in the 12th annual, 3.2-mile walk Sunday morning that started and ended at Greeley Park and raised $181,000 for breast cancer research, education, advocacy and patient service.
Laughton, 45, said she was shocked when she learned she had breast cancer after a routine mammogram in May. For a period of time, she questioned why it happened to her. Then she decided the only thing she could do was move forward.
"I decided it wasn't going to take over my life," she said.
She has endured two lumpectomies and a round of radiation since then, and the cancer has regressed.
One of the things people need to know about breast cancer is it can happen to anyone, she said.
This year, Laughton also decided to join the event's planning committee and she volunteered at the event before she walked.
Speakers at the walk included breast surgeon Dr. Helen Corbett, cancer survivor Carolyn Choate, and Mayor Bernie Streeter, who announced the walk would kick off the "Mayor's Campaign Against Breast Cancer" week in Nashua.
The week includes a breast health awareness fair that will feature prevention information, refreshments and raffles at city hall Wednesday; a photo exhibit of New Hampshire women who have had breast cancer, called "See Us, Hear Us," that will be displayed in the city hall rotunda Tuesday through Friday; the city of Nashua's Breast Cancer Quilt will be displayed at the public library Thursday; and the campaign will also include "Wear Pink Day" on Friday, along with several other events and awareness promotions.
Before the walk Sunday, breast cancer survivors were invited on stage while Molly Sillich of Nashua sang "You'll Never Walk Alone" by Rodgers & Hammerstein.
The survivors then said their names and the number of years each has been a survivor, before they walked through an arch. Then, they led the walk down Concord Street, onto Nashville and Amherst streets, Sargents Avenue, Manchester Street, Hills Ferry Road and eventually back onto Concord Street.
Mary Ann Breen of Nashua walked with Charlie, her Labrador retriever mix, who wore a pink scarf around his neck. Breen, 67, is a 23-year breast cancer survivor and has walked for breast cancer for 23 years in Nashua and other towns.
"It's really important to have people see that I'm a healthy woman," she said.
Her message to other women is to take care of themselves and to check themselves for the disease.
She said every day she has been a survivor is special, and "every season is a gift."
Many of the walkers at the event walked for loved ones who have died of breast cancer, have survived the disease or have it.
Ken Roberts of Groton, Mass., has walked with his wife, a nine-year breast cancer survivor, Sandy Roberts, for the past eight years.
His message to others concerning the disease is, "keep the faith, help people that need help and contribute to events as much as possible."
The Roberts and several others who have joined their cause had "Roberts' Breast Brigade" printed on the backs of their T-shirts.
Over the past two years, Ken Roberts said they have raised more than $8,000 for the walk.
"We just wanted to give back somehow," he said.
MAYOR'S CAMPAIGN AGAINST BREAST CANCER
The Making Strides Against Breast Cancer walk is kicking off the Mayor's Campaign Against Breast Cancer, a weeklong series of events in the city. Here's a look at the schedule for the week:
TODAY: The city's public health van will visit designated locations to offer breast health information and education. For more information, call 589-4500.
TUESDAY: The "See Us Hear Us" exhibit, photos of New Hampshire women who have had breast cancer, will be on display in the City Hall rotunda, through Friday.
WEDNESDAY: A Breast Health Awareness Fair will run from 10 a.m.-2 p.m. in the City Hall auditorium, featuring raffles, self-breast exam instructions, videos, refreshments and literature from city health organizations. Portuguese and Spanish translators will be available. Breast cancer survivor Carolyn Choate of TV 13, and Krys Hobson, wife of Nashua Pride manager Butch Hobson, will speak at noon.
THURSDAY: Breast Cancer Education Day at the Nashua Public Library includes exhibits, library selections and educational materials. The city's new breast cancer quilt will be on display.
FRIDAY: It's "Wear Pink Day" in Greater Nashua, in support of breast cancer awareness.