Former Sheraton Tara reborn as a Radisson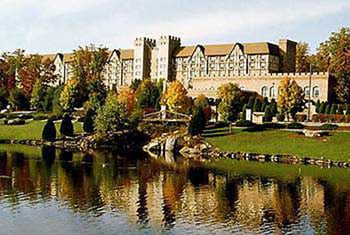 When Southern New Hampshire Hospitality LLC purchased the Sheraton Tara Hotel in south Nashua from Starwood Nashua Realty LLC, there was no big "to do" made about the transaction.
The landmark Tudor-style hotel was sold quietly in early June for $17 million, real estate listings show. The name on the sign changed to Radisson, but there was no big announcement or public celebration.
Two months later, the new management team is going public and ironing out big plans for the new Radisson Hotel Nashua, including a $7 million indoor facelift.
But despite rumors, the exterior is not getting a makeover.
"We think it's irreplaceable," General Manager Steve Lambert said. "The presence … it's a moniker."
The Radisson name alone is bringing a few changes. Most of the former Sheraton employees stayed on staff, but all were retrained, Lambert said. There's a new chef in the restaurant and a new sales director.
The Radisson brand is part of Carlson Hotels Worldwide, which includes T.G.I. Friday's and Country Inns & Suites, among others.
This year alone, Carlson has added 40 new hotels to its portfolio, a statement from the company said.
Lambert said renovations will start in September with the indoor pool, spa and health club area being "revamped top to bottom." The hotel is looking to add new spa services and treatment rooms, he said.
"That's such a thing nowadays. People are looking to pamper themselves," Michele Hatch, director of sales and marketing, said.
The lobby, halls, rooms and business center will all be revamped to achieve a more "personalized, warm, welcome feeling," according to Lambert. Color schemes and designs are being finalized now, he said.
Lambert, who recently moved from Jacksonville, Fla., where he was managing another hotel, said every room will be equipped with a Select Comfort Sleep Number Bed, which can be adjusted for firmness. Renovations should wrap up early next year, he said.
Hatch, who formerly worked at the Radisson in Chelmsford, Mass., had her wedding reception at the Nashua hotel. She called the building a distinct part of the city, recognizable to almost everyone who lives here.
"Everyone has had an event here," said Hatch.
Both Lambert and Hatch said Radisson is different from other hotels because each hotel doesn't have to be alike, so Nashua's Radisson can be designed to fit its Tudor style. – ASHLEY SMITH/THE TELEGRAPH