Former factory site may be used for housing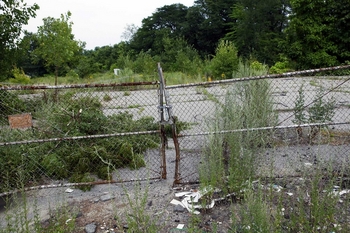 NASHUA – The Planning Board will be asked tonight to approve a proposal to construct three multifamily housing buildings at 22 Marshall St., the former site of the Beebe Rubber Co.
A report prepared by deputy planning manager Matt Taylor says the plan calls for the construction of two, four-story buildings, each with 40 housing units, and a third four-story structure with 32 units.
The meeting begins at 7 p.m. in the City Hall auditorium.
The 3.6-acre site was used for the manufacture of rubber products from the 1930s to 2001, when the factory was torn down. There is soil and groundwater contamination on the site, Taylor said.
The primary contaminant is trichloroethylene, a solvent used for metal cleaning, among other things. A cleanup plan for the site was partially approved by the state Department of Environmental Services in 2006 and cleanup work is continuing on the site, officials said.
The soil on the site must meet DES residential standards and slabs the apartments will be built on must be specially designed to prevent vapor intrusion, Taylor said.
The development plan was submitted by 22 Marshall St., LLC, whose principals include Vincent Iacozzi, of Manchester, officials said.
Hollis developer Mark Maynard also has a stake in the proposal, according to Gerald Prunier, a lawyer for Iacozzi's company.
Various housing and commercial projects have been proposed since 2002 for the site but none has gone anywhere.
Earlier this year, the Zoning Board of Adjustment approved a use permit for the current construction proposal.
The housing project complies with a master plan for the East Hollis Street area, which encourages mixed uses and residential development not allowed in the general industrial district.
The zoning on the former Beebe property is mixed between general industrial, general business and urban residential, city records say.
Pruniers said he didn't know whether proposed housing would be considered so called "work force housing.''
The developers have applied for financing from the New Hampshire Housing Financing Authority, Taylor said.
Ward 7 Alderman Richard Flynn, who represents the area, said he doesn't know too much about the project, but hopes traffic will diverted away from residential neighborhoods.
He said also that the site is now a mess and needs to be cleaned up.
"There's trash everywhere, and no one seems to be paying any attention to it,'' Flynn said.