For landlords such as Kyle Lamerand, every day is a battle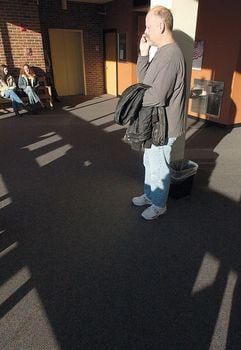 Editor's Note: This is the first installment in a two-week series about renting in Nashua.

Hear an audio interview with Kyle Lamerand.
Coffee in hand, Kyle Lamerand quickly listed the destruction he expected to find in the studio unit of his Palm Street apartment building in Nashua.
"Smashed front door, a pile of empty beer bottles, smashed bathroom door and a couple of holes in the wall," Lamerand said.
"Anything less than that will be a bonus."
It was an early morning in January, and Lamerand's day was starting like many have for quite a while now: with plans to evict a tenant.
"I have seen it go from bad to worse," Lamerand said of the business of renting affordable housing in Nashua's inner city neighborhoods.
While not the biggest landlord in the city, Lamerand is one of the top 20 landlords who serve the low-income rental community in the city. As such, he sees more turnover and evictions than most.
A third-generation landlord, Lamerand, 43, described how the rental property business his grandmother Jeanne Lamirande started in late 1920s has slowly changed from collecting rent and improving properties to chasing rent and repairing destruction.
The loss of manufacturing jobs that forced the exodus of longtime tenants, a lack of community pride and honor among tenants who replaced them, and a general disinterest in the needs of inner-city neighborhoods among the rest of the city's residents are what Lamerand believes are at the core of the struggles that he and other inner-city landlords have experienced in the last decade.
"I often tell the pols, especially this last mayoral election, when they ask, 'What can we do? What is important to you in the city?' I say, 'Pick a hot summer day and go stand in the middle of the Tree Streets with your family. Dare you. Dare you to do that.' "
A vulgar sight
Although it wasn't hot on this January morning, Lamerand was doing just that, standing in the street outside his 71 Palm St. building. He was waiting for a sheriff's deputy to arrive with a writ of possession, a court order that returns possession of a property to the landlord. Upon serving the writ, the sheriff officials remove the evicted tenant, by force if necessary. In this case, Lamerand was gaining back possession of a studio unit on the south side of the building.
Of the nine multiunit properties he and parents Richard and Judith Lamerand own and manage in the city, Lamerand estimates that at any point, about 10 percent of the tenants aren't paying rent. Most of those tenants are also at some point in an eviction process that, on average, takes him about 13 weeks to complete, he said.
Another 20 percent of his tenants are making partial rent payments or are paying rent late. Some of those are teetering on the verge of eviction.
Lamerand said he rarely recovers the rent money lost during the time it takes to do an eviction or the court costs involved, and he is always spending money on the damage left behind.
"There is pretty much one nightmare in my life at all times," Lamerand said.
Lamerand's studio units run about $170 a week, utilities included.
As is the case for many of the eviction proceedings Lamerand initiates, the tenant of the 71 Palm St. studio, a young man, had paid him the $170 security deposit and the first week's rent needed to move in, but never paid another cent through the three months it took to evict him.
It is a frightening trend, Lamerand said.
"They know that once they've paid down they can sit on that property for a good amount of time that far exceeds what you have collected in that initial payment," Lamerand said.
To add insult to injury, before renting the unit to the tenant, Lamerand had already spent about $10,000 repairing the damage left from the previous tenant, who had destroyed the newly refurbished apartment.
"We are talking a brand new steel door made it through one tenant," Lamerand said, adding that the same tenant punched nearly 20 holes in the wall, as well.
As Lamerand stood in the street by his truck, a young man standing in the front entrance of the building walked over to him and, after a short conversation, walked back inside.
"He's another one that I haven't seen rent from since he moved in," Lamerand said.
At that moment, a Hillsborough County sheriff's cruiser pulled into the driveway next to the building.
Lamerand stood several feet away while Sgt. Tim Connell repeatedly rapped on the door of the apartment with his fist, loudly announcing his presence to anyone who may have been within the unit.
Just as Lamerand was giving the key to Connell, the door opened and a young, sleepy-looking man in baggy clothes appeared in the doorway. It wasn't Lamerand's tenant.
"Didn't you hear me knocking?" Connell asked before explaining to the man that he had to leave.
The man quickly grabbed a jacket, then walked out of the unit, brushing past Lamerand, who was too focused on getting inside to survey the damage to notice the man walk back into the building through its east entrance and to some other apartment within.
Lamerand rolled his eyes after learning where the man had gone.
"I deal with that all the time," he said of unauthorized tenants.
Inside the vacated unit, most of Lamerand's predictions had come true.
Beer bottles and trash were heaped in a pile in the kitchen and more trash was strewn about the rest of the apartment, which consisted of one small room, a closet and a bathroom that had a shower stall, but no tub.
Lying in the middle of the living room floor, a page torn from a pornographic magazine displayed a photo of a nude woman in a vulgar pose.
On the other side of the room, someone had tacked a bed sheet to one side of the bathroom door, probably to regain some privacy from the large hole that had been kicked through the bottom half of the door.
Inside the bathroom, freshly shorn locks of dark hair covered the floor, and a set of electric hair clippers lay in the dirty sink.
The smoke alarm had been ripped from the ceiling and was sitting on top of the kitchen cabinets, and the refrigerator door was dented.
Lamerand scanned the three main walls that were each spotted white.
"Someone patched the walls," he said, somewhat surprised, counting 10 patches.
While Lamerand is known as a responsible landlord among code officials, just one tenant pulling out a smoke alarm makes his building a danger for his tenants.
Such tenants not only ruin his properties, Lamerand said, they ruin the neighborhood and affect the peace and quiet of property owners his family has known for years.
"How can I explain to them that I am doing everything I can to keep this from happening?" he asks, pointing to the home next door.
The contents of the apartment, mostly clothing, had automatically become Lamerand's responsibility once he took over the apartment.
The law requires landlords to store and maintain a tenant's belongings for 28 days following an eviction and to allow tenants to recover the items during that time without any cost to the tenant.
Lamerand said tenants usually come and pick through the stuff, taking what they want and leaving the rest for him to deal with.
As he continued to work on the door lock, Lamerand referred to the young man who had been inside the apartment while calmly noting another reality.
"If he has property in here, he is going to kick this door in the minute we leave."
Then and now
Jeanne Lamirande worked hard managing the rooming house at 44 Temple St. where her grandson grew up and now takes her place.
"Her office was right behind that door," Lamerand said pointing to the ornate curved door on one side of what used to be the dining room of the old building.
Lamerand, whose family lived in a unit next to his grandmother's, described growing up in the rooming house.
"I grew up with a very diverse group of people that I didn't know, who were coming into the house from different backgrounds and different challenges," Lamerand said.
"We have pretty much always been a working-class, blue-collar-type outfit."
His grandmother's operation was quite tedious – after all, she did mend, wash, fold and label all the linens back then, as well as handle everything else that came with running a rooming house – but he can't imagine what she would do if she were in business the way it is now.
"There was an honor system back then," Lamerand said. "It was truly that way. If somebody didn't have the money, they'd leave, they knew. . . . You didn't do what we see today."
Most of Lamerand's problems stem from his multiunit buildings, furnished studio and one-bedroom apartments with utilities included at a low weekly cost.
Although he learned the business working alongside his dad, acquiring knowledge of roofing and other trades along the way, Lamerand said he doesn't get to do much of that hard, satisfying work anymore. These days, he and many other landlords are spending all their time in court, he said.
"This is not something we enjoy," Lamerand said of the evictions.
"But the bottom line is . . . I am paying for that apartment. I have a staff. I pay the heat, the hot water, the gas, the electricity and I am providing 24-hour maintenance. And they are not paying anything. Business doesn't work that way. You need to get paid."
Only in the last 10 years have the tenants been so much trouble, Lamerand said.
The flier
He blames a large part on the city's loss of manufacturing jobs that he said supported the core group of tenants who rented his family's units from the time his grandmother started the business.
"Batesville Casket, Beebe Rubber, places like that where someone could go, with very little skill, and earn a very good wage with overtime, maybe benefits," Lamerand said.
"They could afford an apartment, they could afford what they needed to live."
When the plants started shutting down, Lamerand said many of his longtime tenants were left unemployed, some for years at a time.
The last major closure, Batesville Casket, left hundreds of people jobless, many of whom were Lamerand's Palm Street tenants for years. Most of his long-term tenants have since moved on and have been replaced with a new generation of low-income workers who barely make enough to live on.
These newer tenants are struggling with multiple part-time jobs, if they get more than one, with no benefits, he said.
Many are couples in their late teens or early 20s with a short work history and just enough salary between them to make the weekly rent qualifications.
But if a person's record is clean and he or she can prove ability to pay, he or she get a shot, Lamerand said. Even those who have led a troubled life, ex-convicts and recovering addicts or alcoholics, deserve a chance, he said, explaining that as long as they have a clean eviction record, he will take them in. But for some tenants, especially the young ones, Lamerand knows he is taking a risk. About 90 percent of his tenants who are younger than 25 get evicted for not paying rent, he said.
But because he rents low-cost units, Lamerand said he can't be picky when it comes to income on an application. It goes with the territory.
It is one of the reasons he likes a weekly rent system, he said, explaining that people get paid on Friday and if they don't pay rent then, the chances he will ever see his money get slimmer. Times are just so tight, he said.
"One car malfunction, one doctor visit, one from court and they are under eviction. They never get it back. They can't make it back," Lamerand said.
Along with the layoffs that occur all year, a lot of businesses also shut down for the holidays, without pay, he said.
"Those people immediately don't pay their rent for two weeks," Lamerand said.
Other folks have good jobs, but when business is slow, they're sent home early, also without pay.
"So, a guy that needs his 40 hours gets sent home at 1 o'clock in the afternoon two days during the week? He is either not paying rent or not buying groceries," Lamerand said.
"It's a difficult situation."
'Only you can apply'
The old wooden blinds that separate Lamerand's office from the hallway of his Temple Street apartment building rolled up with a loud clacking rhythm as he pulled on the chain inside. The raised blinds revealed the glass-top counter and clerk's window where tenants of the building, as well as tenants from Lamerand's other buildings, come to pay their rent or conduct other business
He keeps a loaded gun in the office, too, for anyone who wants to chance it.
Underneath the glass on the counter, a colorful flier screams, "There is help for you but you must act now!!" and "Simply visit these agencies," which is underlined, and "Don't wait!! Only you can apply!!"
"I got a very tough phone call threatening a lawsuit about that once," Lamerand said, explaining that he made the flier that goes on to list city welfare and five other area agencies. He routinely gives the flier to tenants who are having financial troubles and are on the verge of eviction.
Along with boxes listing the address and phone numbers of the agencies, the flier informs the tenants that it is their responsibility to get applications from the various agencies. It directs the tenants to put their name on the applications and drop them in the mail slot at Lamerand's office.
"They will be filled out and returned to you," it states.
Lamerand, who for years has consistently made the top 10 list of landlords who receive the most money in rental vouchers from the city, doesn't understand why anyone would be upset about the flier. By virtue of their incomes, his tenants have a higher chance of hitting hard times than others, so it shouldn't be a surprise.
"These people are about to become homeless, and I am trying to help them avoid it. What is wrong with that?" he asks.
He prefers to try to work with people going through difficult times rather than face an eviction process, more destruction and the ultimate vacancies that follow.
"Nashua has an amazing amount of resources for people in need. If you have any good reason why you are in dire straits, there is help," Lamerand said.
He estimates he has four or five rental voucher applications on file at any given time.
It is because of the struggles he faces in his business, and the lengths to which he said he and other local landlords go in order to help struggling tenants, that the stigma of the greedy landlord irks him so much.
"That is just so far from the truth in most cases," Lamerand said.
He referred to some of the investor-owned bigger units in the city in comparison.
"They have no interest in Nashua," Lamerand said. "They are not from Nashua. It is truly an investment property, bottom line. Rent it, bleed it, don't do anything to it, get every penny you can out of it."
"With me, these buildings are like family. I worked my entire life on them. I know every inch of wire. It is very personal, and I want nothing more than to help these people out. It is a great feeling."