Flotsam & Jetsam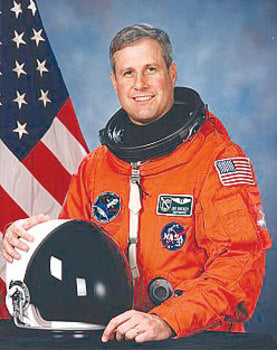 Buckeying the trend
Not everybody was pleased when Joe Trippi, guru of the Dean presidential campaign in 2004 and now a consultant for the Edwards presidential campaign, sang the praises of Jay Buckey, the astronaut-turned-professor-turned Democratic U.S. Senate candidate, in a blog posting.
In fact, people at the Buckey and Edwards campaigns were rather aggressively given a piece of the mind of a certain former high-muck-a-muck in the state Democratic Party because … well, because Trippi had the utter gall to voice his opinion about the electability of a U.S. Senate candidate in New Hampshire.
And you know how those former state Dem Party muck-a-mucks hate it when people outside New Hampshire try to influence a local election.
The results are in
Even political junkies whose addiction might give William S. Burroughs pause were likely not aware that there was another presidential straw poll on Aug. 11, the day of the vaunted Iowa Republican straw poll.
This one was in the "picturesque" town of Whitefield – to quote recent visitor Bill Richardson – to coincide with the Community Day chicken barbecue.
Put together by Jeff Woodburn, a former state Democratic Party chair, and former Republican House Speaker Harold Burns, the straw poll results were probably more to the liking of two candidates who lacked either the political fortitude or wherewithal to take part in the Iowa event. Rudy Giuliani, who won with 33 percent on the GOP side, and John McCain, who garnered 22 percent.
Among the Democrats, Hillary Clinton and former Senator John Edwards tied at 33 percent with the aforementioned Richardson – who visited the town a day before the poll — placing third with 27 percent.
Listening post
John Stephen, the newly former Health and Human Services commissioner, won't yet announce his plans, but the smart money's on him resuming his political career, either with a run for the 1st District GOP congressional nomination or for governor.
Actually, it doesn't take any inside information or peerless prognosticative ability to realize that there's a political campaign in Stephen's short-term future. Consider his principal activity in the waning days of his tenure at HHS: He toured the state talking to health-care providers "to discuss the issues of most concern to them," as the Laconia Citizen put it.
While gauging the concerns of stakeholders might be a good idea for a person new to his or her job, it's a rather interesting pursuit for a person in the last throes of his term at HHS. Of course, if that person is embarking on what another politico would term a "listening tour," the concept is not so far-fetched.
As Stephen said to a group of Lakes Region health-care providers, "I want to hear from some of you folks. I am here to listen."
Shot through with holes
It looks like the Manchester Republican Party's ballyhooed machine gun shoot-'em-up/political fund-raiser may have missed the mark.
On the plus side, the fund-raiser, which gained all sorts of media coverage and political to-and-fro when it was first announced did attract more than 300 people who showed up either to support the party or get their jollies firing off an AK-47.
But, considering the state of things in the world of political money, the party wound up taking in $2,000 for its efforts. Less than seven bucks per shooter. And not one presidential candidate showed up to shoot from the hip, or anywhere else for that matter.
The Manchester Republicans may have just done just as well with a bake sale, although they may have raised the ire of the anti-obesity crowd.
F&J TOTEBOARD
Tommy Thompson:
The former Wisconsin governor is dealt one last blow to his ego when the announcement that he's dropping out of the GOP presidential race barely merits a mention on TV, radio or in newspapers.
Gene Robinson:

The Episcopal bishop of New Hampshire endorses Barack Obama for president, but does anyone actually care?
Nancy Pelosi:

In Nashua, the speaker of the U.S. House and San Francisco resident describes her "excitement" over Barry Bonds' record-breaking 756th home run.
Newt Gingrich:
The former speaker puts his own inimitable, tactful spin on analyzing the '04 Dem presidential race: "Normal, rational Iowans who had rigorously avoided politics for the entire previous year looked up and said, 'He's weird.' And they looked back down, and Howard Dean disintegrated."
Bob
Clegg:

The Republican state senator from Hudson leaves the door wide open on a possible run in the 2nd C.D.
Steve Marchand:
A spokesman insists the Portsmouth mayor — whose campaign for the Democratic U.S. Senate nomination has shown some traction – will stick to his promise of bowing out if Jeanne Shaheen announces her candidacy."
It's been making the rounds…
• There is a presidency in Dennis Kucinich's future – the presidency of the AFL-CIO – if they had the guts, of course.
• Dem Senate candidate Katrina Swett raised more New Hampshire money than Tommy Thompson's aborted presidential campaign.
• Bob Odell might be on state Democrats' "target list" of vulnerable GOP senators, but that doesn't mean John Lynch won't post a sign on his front lawn for the Lempster lawmaker – if he were in the district, of course.
• A Saturday New Hampshire primary could help solve the front-loading train wreck called a political process, but so could moving Election Day to May.
• Never mind a commission to study adequacy in education, how about in government?