Five-week GTAT loss pegged at $73 million
Latest financial statement shows firm hemorrhaged money following bankruptcy filing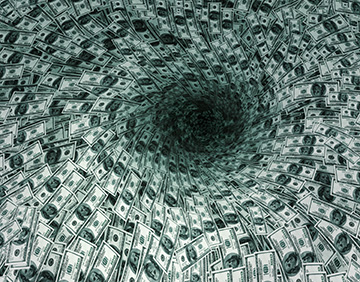 GT Advanced Technologies lost $73 million in the first five weeks following its bankruptcy filing, or slightly more than $2 million a day.
That's twice the amount the Merrimack-based company previously said it was losing in the wake of its failed attempt to supply technology giant Apple with sapphire for use in mobile touchscreens.
The income and expense statement, revealed Wednesday, covers the period from Sept. 27 to Nov. 1 and shows that GTAT and its nine affiliates have either previously underestimated losses at the sapphire production plant in Arizona, or that other operations were losing money as fast as the Apple endeavor.
All told, the company's gross revenue was an anemic $2.5 million, less than a quarter of the revenue it had been making before the Oct. 6 bankruptcy filing.
It doesn't look good for the next few months either. The statement also reports only $11.25 million in receivables, of which $1.6 million is considered uncollectible, leaving net receivables of $9.7 million. About $8.5 million of those receivables were incurred in October.
GTAT reported $113 million in revenue in the first three quarters of 2014, sharply down from the nearly $300 million in revenue in 2013 and $733 million in calendar year 2012.
About $4 million of the company's expenses went to bankruptcy professionals (predominantly lawyers) and about $1.3 million was used for restructuring charges (mostly related to the layoff of some 750 workers) and asset impairments.
The biggest expense was general and administrative ($5.5 million) and research and development ($3.9 million).
The bulk of the loss ($55.8 million) was the loss of profit from operations of the company.
None of the company's subsidiaries made money. Even its foreign operations, the most profitable before the filing, lost $103,000.
In further bad news for creditors, the company said it was down to $76 million in cash as of Nov. 1, about $9 million less than it had when it filed for Chapter 11 reorganization.
The company also already appears to be considering writing off massive amounts of debt.
On its balance sheet, GTAT has lowered the amount owed to Apple from $439 million to $357 million and the amount owed to bondholders from $434 million to $292 million. Furthermore, the remaining bond debt and about $213 million of other (non-Apple) debt was identified as "liabilities subject to compromise."
A previous financial statement listed $129 million in non-vendor debt, including $3.5 million in claims from New Hampshire companies.
GTAT did pay off $504,000 in prepetition debt with about half going to a Hong Kong shipping company and the other half going to benefits, primarily to Anthem Blue Cross and Blue Shield ($150,000).
But GTAT still lists liabilities totaling $1.3 billion, the same figure it stated in court shortly after the filing.
GTAT also put its assets at $1.3 billion, but it cautioned it was using book value rather than fair market value to calculate assets.
About $628 million of those assets are in property, plant and equipment, which mostly consists of sapphire furnaces that Apple said did not produce suitable material for its devices and are for sale.
If the settlement with Apple is approved by the court, Apple will receive between $200,000 and $290,000 for each of the approximately 2,000 furnaces sold, until GTAT's debt is paid off.
GTAT's assets also include $57 million of goodwill and $91 million of intangible assets and $158 million in "other assets" that are not specified.