First-of-its-kind collaboration seeks to help Peterborough meet sustainability goals
Tech startup works with contractors to upgrade older buildings beyond fossil fuel use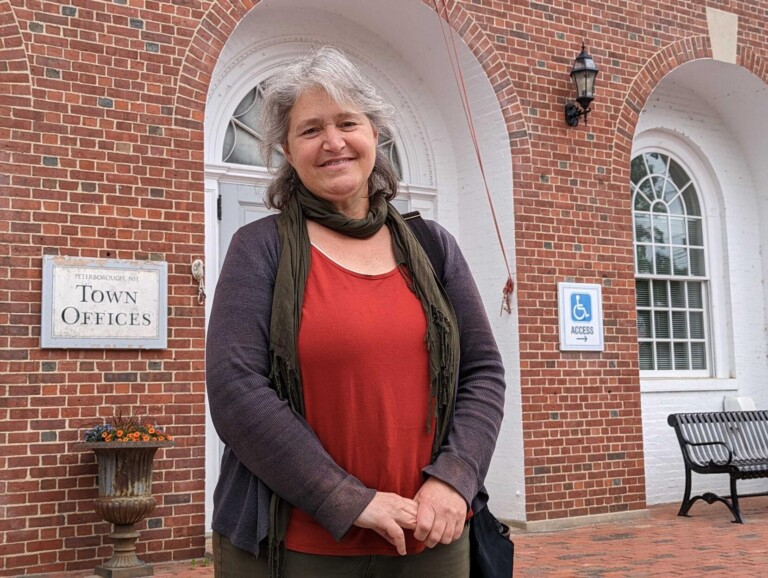 A technology startup focused on helping municipal officials implement sustainable energy strategies in their communities could lead the charge in the Monadnock Region on electrifying and decarbonizing buildings currently dependent on gas and oil power.
The town of Peterborough is working to have local contractors make renewable energy upgrades in partnership with BlocPower, a Brooklyn, N.Y.-based consulting company that works with local contractors to upgrade power, heating and cooling systems in older structures.
Contractors, who can send applications to BlocPower to partner with the company, will electrify between 10 and 15 buildings, update appliances in them and evaluate the structures' weatherization and solar power capabilities by June 30, 2024.
"We're looking at municipal buildings and we're looking at privately-owned buildings," said Dennis Luong, general manager of BlocPower's Northeast region. "There's a few multifamily buildings that we'd love to look at and then small commercial buildings."
Luong said such buildings have been "left out of transition" in similar projects BlocPower has observed because while they're larger than single-family homes, they aren't the scale of facilities like hospitals that take priority.
On the low end, individual building projects can cost between $10,000 and $15,000, Luong said, but on the high end could range in the six figures. To help cover the costs associated with these additions — air-source heat pumps and hot water heat pumps, for example — BlocPower works directly with building owners through the option of a 15-year financing plan.
With the plan, property owners are not required to make a down payment and don't see a lien on the building. In the case of hot water heat pumps, BlocPower oversees maintenance of the heat pump and at the end of leasing, the building owner can buy the pump for $1.
The Peterborough project, which officially kicked off May 9, is a pilot program for BlocPower, with Luong noting it's the company's first project in a municipality the scale of Peterborough.
"One of the things that set Peterborough apart was how engaged the town was with this initiative and how they want to see it grow from a pilot to a full-on program moving forward," Luong said.
BlocPower's consulting in Peterborough cost the town an initial $5,000 fee up front, but the money ended up coming from Peterborough Renewable Energy Planning (PREP). PREP is an ad hoc committee appointed by the selectboard comprised of town residents, many of whom have experience in the energy industry.
Inflation Reduction Act
PREP formed after residents voted to pass a warrant article during Peterborough's town meeting two years ago pledging to transition to 100 percent renewable electricity sources by 2030 and other energy needs by 2050, according to Dori Drachman, co-coordinator of PREP.
"Trying to get out ahead of where our state was leading us was absolutely a big part of the whole initiative," Drachman said. "It definitely includes the piece with BlocPower — that we need to get as much help from wherever we can to be able to meet these goals because the state hasn't been very helpful at all."
Bob Haring-Smith, a co-coordinator of PREP, said New Hampshire is an outlier in New England for a lack of resources and support for renewable energy and climate concerns.
"It's a tougher environment politically and financially for BlocPower to be working in than a lot of places where they were before," Haring-Smith said. "But I think the Inflation Reduction Act and the climate support policies that were in it have made it much more feasible for BlocPower to provide attractive financing for the work they do in a state where they would not otherwise be available."
Among other provisions, the Inflation Reduction Act, signed by President Biden on Aug. 16 of last year, incentivizes businesses like BlocPower, nonprofits, educational institutions and state and local institutions to pursue renewable energy transition projects through tax credits.
Peterborough and BlocPower hope to look toward upgrading the rest of the community after the pilot's conclusion, and Drachman said town officials and PREP are in the process of applying for a community block grant from the U.S. Department of Energy — the Energy Efficiency and Conservation Block Grant — that would expand the program.
"We have applied for $500,000. That is for being able to get access to a couple of staff members at BlocPower to help manage the program, and it's also for direct incentives for building owners that are on some kind of federal assistance program," she said. "We really want this program not just to be for wealthier residents — we want it to be for everybody."
Drachman said the town sent in a concept paper Monday to demonstrate its need for the grant and anticipates a response from the DOE by late-June. The full application is due early August, she said.
Peterborough officials are hopeful their town could be a pioneer in sustainable energy upgrades in the state through coordination with BlocPower, and they're thinking of their neighbors in the Monadnock Region as the next few communities that could benefit from the consulting work.
"We will be looking for other towns and Keene to join with us," Drachman said. "We think this could be a really great thing to do one of the hardest parts of this transition to 100 percent renewable. It's a lot easier to buy a new car than it is to retrofit a house."
Applications from contractors
Mari Brunner, senior planner for the city of Keene, said she had an early conversation with Drachman and Haring-Smith to learn about the BlocPower pilot program and that it's "something we're interested in learning more about."
"I think if it's accessible, there will definitely be interest in Keene," Brunner said. "It hasn't been brought to anyone yet … but from what I heard it sounds like it's very much aligned with what we're trying to do."
Brunner cited Keene's Sustainable Energy Plan released in January 2021 as an indication of BlocPower's potential in the Elm City. Like Peterborough's goals, Keene officials aim for 100 percent electricity usage in the city to be generated from renewable sources by 2030.
The plan reported that in 2020, 55 percent of buildings in the city relied on oil fuel, 12 percent depended on propane, 6 percent were a piped propane and air mixture and 4 percent were electric. Smaller than that were wood and solar energy.
Brunner expressed intrigue about BlocPower's approach toward having building owners and contractors contact the company to take part in the pilot program, likening it to a HeatSmart program.
"Basically the city would run a campaign to encourage residents and businesses to switch over to high efficiency or renewable thermal technologies," she said. "These are usually done for air source heat pumps, or what some people call 'mini-splits.' It's not exactly the same as BlocPower, but I think BlocPower is very much aligned with what the plan is trying to promote."
At the moment, Peterborough and BlocPower are still seeking technicians to take on the work of the pilot program, but Drachman said initial applications from area contracting firms have been encouraging.
"We're going to have three site visits next week, so it's getting started and this is with very little effort so far on the part of PREP to spread the word," Drachman said Tuesday.
In the wake of the program's installation work beginning sometime this summer, Drachman highlighted energy contractor training courses slated to be offered later this year at MAXT Makerspace in Peterborough's Vose Farm Business Center that teach participants how to become energy auditors as well as classes that end with people receiving certification to install heat pumps.
"If we do succeed in getting these grants and getting people excited about electrifying and weatherizing their homes, we need a lot more people to do this work," Drachman said.
Building owners in Peterborough interested in working with BlocPower can complete a questionnaire here. Interested contractors can apply to partner with BlocPower here.
This article has been edited to clarify that BlocPower's work in Peterborough will involve work with air-source heat pumps in addition to hot water heat pumps.