Firm makes a lot of noise while Liv'n Out Loud!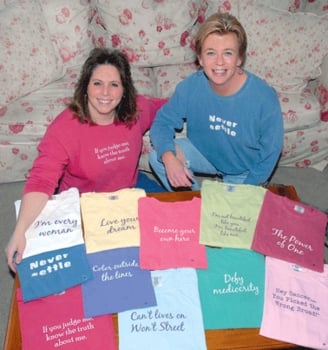 A relaxed T-shirt or cozy sweatshirt can go a long way toward physical comfort, but can it really change a person's life? A growing list of incoming orders, appreciative e-mails, and even some VIP requests, have proven to Alyson Bruu and Kristine Fichera, founders of Liv'n Out Loud! Clothing Company Inc., that it indeed can.
Based on a lifestyle philosophy embraced by the Hampstead couple, Liv'n Out Loud! Clothing Company is as much about being as comfortable on the inside as you are on the outside.
With a product line that includes a colorful sun-washed collection of boxy, full-zip and hoodie sweatshirts bearing the inspirational company logo, and a wide variety of T-shirts bearing life-affirming quips – such as "Be your own hero" and "Live your dream" — Liv'n Out Loud! clothing sets out to rekindle the wearer's verve for life and promises comfort while doing it.
In addition, newly released T-shirts screaming "Hey Cancer … You Picked the Wrong Broad!" have become an instant hit, already catching the attention of the Susan G. Komen Foundation and available soon in the gift shops of Children's Hospital and New England Medical Center in Boston.
The Web-based business also features a line of tank tops, baseball caps, tote bags and tire covers, all bearing the company's logo.
The introduction of a pet line also is in the works for company, which currently donates a portion of its proceeds to the American Society for the Prevention of Cruelty to Animals.
"We're not just a clothing company," said Bruu, a marketing and public relations professional and owner of December Marketing. "We're promoting a lifestyle. We're getting people to look at their own humanity and ask themselves, 'Am I living the life I'm meant to live?' It's like we're igniting these epiphanies."
Bruu and Fichera's own epiphany – the one that gave birth to Liv'n Out Loud! Clothing Company – came two years ago, only months after complications during routine surgery almost claimed Bruu's life.
For weeks following the near-tragedy the two found themselves re-examining their own lives, asking themselves if they were on the right path — and if they were, as Fichera was so found of saying, "living out loud."
The answer came when their ponderings collided with a growing appreciation for a really cozy sweatshirt Bruu had purchased during a road trip.
"We thought, 'What if we could put something inspirational on sweatshirts like this?'" said Bruu, 47. "And Kristine's saying, 'Living out loud' was just perfect."
Within an hour, the two had drawn up a business plan, and Fichera set about securing the domain name. Within three months Fichera had left behind a six-figure salary and her position as a sales rep for a local radar equipment manufacturer to dedicate her attention to Liv'n Out Loud.
"It was frightening, but more so it was exhilarating," said Fichera, 40, an award-winning Web designer and former on-air radio personality at WCGY-FM in Boston. "I think I smiled all the way home that last day, and I haven't stopped since."
It's that same feeling of excitement and empowerment that Bruu and Fichera are trying to ignite in others.
If product demand is any indication, the couple is succeeding. According to Bruu, sales have increased by 7,000 percent over the first year, and orders have come in from across America and as far away as Poland and Bulgaria.
Already this year, Liv'n Out Loud gear has been included in celebrity "swag bags" at the recent Sundance Film Festival in Park City, Utah, and will be part of the gift ensemble given to the non-winning nominees in the top five categories at the 79th Academy Awards on Sunday, Feb. 25.
That hasn't been their first brush with the Hollywood scene, however. Within months of the company's inception, Alec Baldwin, Bruu's longtime friend and award-winning actor, was photographed wearing his gold and blue Liv'n Out Loud! T-shirt at a Hollywood premiere party for the hit television sitcom, "Will and Grace."
While the Hollywood spotlight has been exciting, Bruu credits the company's steady and rapid growth to regular press coverage and viral marketing.
The duo have appeared on television talk shows in Nevada, California and Boston, been featured on radio stations across the country and been the subject of countless newspaper and magazine articles.
Promotion through involvement also has worked for Bruu and Fichera. Recently, visitors to the company's Web site, livnoutloud.com, were invited to take part in a "naming" contest by suggesting their ideas for new shirt-suitable quips or sayings. Five winning sayings were chosen, three — "Never settle," "If you judge me, know the truth about me" and "Be someone's moment" — are now among the company's best-sellers. Web site visitors also are invited to post their own Liv'n Out Loud! moments.
Mike from Manchester wrote, "I'm finding the older I get, the more liv'n out loud I do! When you're younger, you're expected to conform to a very predicable box at work and in your personal life. Well, what fun is THAT? I'm throwing out the predetermined game plan in favor of choices that will make me happy."
Charlene, a divorced mom and cancer survivor from Massachusetts, wrote: "I wear your t-shirts and believe in your company. Liv'n Out Loud! represents real life. Your inspirational words and great humor makes each day one of hope!"
While the increasing number of merchandise orders and growing media attention would be enough proof of success for most emerging entrepreneurs, such continue to validate Bruu and Fichera's belief in Liv'n Out Loud! – the company and the philosophy.
"Just hearing from these people every day saying how we've inspired them to take a leap, to make a change. It's just so fulfilling," Bruu said. "These stories are the palpable heartbeat of the company."