Fire badly damages S. Nashua condo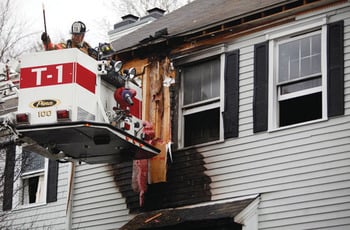 NASHUA – A fast-moving fire engulfed a city condo Wednesday afternoon before fire crews were able to extinguish the blaze.
The fire, at 72 Stillwater Drive, was reported around 4:20 p.m., when a neighbor called 911 after seeing flames shooting from a second-story window.
When firefighters arrived, they found flames pouring from second-story windows at the front and back of the building and the fire spreading to the third story, Nashua Fire Department Assistant Chief Keith Anderson said.
Within minutes, the fire went to two alarms, and crews entered the building and had the flames under control by about 5 p.m. Both floors, which are above a first-story garage, suffered extensive damage, Anderson said.
The condo is part of Meadowview Estates, a condo development off Middle Dunstable Road in south Nashua.
Meg Williams lives across from the condo and spotted the flames from her living room and called 911.
"I turned around, and the whole thing was in flames," she said.
Williams said she didn't think the owner was home.
Anderson said he didn't know if anyone was injured in the blaze or what caused it.
City fire marshals are expected to investigate.
John Delmonte is listed as the owner of the property in city assessment data.